Morrissa Walker Angi - Class of 2003
Community Affairs and Tourism Director, Town of Valdese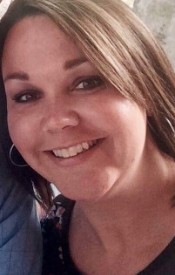 Browsing the booths at the Waldensian Festival, enjoying a concert at the Old Rock School, visiting a new business on Main Street in Valdese -- these three activities may seem like separate events, but they all have one major common thread. Each of them is under the purview of Morrissa Walker Angi, the Community Affairs and Tourism Director of the Town of Valdese.

Morrissa's duties are complex and varied. She explains, "There are several facets to my position with the Town. In the area of Community Affairs, I am responsible for the execution of all Valdese sponsored events. From the major events such as the Waldensian Festival to smaller events like merchant meet and greets, I coordinate, plan, invite, advertise and organize every detail of these events no matter how big or small. During a typical week with events, I can be found doing things as minute as picking up popcorn for the concession trailer to as vital as scheduling locations and arrival times of event headlining bands. The Community Affairs portion of my position is constantly evolving. When asked what all I do to prepare for major events like our Independence Day Celebration, I simply cannot outline what all it takes. The day-to- day schedule is always changing, and a key skill that I must say I thrive at is being able to think on my feet, solve unexpected problems, and try my very best to predict any issue before it arises. On average my department hosts 50 events each year ranging from outdoor concerts to craft shows.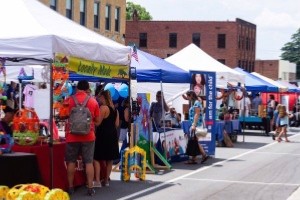 "The tourism aspect of the job involves marketing the Town of Valdese to visitors and locals alike. Not only do I plan the Town events, I also coordinate with local attractions and restaurants to host group tours. I am responsible for showcasing all that Valdese has to offer through various promotion platforms. I contract advertisements in major magazines like Our State and even design the print ads to go with these contracts, just as an example.

"I also wear many other hats. For example, I manage the Valdese Main Street Program which is responsible for Downtown Revitalization and Economic Development. I work with interested parties to renovate downtown buildings and to find locations for new businesses looking to start up in our Downtown District.

"I manage and maintain the Old Rock School, one of the most historic buildings in Valdese. I coordinate a complicated calendar for Valdese events including Concerts at the Rock in conjunction with public facility rentals.

"I also serve as the Town Liaison to our Merchants Association, Public Arts Commission, and several other boards including the Burke County Tourism Development Authority Board.

"What I value most about my position with the Town of Valdese is watching attendees enjoy the music I book, the events I work to create, and the overall charm of our community. The people are what makes Valdese so very special. Our community has such a very rich heritage, and I feel that this sense of fellowship has been shared since Valdese was established in 1893. It is my pleasure to carry on the traditions of our Waldensian Settlers each and every day. I was inspired to apply for the Assistant Director positon in 2010 when my now husband and I decided we wanted to move back to Burke County from Greensboro. Both being raised in Drexel, we always admired the small town, family-friendly nature that Valdese celebrates. It was in 2010 that I decided to take a leap and see if my education and skillset would qualify me for the Assistant Director position.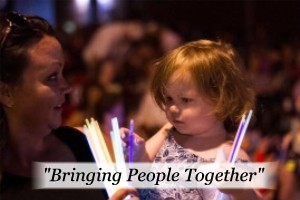 "Every job has its challenges and rewards. The number one challenge in my position is small town politics. It has taken me several years to understand the ins and outs of our community, and I am still learning daily. A major challenge with my position is predicting who may have an issue with decisions made, who may be impacted, and how the public may perceive the issue. On the other hand, the most rewarding part of my position is seeing a year's worth of hard work come to fruition. These goals range from new businesses opening their doors to successful major events." Morrissa's work ethic and unique training began early. "My most important role models were and are my parents. They taught me the importance of hard work and how to make the most of any position I occupy. They have always encouraged my creativity and drive for any project, position or venture I decide to take on. They are truly my biggest fans. I started working at the age of 14 with the Burke County Recreation Department as a concession stand worker. Throughout high school and college, I worked as a Certified Pharmacy Technician for a total of 11 years. I have always felt a great need to create, improve upon, and help make things not only more efficient but also appealing. Through my time in the pharmacy, I learned multitasking, the importance of organization, and the ability to communicate any issue with the public. These skills laid the foundation for the career I have today.

"I have a Bachelor of Science degree from UNC-Greensboro in Human Environmental Sciences with a concentration in Interior Architecture and a minor in Women and Gender Studies. My education lends itself to my current position through event programming, graphic design, understanding layouts and design ex. vendor lineups, historic preservation, and the way a space makes an occupant/attendee feel or respond.

"I enjoyed my time at East Burke, but at the same time I was always looking to the future. By my own admission I am somewhat of an obsessive planner. The aspect of my high school education that taught me the most and that helped me decide what my true career path would be was my senior project. My senior year I mentored under the guidance of Lee Anderson, the Planning Director for the City of Morganton, and the focus of my project was on the revitalization of the Morganton City Hall. This project created my love for historic structures and their importance to a community. I hope to continue growing everything Valdese; the potential for our small town is endless. We are so very fortunate to have all the amenities we do. I am excited to be a part of everything that is to come and hope my talents continue to be beneficial for our future as a community."

Published September 2019

Home Page