Ashtyn Berry – Class of 2009
"Learn, Serve, Engage" Teacher, W. R. Odell Elementary School, Concord, NC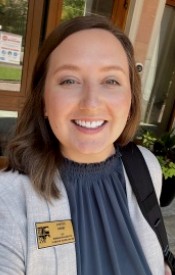 "I cannot express enough how much I love my job." These are the words we all want to hear, especially from an educator. Ashtyn Berry has a true love for students and for learning, and has taught at W.R. Odell Elementary School in Concord, NC, since 2017. She began her career in 2013 teaching second grade in Lincoln County followed by six years as a third-grade teacher at W.R. Odell. She currently teaches a class called "Learn, Serve, Engage" to third, fourth, and fifth grade students. Together she and her students design and carry out student-led, curriculum-based service-learning projects. The students choose community causes that they feel strongly about, research and learn about the issues involved, find solutions, and bring about fulfilling outcomes. "We have so far worked on projects with local and global deforestation, water inequality, recycling, and North Carolina endangered species."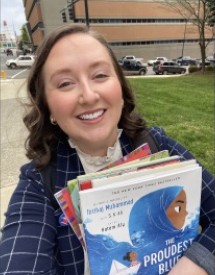 Ashtyn is passionate about culturally responsive teaching, which embraces diversity as an asset in the classroom and connects students' cultures, languages, and life experiences with what they learn in school. "Research has shown that these strategies help students study more advanced subjects and develop higher-level academic skills." She also advocates what is known as trauma-informed teaching, which involves relationship building, reduces negative thinking, and helps students gain confidence. She explains that "teachers understand the impact that trauma has on students' learning and apply research-based strategies that help the students learn."

While schools were closed during Covid, teachers had to find creative ways to engage students remotely. "Although we had to change our approach in almost every way, the outcomes have been extremely positive. At the beginning of each school year, my third-grade students would participate in a project called 'Family Stories.' In the past during in-person learning, the children wrote stories about their families and shared them with their classmates. The stories were bound into a booklet for the class to enjoy together. During remote learning, all of the stories had to take video form, and the whole group made it into a particularly uplifting experience.

"I started out by sharing a family story of my own. I would usually tell them about my grandmother, Judy Berry, whose father worked in the mill and would bring home the mill sacks for the family to use to make their clothes. It's a small look into my family's past and gave them a taste of history as well as the culture and values of the time when my grandparents grew up.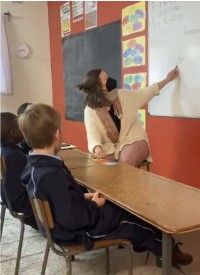 "The students at my school are very diverse ethnically and culturally, including families of African, Mexican, Indian, and Native American heritage, as well as those whose roots are from the mountains and piedmont of North Carolina. Consequently, we celebrate family stories from many different cultures. One common theme that I have found is that most families have an agricultural background of some kind. For example, some of the children have families who own rice paddies and sugar cane fields in India. Their classmates whose families grew up locally may have grandparents who raised corn or tobacco. It is only one example of how we find so many similarities in our lives and in our backgrounds, and the result is that we build friendship and trust."

Her hard work and creativity was rewarded in 2021 when she was chosen as Cabarrus County Schools Teacher of the Year. She went on to be the 2022 Burroughs Wellcome Southwest Region Teacher of the Year and was a North Carolina Teacher of the Year Finalist in 2022.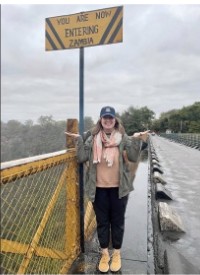 Ashtyn has a passion for global education and has traveled to countries such as Zimbabwe and Chile with Go Global NC to learn about their educational systems, history, and innovative teaching strategies. She also strongly believes in the "School Meals for All NC" initiative and is actively working to bring access to breakfast and lunch at school at no cost to North Carolina families through her advocacy work alongside other NC teachers of the year.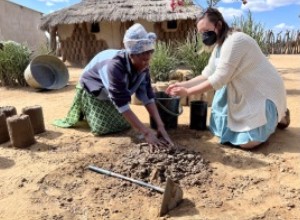 Ashtyn earned a bachelor's degree in Elementary Education in 2013 and a master's degree in Curriculum and Instruction in 2021, both from Appalachian State University, In 2020, she received the W.F. and Mozelle Costner Parker Endowed Scholarship awarded by the Reich College of Education at ASU. At the state and regional levels, she serves on the State Superintendent's Teacher Leadership Council and the Southwest Region Teacher Leadership Council. She is a member of the 2022-2023 cohort of North Carolina's Educational Policy Fellowship Program through the Public School Forum of NC. She has also served Cabarrus County Schools in a variety of roles such as Teacher Liaison to the School Board, District Curriculum Writing Facilitator, District Curriculum Writer, Mentor Teacher, Service-Learning Professional Development Facilitator, Grade Level Reading Intervention Specialist, and MTSS Team Member.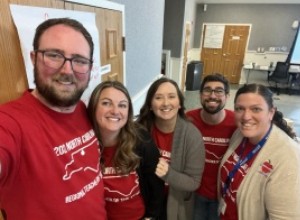 An aspect of education that is important to Ashtyn is the emphasis on teachers in a leadership role. "I have really enjoyed being a mentor teacher. So far, I have had three mentees, beginning teachers who are excited to begin their careers and who bring fresh enthusiasm and ideas to the classroom. I have heard so many stories about teachers' compassion fatigue, and I think one of the reasons that I haven't experienced it as frequently myself is that I get to interact frequently with the excitement and the creative spirit of these new teachers.

"It took a long time for me to decide on education as a career. Both of my parents encouraged me to pursue whatever dreams I chose and provided me with many opportunities to explore my interests. But it was when I witnessed my dad interacting with his band students and saw how my peers learned from him and looked up to him as a father figure that I saw how meaningful teaching could be. At first, I thought I would like to be a music teacher like him, but then I decided that I would rather keep music as an interest rather than make it my livelihood.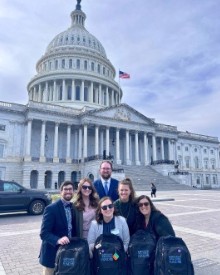 "I also had other teachers who inspired me. For example, Mrs. Donna Duncan taught me so much and inspired in me a love for the classics. For example, in her class we read such challenging works as 'The Scarlet Letter' and 'Heart of Darkness.' We had to work hard, but her instruction made a real impact. Another inspiring teacher was Dr. Robert McAdams. I credit him with the success I had in my undergraduate years because he taught me how to study. His classes were rigorous, but we learned how to apply ourselves in order to succeed. Both of these memorable teachers had high expectations, but working to meet those expectations instilled in us the skills to help us in our future education and in our lives and careers.

"My parents taught my siblings and me that keeping busy would both enrich our lives and keep us out of trouble! I took music classes from the time I was very young, and participating in the marching band and concert band made a big impact on me. Being a part of such a group with a common purpose provides a shared experience that is larger than oneself. Each person is important and has a responsibility to the other members. Plus, the skills, the precision, and the discipline the student learns lasts a lifetime.

"I was also able to participate in cheer leading, which was not only fun but also built responsibility. These types of group activities help young people learn cooperation and accountability.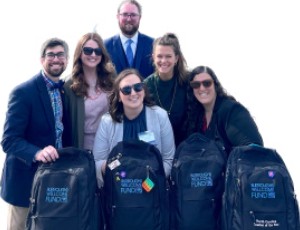 "One of my favorite activities in high school was baton twirling. I twirled with the East Burke band and then went on to be a feature twirler at Appalachian State for four years. It was just the best time and was so much fun! I realized later that I likely would not have been as successful a student if I hadn't had this creative outlet. I have come to believe that everyone needs some kind of activity in which to put creative energy. I still work alongside my dad – he's my colleague now!! – to do choreography for the color guard in the Cavalier band."

Ashtyn has a deep interest and a passion for curriculum development and plans to continue her education by pursuing a doctorate degree. "I do not know what the future may hold, but I am certainly open to the opportunities that may lie ahead. One short term goal is to publish a curriculum proposal that I am working on now, and I hope that there will be more publishing ahead. I am especially interested in developing programs that promote equity in education to all students–ones that embrace the beautiful diversity of NC students as an asset in the classroom. Regardless of where I go or what I may do, I will always enjoy working with other educators and keeping students in the center of our work and decision-making."

Published October 2020


Home Page