Jonathan Berry – Class of 1983
Educator, Director of Bands – East Burke High School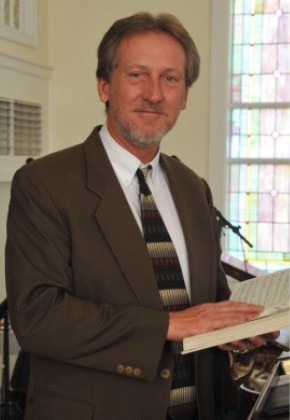 "East Burke, is your band ready?" These words ring out at every marching band competition. The response is always a resounding "YES!" and is followed by an outstanding performance and a rating of "Superior."

Jonathan Berry has served as Director of Bands at East Burke High School since 1992 and has upheld the tradition of musical excellence for which East Burke is known. Not only have the marching Cavaliers flourished under his guidance, but the wind ensemble, symphonic band, jazz band, and percussion ensemble have also scored superior ratings and achieved positive recognition. When asked about his career, Jon responds, "I love working with teenagers, and I love music. I couldn't have a better job."

Jon graduated magna cum laude from Appalachian State University in 1987 with a bachelor's degree in Music Education. Before taking the helm at East Burke, he taught at Northwest Junior High School and Piedmont Open Middle School and was named 1988 Young Band Director of the Year in the Charlotte-Mecklenburg school system. In 2002, he completed his National Teachers Certification in K-12 Childhood/Early Adolescent Music Education.

Under his direction, East Burke has won many local and regional contests, are the 10-time Carolinas' Carrousel Parade Champions, the first annual Novant HealthCare Thanksgiving Day Parade Champion, and have performed in the national spotlight on CBS Sports and ESPN for the NFL's Carolina Panthers and for Wake Forest basketball. In 2008 and 2010, bands from East Burke were crowned National Champions as part of the Florida Dynamic Music Festivals national concert and parade competition.

Many former students have chosen music education as their career. Several others have chosen to become musical performers all across the country with ensembles including "The Commandant's Own" United States Marine Drum and Bugle Corps, Carolina Crown, Santa Clara Vanguard, Star of Indiana, The Cavaliers, Spirit of Atlanta, Denver and the Mile High Orchestra (Dove Award winner 2012), Seven Miles, and numerous other artists. Others use their musical talents in their own community activities on a regular basis.

"I am a strong advocate of public school music and of what studying music can do for young people," says Jon. "Participation helps to build character and a strong work ethic, promotes responsibility and cooperation, and develops social skills. I am so proud that many of my students have gone on to successful careers as music educators and performers and that others have continued to perform and appreciate music more after participating in the school music program."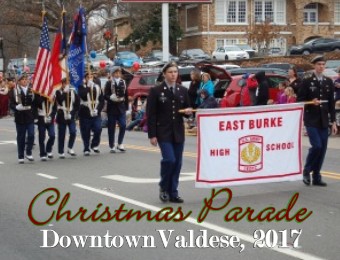 Some of the most ambitious, challenging, and gratifying experiences have involved international travel. The Cavalier Marching Band was invited to Normandy to participate in the festivities surrounding the 70th Commemoration of the Allied Invasion of France. The students and parents worked hard to raise the funds for the trip, and in June 2014, the dream became a reality when the Cavaliers participated in events in Paris, Coleville sur Mer, Sainte-Mer Eglise, and Point du Hoc honoring the victory, the veterans who served, and the heroes who made the ultimate sacrifice.

In December 2016, East Burke joined with Draughn, Freedom, and Patton High Schools to form a 300+ member marching band and traveled together to Honolulu, Hawaii, to represent North Carolina and the USS North Carolina in the 75th anniversary commemoration of the bombing of Pearl Harbor.

In June 2019, the combined Burke County High School Bands returned to Normandy for the 75th Anniversary commemoration of D-Day. Jon and two other local band directors, Jason Hoyle of Draughn High and Chad Higdon of Patton High, led the international performance at Brittany Saint-James and were awarded the Medal of Distinction in Sainte-Mer-Eglise by the national D-Day Parade Committee and the United States Office of Commemorations.

"The travel, performance, and recognition on a worldwide stage has been an experience that these young people will never forget. Plus, they were able to appreciate it even more by seeing how their hard work made this dream a reality. In addition, it was a firsthand lesson in history, as they saw the places where these life changing events took place and learned about the people who took part. All three trips were major undertakings, but the lessons learned and the lasting memories are invaluable. I'm so grateful to have been a part of it."

Jon is a member of National Association for Music Education, North Carolina Music Educators Association, the National Band Association, the International Trombone Association, the North Carolina Association of Educators, and the National Education Association and holds honorary memberships in Gamma Beta Phi and Kappa Kappa Psi honor fraternities. He received the FBA Award of Distinction in 1994, 1997, 2001, 2010, and 2012, recognizing outstanding achievements in instrumental music education. He has served on the Board of Directors for the Northwest District Bandmasters Association, chaired both the Music Performance Assessment Festival (formerly the NC Concert Band Festival) and the Solo and Small Ensemble Festival from 1995 until 2000.

As a performer, he has enjoyed working with such notable musicians as Richie Matteson, Buddy Baker, Phil Woods, Terry Gibbs, Jana Jae, the Aldridge Sisters, and the George Jones Band, as well as with comedians Kitty Carlisle and Steve Allen.

Jon enjoys all kinds of music from classical to jazz, from swing to gospel, from bluegrass to Broadway. He can play the trombone in a classical brass ensemble or rock the bass guitar with the praise team at Drexel First Baptist Church, where, as Director of Music, he also conducts the sanctuary choir each Sunday. He often includes his students and former students in ensembles for special church programs. "Those are some memorable times for me - when my personal family, my church family, and my school family all come together to share their talents."

Teaching at his alma mater has been especially meaningful for Jon. "I have been influenced by many fine people, but my greatest musical influence is undoubtedly my own public school teacher, the great Kathryn Siphers. Her dedication to her duties, her boundless love for music, her determination to bring out the best in each of her students, and her unwillingness to accept anything less than excellence have made her an outstanding role model for countless young people, and I am no exception. After all this time, I still feel her spirit looking over my shoulder every day, and I take seriously both the responsibility and the joy of following in her footsteps."

One particularly special honor came during the 2012 East Burke spring band concert, held at the PE Monroe Auditorium at Lenoir-Rhyne University, when the Class of 2012 announced that East Burke's band practice facility and field would be named the "Jonathan C. Berry Field" and was done so "for twenty years of devotion given to thousands of band students... by the Class of 2012."

This year, the Class of 2019 dedicated their yearbook to Jon in honor of thirty years of dedication and service given to the students of East Burke and Burke County.


"The Observing Visitor March" Patrick Conway ; "Silver Salutation" Claude T. Smith
"Elsa's Procession to the Cathedral" Richard Wagner

Home Page