Stephanie Brendel Hatley – Class of 2001
Writer, Teacher, Traveler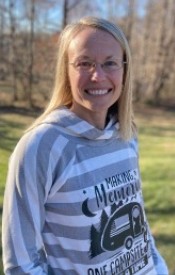 "To be happy at home is the ultimate result of all ambition, the end to which every enterprise and labor tends." These words from the famous eighteenth century author Samuel Johnson captures the human need for the comfort and security of home. Yet many people feel the call of the open road, the beckoning of new and exciting adventures, and the curiosity of what lies just beyond the next horizon. Some of the most famous words of another beloved author, J.R.R.Tolkien, proclaim that, "All that is gold does not glitter; not all those who wander are lost."

Even though we live in a modern mobile society, it is a rare soul who can combine the best of both worlds by experiencing the comforts of home while also answering the call of wanderlust. One solution that more and more travelers are discovering is to take one's home along. The popularity of recreational vehicles is growing, and many have chosen to make their lives a physical journey, traveling and living in fascinating places all over the United States. Stephanie Brendel Hatley and her family have embraced this exciting way of life, exploring the wonders of this great land.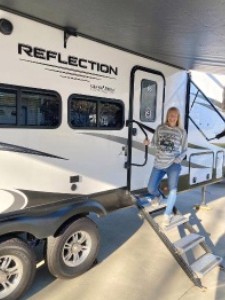 "We sold our home in Pfafftown, NC, in September 2021," she explains, "and started our traveling adventures. We first went to the Grand Canyon, stopping along the way in Oklahoma City to view the OKC National Memorial, Amarillo to spray paint at Cadillac Ranch, and Albuquerque to enjoy the International Balloon Fiesta. We drove through Petrified Forest National Park on the way back to North Carolina and stopped in Birmingham to visit the Civil Rights Museum and 16th Street Baptist Church. This first trip changed our lives and opened our eyes to the amazing opportunities before us. We decided traveling was the way we were going to teach our kids and shape our family.

"In 2022, we first visited Florida, Texas, and Arkansas. We enjoyed the thrill of the world's largest rodeo in Houston and stood in amazement at the cattle at the Fort Worth Stockyards. We learned about the history of Hot Springs National Park and the ruthless events at Central High School in Little Rock.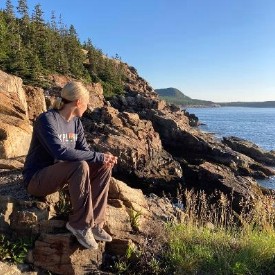 "Then we started our Colonial America and Revolutionary War historical journey up the east coast through Virginia, DC, Pennsylvania, and Massachusetts. We spent most of the summer just outside Acadia National Park in Maine before turning back south.

"I was lucky enough in high school to have amazing teachers like Anne Stephens and Robert McAdams who stretched me to think deeply. They brought novels and textbooks to life. I'm trying to do the same for my kids since we homeschool. We call it 'roadschooling.' I can't think of a better way to learn about life than to visit other places, explore how others lived in the past and live today, try new foods, and seek adventure in nature.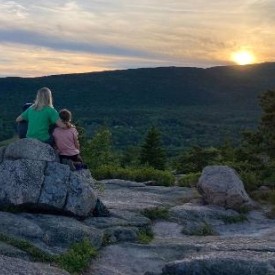 "Of course, there are challenges to this journey. We took a huge blow in May 2022 when our diesel engine blew and we had to pay for an entire new engine. Our RV is always in need of some kind of repair. Travel days are full of stress, hoping we safely arrive at our next destination with no issues. But the challenges aren't enough to keep us from pursuing this lifestyle of learning and embracing adventure. The breathtaking views atop Cadillac Mountain in Acadia and the vastness and majesty of the Grand Canyon are simply irreplaceable.

"In 2023 we'll explore the Southwest and Mountain West, traversing through a number of national parks including Big Bend in Texas; White Sands in New Mexico; Zion, Bryce Canyon, Canyonlands, Capitol Reef, and Arches in Utah; and Black Canyon of the Gunnison and Rocky Mountain in Colorado.

"I can't talk about our travels without mentioning how much our faith has also been impacted. Our experiences absorbing the beauty of God's creation and the hospitality of God's people have changed our lives. I feel like we're better people because of this journey and have a greater appreciation for the diversity and creativity of God's masterpiece.


"Many people wonder how we afford these experiences. I write blogs for other travelers daily, but because the hours are flexible, I can do it whenever it's convenient. Some days that's 6:00am, and other days that's 2:00pm. I majored in English at Catawba College, and that education and my past experience teaching high school English (following in the footsteps of Lisa Wall and Anne Stephens) brought me to this remote opportunity. My husband also is skilled at a variety of jobs, and with our connections to others in the RV community, he has been able to work at a number of tasks that provide necessary income. We work as a team, and this type of work gives us this opportunity to travel and explore basically whenever we want.

"We don't know how long this journey will last. We didn't set out with a timetable. So we could settle back into a traditional way of living in two years or still be adventuring across the country in ten years. We don't have a goal to visit every state, but we do want to visit as many National Parks as possible. We need to do this while we can. As our kids grow, I hope to be the kind of teacher who strengthens their confidence, stretches their abilities, and inspires them to be lifelong learners - much like the teachers I had at East Burke."

Stephanie would stay and talk about travel all day, but talking is not as exciting as doing. So we wave goodbye to this adventurous family. The journey continues; new experiences are calling; the open road awaits.
"Time to go!"

Join them on Instagram (hangingwiththehatleys)

Published January 2023
Home Page