Jeff Brittain – Class of 1989
Regional Sales Leader, State Farm Insurance, Suffolk, Virginia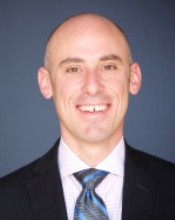 One cannot overemphasize the importance of insurance in our modern society. The State Farm Insurance company provides many products that can add to the security of individuals and families including automobile, fire, life, and health insurance as well as banking and investment products.

Jeff Brittain is a Regional Sales Leader based in the Newport News area of eastern Virginia and presently manages 46 State Farm agencies. "I'm in the talent management business," he explains. "My job is to recruit the best talent for the agencies and to help them succeed in sales. My territory reaches from the James River to the Potomac River, from Williamsburg to Yorktown to Hampton to Colonial Beach. I am always looking for people who have the passion, the drive, the hunger to succeed for the good of our customers and our community as well as State Farm.

"Insurance is so important, but we are not just in the product business. We are in the people business, helping families and individuals to be prepared when disaster strikes. We all agree that bad things happen to good people -- anything from accidents to illness, disability, fire, or theft. When those bad things happen, we don't want anyone to have to pay. Most people are very much under-insured with their car, home, and savings. It is important to ask each client about his or her situation and advise each person according to their needs.

"The area of eastern Virginia where I work has had a history of disproportionate wealth resources. Many groups of citizens have not had access to life insurance, and our mission in this part of the country has been to close that wealth gap in certain demographic groups, building a legacy for the entire community and providing better lives for all of its citizens.

"My father is a State Farm agent, and I saw how devoted he was to his clients, keeping their best interests at heart and advising them accordingly. So naturally I was inspired by him and was intrigued by what he did for people."

After high school, Jeff attended NC State for a year and then earned a BA degree in Economics and Insurance from Appalachian State. "I literally worked myself through school, paying my own way with money I earned. Many of my fellow students may remember me as a bartender at Macado's in downtown Boone. Supporting myself through college gave me a sense of pride and a work ethic that still benefits me today.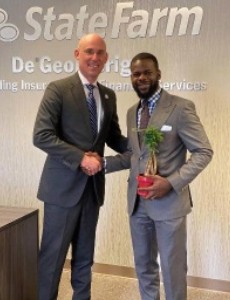 "After graduation, I started in claims with a State Farm agency in Rocky Mount, NC. Then I opened my own agency on Springs Road in Hickory. In 2005, I went into leadership in Greensboro and took over the Newport News territory in 2008. In total, I have worked for 29 years with State Farm.

"In addition to working with insurance, I like to call myself a 'serial entrepreneur.' Entrepreneurship is exciting for me. I love owning my own side businesses. I feel as if I am controlling my own destiny. For example, I am a firearms dealer, and I also have a web-based technology company. I work as an independent contractor with businesses to help them keep track of sales and production so they can grow and prosper."

Jeff served as president of his class in the ninth, tenth, and eleventh grades, and during his senior year, he was elected as East Burke Student Body President. "Being active in student government was very valuable to me. My experiences as a student leader helped me succeed in many areas of my life. For example, presiding over a student assembly as a nervous high school student helped me develop the skills to speak to large groups today. In my job, I frequently speak at large meetings and conventions, but I also am on stage at least twice a month for my church, consisting of 15,000 members spread over 6 campuses. I strongly encourage every student to take part in school activities that can not only serve as wonderful memories but also develop skills that can benefit him or her throughout life.

"My SGA advisors, Dennis Whitener and Beth Bailey Robinson, encouraged me in every way. My Spanish teacher, Sen᷉ora Angela Martin, was one of my most memorable instructors. I played golf, tennis, and soccer also and was captain of the soccer team. My coaches were great role models. Coach Jim McCormick even worked with me when I was in the ninth grade at Drexel Junior High, so he had a long-term influence on me. Soccer coach George Henne was also influential. These men showed us how to play with dignity and to be gracious in both victory and defeat.

"One of my most inspirational leaders was Principal T.W. Wall. I knew him as both a school and a church leader. Sometimes when I would face a challenging situation, he would help me to look at it in a different way and find a solution. He helped me learn how to speak to large groups and be a spirited leader. High school for me was in many ways a springboard to success in several areas of my life. Learning these skills early is always good."

With his many interests, Jeff should have no trouble filling his days well into the future. "Retirement is not a word I like to use, but I do plan to retire from State Farm as a sales leader at the appropriate time and then open my own agency, continuing to help people, their families, and the community at large."

Published May 2022
Home Page