Matt Brittain Ė Class of 1996
Organist/Director of Music, Front Street United Methodist Church, Burlington, NC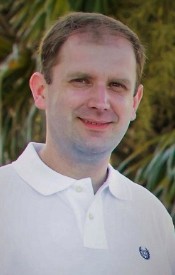 When your lifeís passion is your job, it is a tremendous blessing! I am the Organist/Director of Music at Front Street United Methodist Church in Burlington, North Carolina. I only began this job in July 2016 after changing career paths in my life. Itís a full-time job, and I love it.

Music has the ability to facilitate an encounter with the divine, the holy, and the living God. I am driven by the weekly challenge of making this possible for the people who attend and visit Front Street. I also have a passion for finding music that helps to highlight the mystical side of God. At Front Street, I get to work with a diverse group of people who encompass all age groups and walks of life. We have a total of six choirs at Front Street! I conduct the childrenís choir, the youth handbell choir, and the adult handbell choir. I also accompany the adult chancel choir and play the organ/piano for all services, funerals, and weddings that the church may have in a given year. Having more than 2,000 members, Front Street is a large church in the North Carolina Conference of the United Methodist Church, so there is literally never a dull moment. Furthermore, we are blessed to have seven paid singers in our chancel choir. We also have wonderful musical instruments, including a Harrison and Harrison pipe organ (built in Durham, England in 2002), a Steinway & Sons grand piano, and a Richard Kingston harpsichord. The firm who built our organ has instruments in places like Westminster Abbey, London, Durham Cathedral, and Kingís College Chapel, Cambridge, so itís an honor to play it each week.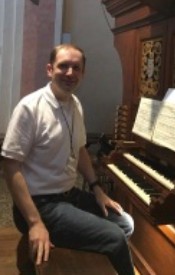 Being the music director for a church is much more than just playing music every Sunday. It also involves reaching out to those who might be sick or shut in, making sure that concerns of church members are heard and responded to in a timely manner, and working with a variety of people who each have a different personality and way of communicating. In part, this is what makes the job so rewarding, but yet so challenging. Another rewarding aspect for me is watching people grow in their musical skills and abilities. I always challenge each of my choirs to their utmost ability. I like to take people right to the edge of their comfort zone, not just in terms of the music they are singing or playing, but also in the music that they are hearing. Does this musical encounter make you think about the world differently? Does it give you a different perspective of who God might be? But in addition to challenging others, I also challenge myself on a weekly basis. I try to learn at least one new piece of music every week. I am a big advocate of life-long learning! We should all challenge ourselves to learn something new each and every day! In the end, what could be more rewarding?

I worked for almost eight years in public accounting before a made a complete career change to become a professional musician. Sure, music had always been a part of my life (as I began taking piano lessons from Sandra Baker in the third grade), but, and I often joke, my dad would not pay for me to get a music degree in college! I am very grateful for that now, because I can see the benefits of having another degree. Music and math go very much hand in hand, and I also think having a strong work ethic that I nurtured and developed working many long hours in public accounting, has helped me be a more conscientious and dedicated employee. In addition, I have been a musician in almost every denomination, so I am familiar with an array of liturgical practices and musical traditions, which are unique for each Christian denomination, and this has helped to make me a more well-rounded musician.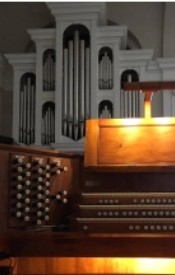 I have degrees from three universities. My undergraduate degree is a Bachelor of Science in Business Administration/Accounting from Appalachian State University in Boone, NC. I also have a Master of Music degree from Emory University in Atlanta, GA, and a Doctor of Musical Arts from the University of Cincinnati College-Conservatory of Music. I am also a certified public accountant. As a CPA, I have to complete 40 hours of continuing professional education each year. This can be challenging, especially since I no longer work in that field. I was licensed in 2003, and I am proud to say that I have kept my license active now for 17 years In the summer of 2019, I had the wonderful opportunity to study for two weeks at the Smarano Organ Academy in Smarano, Italy. The focus of the academy is studying and playing music on historical keyboard instruments, including clavichords, harpsichords, fortepianos, and mechanical action organs. Needless to say, it was an incredible experience, and I learned so much!

I have had so many wonderful teachers along the way that it would be impossible to name them all. At East Burke, a few notable ones come to mind, including Anne Stephens (language arts), Lucille Bond, (calculus), Ramona Barus (geometry), and Renee Shatley (chorus). I am grateful for these four, especially, because they challenged me in ways that I could not or would not have been able to challenge myself. In particular, my love for music grew exponentially in chamber singers, taught by Renee Shatley. She let me accompany the chorus on the piano, even when I wasnít all that great, and allowed all of her students to have wonderful opportunities singing at choir festivals and in churches. Being in chorus was one of the highlights of my high school experience. I made many friendships that have lasted even until today, and I have so many wonderful memories of choir trips, festivals, and musicals that we did together.

One of my goals is to travel more, especially in Europe. Music is such an international language, and much of the music (especially classical music) that we know and love today, originated in Europe. There are many musical pilgrimages I would like to make to continue to grow in my knowledge, love, and appreciation of music.

Published April 2020


Home Page