Heidi Brown Hyde – Class of 1994
English Department Chair, Draughn High School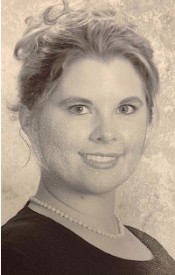 "I loved East Burke so much that I decided never to leave high school."

So states Heidi Brown Hyde, who currently serves as the chair of the English Department at Draughn High School. "Some of the most important people in my early life were teachers, and I wanted to have an impact on people in a similar way.

"There were so many wonderful teachers in a variety of disciplines at East Burke who inspired me and ignited a love of learning. Perhaps because the English department was so strong, I ultimately chose a career in English. During my time at East Burke, Dorothy Watson, Candace Yount, Anne Stephens, Lisa Beason, and Sherron Prewitt were each influential in my love of literature and writing.

Heidi earned a BA in Secondary English Education from UNC Chapel Hill in 1997 and a Master's degree in English Literature with a concentration on British Literature from Gardner Webb University in 2018. She also holds National Board Certification in Adolescent and Young Adult Literature.

"I have always taught in Burke County, and I started my teaching career at East Burke. I would have been happy to stay there forever, but the prospect of teaching at a new school in a room with walls, doors, and windows was too appealing to pass up. I taught for a couple of years at Heritage Middle School early in my career, but I realized that middle school required a special calling, one that I didn't have. I enjoy teaching American and British literature and writing to upperclassmen. I have always loved teaching high school students because of their independence, the depth of content you can share with them, and their appreciation of sarcasm and my quirky sense of humor."

Even with such a rewarding profession, challenges are always present. "Some challenges of being an English teacher are the limitations on time and attention spent on individual students. Over time there have been more expectations on teachers for doing extra trainings and non-instructional responsibilities that limit creativity and lengthy feedback on writing.

"What I loved most about EB was that even though it was a large school, there was a strong sense of community. Being involved in sports, clubs, or even going to football and basketball games as spectators, made me feel a part of a special history of people. The Class of 1994 was an exceptionally wonderful group of people. It was a joy going through school with them.

"I have invested twenty-two years of my career in Burke County Schools, but one of the reasons I got a Master's degree is so that I can continue teaching at a collegiate or post-secondary level when I retire from the county. As long as I enjoy teaching, discussing literature, and writing with students, I don't see myself stopping any time soon. I also have a passion for writing that I would like to pursue."

The outstanding quality of education that has always been found at East Burke High School has served as the foundation and inspiration for many educators in all fields both in Burke County and far beyond. Heidi is one of the many who are carrying on the legacy of great learning for our young people who can in turn find success and make outstanding contributions to their communities.



Published December 2020




Home Page