Marty Burns - Class of 1992
Regional Quality Manager for Gibson Brands, Inc. / Country Music Artist, Nashville, Tennessee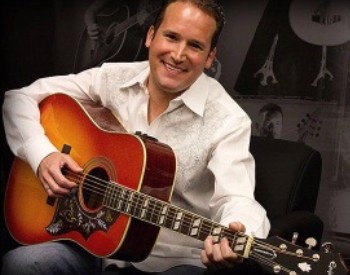 "Even if the whole world has forgotten, the song remembers when." These lines from a well-known country song in many ways summarize much of my life's journey thus far. Everyone has songs that bring back memories, and in my own small way, I like to think that I've been able to help out with those memories.

For as long as I can remember, I've had a guitar in my hands. My daddy played the guitar. My pawpaw played the guitar. It was our way of life. So when my daddy handed me my first guitar, I was really lucky because playing it came naturally. If I had not suceeded, I don't know whether or not I would have been a disappointment to my ancestors, but I'm glad I didn't have to find out!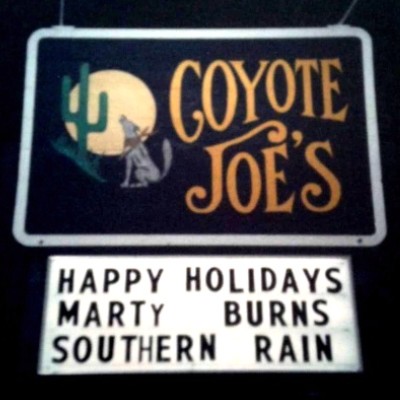 When I was in high school, I was in a band with my daddy, along with musician friends Tim Barrier, Mitch Cook, and Todd Huffman. We called ourselves Marty Burns and Southern Rain, and we played every fair and festival we could find. We especially enjoyed Saturday nights at the Drexel Fair, when people came from all over the place to support us. It was great fun. On Saturday night, November 16, 1991, during my senior year, our band gave a concert at the Old Rock School. It was a benefit for the Media Club at East Burke. I hear they used the proceeds to build some cool shelves to house the reference books. I'm told they're still in use. Nice. That night will always be a special memory for us. We got to perform for our hometown folks and support the school we loved at the same time.

East Burke was good to me. I had great teachers and great friends and learned so much not only about history and math and other subjects but also about how to deal with people and solve problems. Little did I know at that time how much those skills would help me in the future. Principal Danny Williams was a great encourager and inspiration to me. I was fortunate to be elected as Junior Class President and later as President of the Student Body. It was a big responsibility, but, when I would doubt myself, Mr. Williams always made time for me and told me I could do anythingI I had many fine teachers, but one that really stands out is Annette Brittain. While we learned about food preparation and kitchen skills, somehow she managed to also teach me lessons about life that I carry with me still today. I will always be grateful. In addition, Phyllis Garrison has been one of my most loyal friends and supporters throughout my career. She produced the concert at the Old Rock School and later managed my fan club when I went on the road.

After graduation, I signed with a management agency in Charlotte. I recorded an album and spent six years touring all over the east coast of the United States. Our band also spent six weeks performing in Japan, which was an eye-opening and enriching experience for a young man.

Then I moved to Nashville, where the energy and power of country music are infused in the very air. Sure, there are other jobs here – banking and insurance and health care and all that – but, let's face it, country music is the essence of Nashville.

Life on the road is tough. It can be very exciting, but it is always exhausting. From my own experiences on the road and from my personal observations and conversations with Nashville touring artists, I came to realize that the joy and the fulfillment that I get from performing could quickly become a chore and perhaps even a burden if I let it. I wanted to give back with my music and not make my livelihood dependent upon it. So I made the choice to take a different route. I could still perform and bring that "music and memories" approach to the audience, but I could also find another way to help others make memories through their own music.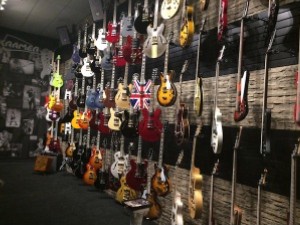 Twenty years ago, I was hired by the Epiphone Guitar Company, a division of the world-renowned Gibson Guitar Company, now known as Gibson Brands, Inc. It was a natural fit. Now I not only play guitars, but I also help design and manufacture them. When I started at Epiphone, I had to first learn the brand from the ground up. I started doing instrument set ups and quality control in our distribution center. Then, I progressed into training our staff, processing returns, and ultimately supervising our distribution center staff. In this capacity I was able to implement a lot of our quality and training policy and procedures that stand to this day.

For more than a decade I held the position of Worldwide Director of Quality Control & Supply Chain for Epiphone. My job was to oversee and monitor the production of every instrument we made, ensuring that it was the best it could be. The job involved traveling throughout the year to every facility that produces an Epiphone instrument as well as receiving direct reporting on a daily basis from the people who work with every piece and part of each product. Epiphone manufactures many different types of instruments at a variety of price points, and that's what makes the job both interesting and challenging. It's a very detailed and hands on task.

In February, 2020, I was promoted to Regional Quality Manager for all of Gibson Brands. My responsibilities have expanded exponentially, and I now oversee the quality for all of the guitar brands that Gibson manufactures, both in the USA and overseas.

From my years as a touring performer, I know what is needed in a high quality, good playing instrument. Customer service is very important. Many of our customers are performers who rely on their instruments night after night and have security that a Gibson brand guitar will last a lifetime. I also work closely with our returns department, listening to feedback from both customers and dealers, all of which helps us make better instruments.

One point of pride is that Gibson instruments are not made by machine. They are all shaped and assembled, polished and adjusted, tuned and played by real people for real people to make wonderful music and memories. – ultimately changing their lives. Guitars are personal. I'm a player, and when I hold a guitar in my hand, I can feel all the love that went into making this instrument and giving it musical life. And that's what makes me love my career.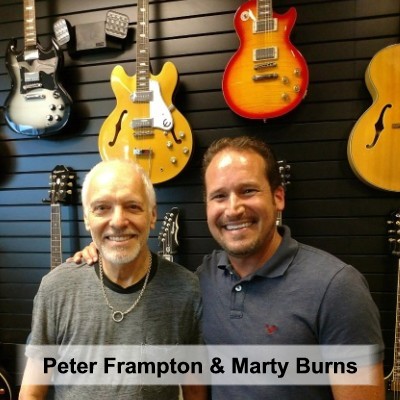 One of the special perks of this job is that I often get to meet and do business with famous entertainers. I admit that's pretty cool. When I was still in high school, I was given the opportunity to meet Roy Acuff, Little Jimmy Dickens, Ricky Skaggs, and Jack Greene backstage at the Grand Ole Opry. Mr. Acuff even asked me to sit with him on his sofa in his dressing room and tell him about myself and my music. He was so kind to me and had a huge impact on me. Here I was a kid from Drexel, NC, sitting and talking with the King of Country Music. WOW!! After going to work at Epiphone, I was able to meet with more famous performers. The greatest was probably Les Paul himself. Epiphone manufactures the Les Paul guitars that he designed, and I was invited to his 90th birthday party at Carnegie Hall in New York City. While I was there, I also met Steve Miller of the Steve Miller Band, Peter Frampton, and Edgar Winter. Also through Epiphone, I have met Slash of Guns and Roses, Dee Snyder of Twisted Sister, Joe Perry of Aerosmith, Shelly West (daughter of Opry Legend Dottie West), David Frizzell (Lefty Frizzell's brother), Jon Bonamassa, George Thorogood, and Gene Watson. I still get excited when I meet great people like these.

But my work in the business world has not kept me from performing. I have had the pleasure to serve as the opening act for several superstars including Kenny Chesney, The Dixie Chicks, Wade Hayes, Joe Diffie, The Bellamy Brothers, Rhett Akins, and BlackHawk. I have participated in my church's praise band on a regular basis. I work every day on new material and enjoy it enormously.

Recently, I have developed an even greater desire to go back to my family roots and perform to a wider audience. Perhaps it is the spirits and memories of my late father and grandfather that have inspired me. Perhaps it's just the love of the music. Whatever the motivation, I have found myself led to put together a program called The Marty Burns Experience. I call it an "experience" rather than a "concert" because I want to give the audience the experience of connecting with some of their favorite songs – that "music and memories" thing I referred to earlier. I hear people tell me all the time, "Marty, when you played that song, it reminded me of……." That's what it's all about.



On September 14, 2019, I took the opportunity to present the Marty Burns Experience at the Old Rock School. It gave me the chance to come back home to the friends and family that have loved and supported me all these years, to bring me full circle back to the same place I performed during my senior year at East Burke, and to give back to the community by donating all of the proceeds to the Burke Theater Guild, an organization dedicated to providing quality performance opportunities to the people in the Burke area. It checks all the boxes. Phyllis Garrison, founder and director of the Burke Theater Guild, again produced the show, just as she had done for the high school performance. One of the best memories of that evening was getting to see Annette Brittain again, not long before she passed away. I treasure that memory.

Isn't everything in life somehow reflected in the lyrics of a country song? So naturally I am reminded now of the words to one of my favorite songs, "Home," by Joe Diffie. "My footsteps carry me away, But in my mind I'm always going home."




Published September 2019, Updated May 2020


Home Page