Willie Bradshaw – Class of 1976
Business Owner: Fun Cycles, Inc., Valdese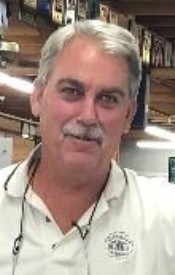 "When I applied for my wholesaler and retailer license in 1982, the woman who was assisting me asked what was the name of my business. I didn't have one! So thought for about 10 seconds, decided that I wanted a name that was simple and easy to remember, knew that I wanted to sell motorcycles, and thought they were lots of fun. So my business became Fun Cycles. It was that fast." Willie Bradshaw, owner of Fun Cycles, Inc., in Valdese, looks back on how his business came to be and begins to tell the story of his passion for motorcycles.

"I learned how to drive on the pasture while helping my dad with the cows and other farm animals. If it moved and I could ride it or drive it, I loved it. When I was about 12, a friend told me about motor bikes and how much fun they were. I had never seen one before, but my mother bought me a Ducati 160 dirt bike for $60 at J.C. Penney, and I was more hooked than ever. I remember how I used to walk all the way from Crow Hill to Flat Gap Mountain on the weekends to visit with Herb "Skin" Carswell, who worked on motorcycles as a second job. He was nice enough to let me, just a kid, hang around and watch him work. Just being around motorcycles was lots of fun.

"My father was a hard worker, and he taught me the importance of hard work. When I was really young, I remember cutting wood several days a week. When I was in high school, I worked second shift at Burke Knit. I can't remember when I didn't work. I did well in my high school classes, but I was more interested in graduating and getting on with my job.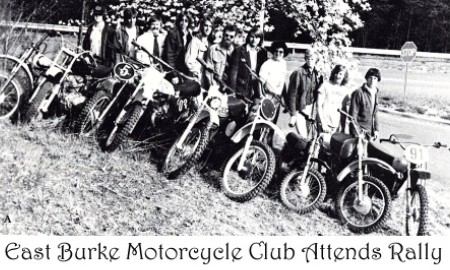 "One of the best activities I enjoyed at East Burke was the Motorcycle Club, sponsored by Warren Wetmore. We got together to talk about motorcycles, learned how to repair them, and sometimes attended rallies. One day, some of my friends and I went to see the movie 'On Any Sunday,' which is a great documentary about motorcycle racing. It starred Steve McQueen, along with some of the finest racers of all time. Years later I had the pleasure of having lunch with Malcolm Smith, one of the true greats, who appeared in the film. We loved that movie, and naturally we wanted to race motorcycles, too.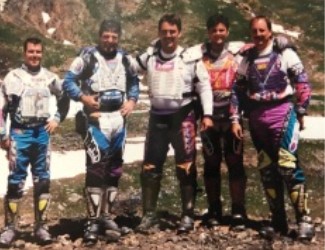 "In the 1970s, the town of Denver, NC, hosted one of the largest cross-country motorcycle races in the country, and my friends Richard Deal, John Lowman, Danny Mason and I went down there together to join in with racers from all over the country. It's a great memory and got me a real start in racing.

"After graduation, I did electrical and maintenance work for a while. Finally, I decided I was ready to start my own business. I worked at home first, doing mostly mechanical work on motorcycles. Then I moved to Hauss Ridge Road to the building where Hawkins Antiques is located now, and over time I began selling cycles also. In 1995, I moved into the building where I am now. When I first walked in, I wondered how on earth I could fill up this big space. Now, I have two floors filled with cycles and accessories.

"We have become a major provider for all of Western North Carolina. We sell new and used motorcycles, ATVs, and UTVs. We have sold Polaris products since 1989, making us the oldest Polaris dealer in North Carolina. These days, one of our major sellers is the KTM racing bike. We carry all kinds of KTM bikes, but the off-road racers are by far the most popular. KTM fans will know about the Orange Bleeder award, given to successful KTM dealers who promote their products, and I am very proud to have received it."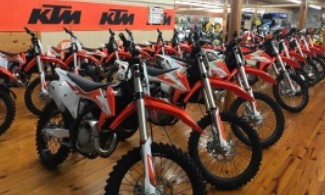 Willie began racing KTM bikes in the early 80s and began selling in 1985. As a member of the board of directors of the North Carolina Hare Scrambles Association racing organization (NCHSA), he continues to race frequently. His participation in these events, both as a racer and in other capacities, keeps him and his business visible to motorcycle enthusiasts and increases his customer base. People know that he is a knowledgeable, reputable dealer and that they can trust him. Plus, it's fun!

All business owners face similar challenges. Economic conditions always affect the bottom line. "We were fortunate to have been able to survive the economic downturn during 2008-10, but it was a difficult time for everyone. Without an all-consuming passion for the product and the business, we may not have survived, either. It was that passion and determination that kept our business alive." The Internet has also become a challenge to retailers and small businesses everywhere. "When buyers purchase their products from us instead of buying them online, they have a safer item. Plus, we can supply the customer service that online businesses cannot provide. Customer service and the love for what I do is what fuels this business. Without customers, Fun Cycles wouldn't exist; without the passion for what I do, the customers wouldn't get the service. It's a continuous 'work,' 24/7, but I love it!"

"Work in Burke" is an important career counseling program of Burke County Public Schools.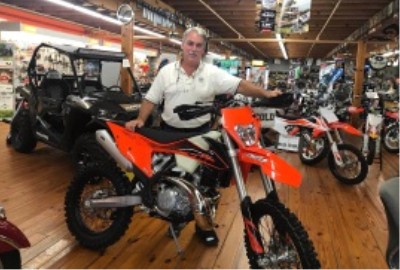 Fun Cycles has always employed local high school students and youth. "We have had a number of young people who have been successful employees. It's exciting to give a high school student his first job and watch him work his way through college and become a contributing part of our great community. We support the people of our community just as they support us."

One common theme is reflected by all private business owners, that one has to love the work in order to be successful. Willie agrees. "You have to love it, and if you don't, maybe you should try something else. But if you work hard and have a passion for the product and the business, you can do well. You may not get rich, but enjoying what you do is its own reward. It's worth the time and the effort to be your own boss and know that you are providing a great product that people will enjoy."

Home Page