Mitzi Cline Lynch – Class of 1984
Central Region Director, North Carolina Odyssey of the Mind; Community Volunteer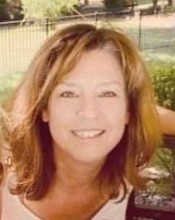 Like many of my classmates, I began working at the age of 16. In fact, my first shift at Winn-Dixie began on the afternoon of my 16th birthday. I remember being excited to get my license and drive myself to work. Apparently, the examiner had other ideas and I had to catch a ride with my dad. I passed the test the next day and unknowingly began what would be a long career in the service industry.

At UNC-Chapel Hill, I majored in Radio, Television and Motion Pictures with a concentration in Broadcast Journalism. I was fortunate to have many wonderful professors at Carolina. Worth mentioning are Jim Shumaker, the inspiration for the comic strip, Shoe, and John Bittner, who after a fun semester of broadcast news rotations, said, "You'll never be a news anchor. You can't sit still, and your personality overshadows the stories you're reading. Add some meteorology classes and shift to weather reporting. Wherever you land, every kid in your market will want to be just like you." He was right, of course. If bobble heads were invented in the late '80's, they were probably modeled after me sitting at the anchor desk.

As I considered a career in broadcasting, I realized a few things: (1) As much as I enjoyed talking about the thrilling topic of weather patterns, I knew that to be successful, I would have to start in a small market and move every few years. (2) I liked North Carolina and wanted to stay. (3) I wanted to regularly be around lots of people.

During my college years, I spent a summer as a server at a disco in New York, and while in school, waited tables at two restaurants near Chapel Hill, so it was basically a no-brainer to stay that course. Upon graduation, I accepted a position as a Director of Sales with a hotel management company and was based at property near Carowinds. I loved the challenge of balancing leisure and corporate travel business to maximize revenue. Fortunately, I had two great mentors in a VP of marketing and a general manager, who taught me the ins and outs of the hotel business while giving me freedom to manage the sales efforts in my own way. I enjoyed every aspect of the hospitality industry—even cold calling. As my high school friends will verify, I will talk to anyone.

Eventually, I moved on to a conference center hotel in uptown Charlotte as their Director of Sales and Marketing. I love a challenge and this hotel was grossly underperforming. Once again, I had a brilliant general manager who taught me a lot and gave me free rein to hire new staff, promote others and teach them all new and effective ways of securing and maintaining business. Training employees and watching their confidence grow with each success was one of my favorite parts of the job. Fun fact: Adjoining rooms 1125 and 1127 were collectively known as the Elvis Suite. The King stayed there during a concert tour in 1972 and left all televisions intact.

I stayed in the hospitality industry for several more years, working briefly for J.K. Rowling's inspiration for Voldemort before accepting a position as Area Director of Sales for the company that hired me right out of college. They were building new properties, so they created a position for me to provide sales strategies to young general managers and market new hotels to cities in North and South Carolina.

When I became a mom, I decided to take some time off. It wasn't an easy decision, but I received great inspiration from several high school friends who had successfully made that transition. When I raised my hand to volunteer for something and it snowballed into a new career as a Community Volunteer.

Remember the book If You Give a Mouse a Cookie? That story pretty much sums up my trajectory. It started with a rotation teaching children's Sunday School. That led to preschool room parenting, which led to service on the church Children's Council and chairing a carnival event for the preschool. By the time both of my children graduated high school, I had logged many hours as a media center volunteer, conducted numerous school tours, led an accelerated reading program, served as the elementary school's PTA secretary, vp of fundraising and president, the middle school's PTO vp of fundraising, president and school leadership team representative, and the high school's PTSO scholarships chair and VP of communications. During this time, I also served on the theatre booster board as a VP of volunteers, events and communications, treasurer, and president, leading the charge to establish the club as a 501c3 designated nonprofit organization.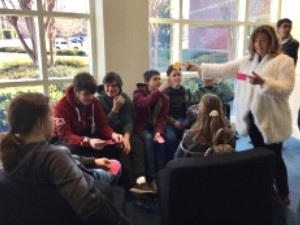 One of the accomplishments I'm most proud of is a 15-year commitment as an Odyssey of the Mind coach. This international program teaches students to work together to creatively solve problems with critical and divergent thinking. It's every STEAM program's dream organization. Teams are made up of seven students with diverse interests working together to build machines, write an eight-minute skit that incorporates the technology, construct sets, create costumes and perform—all on a shoestring budget using mostly recycled materials. Teams even sign contracts stating that from conceptualization to completion, they do all the work themselves. They also compete in a spontaneous competition where they're given a question requiring 35 creative responses in three minutes or one that requires them to use tangible items to perform a task. It's amazing what students can do when adults get out of their way.

This adult couldn't get out of the program, though. I am currently in my second year as Central Region Director for North Carolina Odyssey of the Mind. Our region serves teams from Lincoln, Gaston, Mecklenburg, Cabarrus, Stanly, Anson, and Union counties. We provide training for coaches and judges, host fairs for teams to practice spontaneous problems, organize judging and volunteer teams, plan and execute regional competitions and provide support and guidance as they move into state and world finals events.

In my free time, I work with Encore, the volunteer body that provides support for Children's Theatre of Charlotte and serve on the University of Iowa Parent and Family Council.

I believe that my dedication to service can be traced to my Burke County roots, specifically to friends I made at Drexel and East Burke and teachers who influenced me most. Whether it's a reunion, life event or quickly planned meal, time seems to melt away when I get to hang out with high school friends. I know that at a moment's notice, any of us would go to the ends of the Earth for each other.

The teachers were wonderful, too. As a cheerleader at East Burke, I was fortunate to receive constant guidance from Judie Anthony and Barbara Bliss. In the days when cheerleading wasn't considered a sport, these teachers were more than advisors. They were coaches who encouraged, supported, sometimes refereed and were always our biggest cheerleaders. These two exceptional teachers taught me early on what a truly great leader should aspire to be. My days at East Burke were full of valuable life experiences with memories I will always cherish.

Go Cavs!

Published May 2023

Home Page