Travis Coffey – Class of 1997
Lieutenant Commander, Active Duty Chaplain, United States Navy, Kaneohe, Hawaii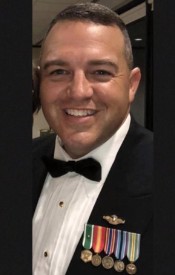 The first military chaplain in the United States was appointed by the Continental Congress on July 29, 1776, and throughout American history, the armed forces have benefitted from the many services provided by chaplains. Travis Coffey, presently serving as a Navy Chaplain with MARINE AIRCRAFT GROUP 24, at Kaneohe Bay, Hawaii, is helping to carry on that valuable tradition.

"A Navy chaplain serves the sea services of the Navy, Marine Corps, and Merchant Marines and has four primary duties: to PROVIDE, to FACILITATE, to CARE, and to ADVISE," explains Travis. "These four services are made available for active duty military, their dependents and family members, retirees, and members of the Department of Defense.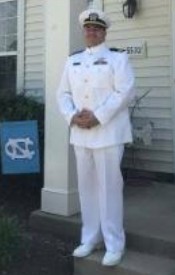 "First of all, chaplains PROVIDE religious services and ordinances according to their own faith groups. As a licensed ordained Christian minister, I am able to provide Christian services to those who choose to participate. However, not all service members who practice religion are of the Christian faith, so I am also required to FACILITATE by assuring that everyone's right to religious expression is supported and adhered to." For example, if a service member is of the Jewish faith, the chaplain will make sure that he or she has access to a rabbi and can freely and comfortably enjoy the appropriate practices of their faith. "It is the chaplain's duty to help the fighting force to achieve the spiritual fitness that will keep them at their peak performance for mission readiness."

The third duty of the chaplain is CARE for all personnel whether they are religious or not. As a trained counselor, Travis is able to address the needs of the designated personnel by meeting with them and offering support for such areas as occupational stress, anger management, substance abuse, marriage counseling, parenting, and grief counseling. "Additionally, we also care for them by advocating and helping them find any additional resources needed for them to receive healing, recover, return to the field, and be ready for their assigned missions."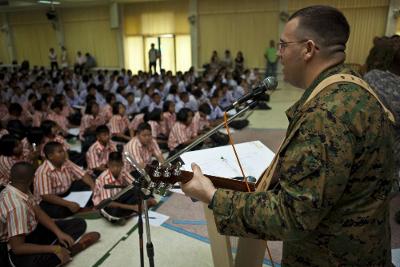 Chaplains are the only service provider in the military that are bound by law and instructions to keep 100% confidentiality. "It is important for them to know they always have someone that they can talk to; someone who will listen in a compassionate, caring, non-judgmental way; someone that they can trust no matter how bad or tough life may seem or how ashamed or guilty one may feel. That blanket of protection, that level of confidential communication, and that presence of the divine is so important to their well-being. I sometimes look at what I do as if I were the cup bearer in a communion service. I serve as the 'bearer of the presence of God.' It is both a responsibility and a privilege to provide such needed care."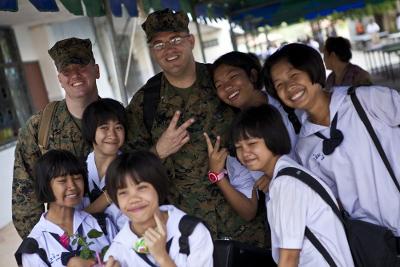 The fourth duty of a chaplain is to ADVISE the commanders of the military unit about important matters in the unit and in the community at large. For example, if the unit is garrisoned in an area that has particular religious or cultural events or dates that need to be observed, the chaplain must make the commanders aware in order to avoid offending the population. The chaplain also advises the chain of command of the overall command climate and to how they may better maintain a professional work environment. If, for example, the chaplain sees a problem with morale, it is his or her duty to help the commanders find a way to remedy the issue, whether it be through training or other lines of effort. "I provide a trusted ear to the leadership of the unit and then supply feedback, including advice and recommendations." Again, it is a responsibility, one that requires trust and judgment.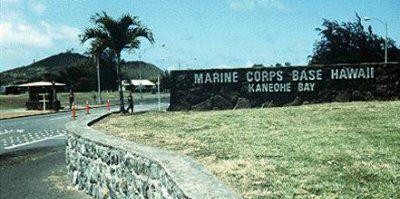 Travis arrived at this remarkable command though a series of interesting circumstances and via many people who have invested in his journey starting in middle school. "I had some really great teachers who both influenced and inspired me. I have always loved history, and I especially enjoyed Rexanna Lowman's North Carolina history class at Heritage Middle School. I think of her and that class so often, especially when I hear a reference to any event from North Carolina's past. This summer, a new book posed a theory about what may have happened to the Lost Colony of Roanoke, and my thoughts immediately travelled back to the classroom and Rexanna's passion for the subject. Carla Draughn, who was band director at Heritage at the time, was also a great influence and helped me begin to solidify my interest in music.

"When I arrived at East Burke, it was Jonathan Berry who helped me advance my artistic capabilities by allowing me to develop my skills on the percussion instruments. Each year before marching season, we band members would be so excited to learn about the theme for the halftime show that we would perform and take to competition. I distinctly remember during my junior year that he called us all into the band room and dimmed the lights, preparing us for the big announcement. He knew exactly what he was doing. When he played for us the entire soundtrack of 'Phantom of the Opera,' he implanted that music in our hearts and souls. I still get a touch of excitement every time I hear 'Music of the Night' or 'Masquerade.' It's a great memory!

"Mike Colbert was another important role model. He was both one of my football coaches and my JROTC instructor and exhibited all the qualities of what a leader should aspire to be. He received our respect from his own military service and by his deep investment in the JROTC program which instilled in us skills and confidence, whether it be through classes, officer training, rappelling, white water rafting, or any of the other activities we enjoyed.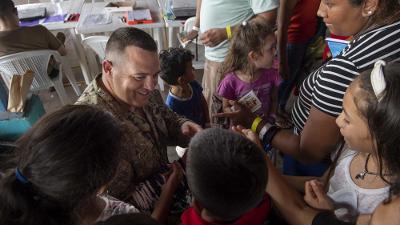 "Albert Huffman, assistant principal and football coach, was very memorable to me. My favorite saying of his was, 'You gotta give your heart, liver, and lungs' to everything both on the field and off. Even today when I face challenging situations, those words still ring true. During my freshman and sophomore years, I wanted to start a devotion group that met before class each day. At first, it was just three of us – Jason Adams, Matthew Anthony, and me – and we met outside under the breezeway to the science department. But then the group began to grow – five, fifteen, then twenty members – and we needed more space and security. We felt like religion was getting pushed aside, and it was important to us to have these meetings, so I asked Coach Huffman for assistance. He was very encouraging and found us a classroom where we could meet. The group continued to grow, and by the time I graduated we had over fifty people meeting regularly. I am told that eventually more than two hundred people joined in. I have always been so thankful to Coach Huffman for helping us.

"Rick Sherrill was also an assistant principal at that time as well as one of the football coaches. I admired him so much because he had been a highly successful colonel in the Marine Corps and then had chosen to continue with public service and work with young people after he retired from his military career. I was really into football. It was a real passion of mine, and I worked very hard to succeed on the field. I will always remember a special day when I was a freshman on the JV team. At that time, it was actually a rare thing for a freshman to be moved up to the starting JV huddle, but one afternoon Coach Sherrill walked over to me and said words that I will never forget: 'Coffey, get in the starting huddle.' I still remember how it felt to know that this man I respected so much had recognized my hard work and my potential and had singled me out for advancement. It gave me such confidence! I also learned so much from Coach Mark Crisp as well as Coaches John Hardin, Scott Lambert, and Jay Murray. I will always be thankful for all my coaches who invested so much time and support in me."Travis continued to play for his four years with the Cavaliers and during his senior year was selected for 1st Team All-Conference for both offensive line and defensive line. "I owe all of my success both to those coaches and to my fellow teammates who will always be like family to me!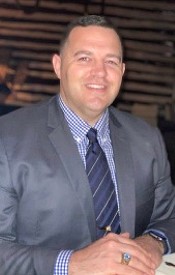 "I really enjoyed social studies, and I particularly remember Betty Floyd as a teacher who took someone like me, who wasn't particularly interested in academics, and inspired me to learn new ideas. Another teacher who impacted me was DeVon Vance. He had also served in the marine corps, and he sparked my appreciation for both military service and for earth science."

After high school, Travis earned a bachelor's degree in Church Ministry from Warner University in Lake Wales, Florida, and while a student there, he began his church career in earnest by working at Lake Wales Church of God for two years and at South Lake Wales Church of God for two years. "I did a variety of ministerial tasks including preaching to senior adults at trailer parks and camper churches. Wherever people needed me, I took the opportunity to serve."

After graduating in 2001, he returned to Burke County, worked at the Morganton Church of God, and played drums in the band Seven Miles with his dear friend Benton Blount. They spent an exciting summer traveling around the country on the Summer Jam Tour and opening for such well-known Christian artists as Rachel Lampa, Tait, Brothers Keeper, Carmen, and Newsong.

In the fall of 2002, Travis accepted a job at a church in Virginia and then another job at New Covenant Church in Middletown, Ohio, where he served for four years. "It is so interesting how things happen. It was in Ohio where I met my wife, Allison, and it was her brother, who is a chaplain in the United States Air Force, who told me about what it was like to have a career as a military chaplain. I was truly fascinated by his story and impact, and my interest in becoming a military chaplain grew."

In order to work as a military chaplain, Travis would need the appropriate credentials, so he returned home and enrolled in the Master of Divinity program at Gardner-Webb University. "I chose the counseling track as my concentration of study, which still supports me to serve in the capacity that I do today." During the four years that he studied at GWU, he worked alongside Dr. Tito Madrazo and his former teacher Jonathan Berry at Drexel First Baptist Church, serving the youth program, the music program, the senior adult program, and wherever else he was needed.

After receiving a Master of Divinity degree in 2010, he applied for and was commissioned into the United States Navy. "On December 7, 2010 – Pearl Harbor Day – I was one of nine who were invited to Washington, DC, and went over to the Pentagon Annex to be interviewed as a prospective chaplain. We faced a large boardroom of high-ranking officers who intensely interviewed us individually, and at the end of the day, only two of us were chosen to continue." He then graduated from Officer Development School in Newport, Rhode Island, followed by Chaplain Basic Course at Naval Chaplaincy School and Center in Columbia, SC. "At chaplain basic school, we were trained in how to work in a pluralistic environment. We were taught laws and regulations that we would need to operate by to run all the programs and how to protect and enrich all people of all religious faiths."

His first assignment was to Iwakuni, Japan, where he served as the MARINE AIRCRAFT GROUP 12 as the Deputy Chaplain and as the MARINE AVIATION LOGISTICS SQUADRON 12 Chaplain.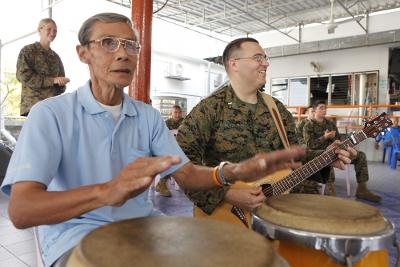 The tasks of a chaplain are many and varied. "The Marines I served operated the fixed wing platforms like the Hornet fighter jets, Prowlers, and Harriers, and we were deployed all throughout Asia. I traveled and supported exercises throughout Japan, Korea, Guam, Tinian Island and Thailand. It was meaningful to stand on Tinian Island on the same runway where 70 years earlier the Enola Gay and the Bockscar took off in 1945 on their way to drop the atomic bombs on Hiroshima and Nagasaki, bringing the end of World War II. As a pastor and counselor, I would not only provide worship services, devotional programs, and Bible studies to the Marines, but it was also my sacred job to deliver news such as the death of a loved one at home, provide counseling when needed, and help them through difficult times. I also am charged with leading the volunteer projects that the Marines would be involved in. For example, a group of Marines might go to local schools and provide tutoring or mentoring. Sometimes they may pick up trash in a particular area and restore the community. It has been said that there is no finer friend or no worse enemy than a United States Marine. It was their job not only to be prepared to fight but also to extend a hand of friendship to the community. In addition, I was able to take part and support the recovery efforts with OPERATION TOMODACHI, which was the humanitarian response to the 2011 tsunami devastation in Japan.

"On a personal note, I began to see how chaplains can live in the proverbial 'glass house,' as the entire military community where we serve becomes interested in our lives and our families. When my wife and daughter and I were able to add two more to our family when we adopted our two boys from Yokohama, Japan, the entire base rejoiced with us and treated our sons as their own."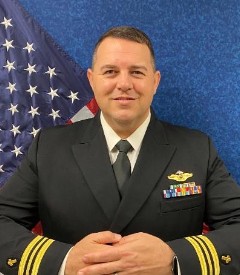 His next assignment, in 2014, was to the port of San Diego, California, where he served on the USS LAKE CHAMPLAIN, which is a guided missile cruiser, a type of warship that can destroy enemy subs and ships as well as air and land targets. Its primary mission is to protect an aircraft carrier so that the air fighting force can operate at full capacity. "It was a great opportunity to provide services to the Naval surface warfare community and to personnel from Canada to Mexico to Hawaii."

In 2016, while still stationed in San Diego, Travis was selected to the yearlong Navy graduate education program for Clinical Pastoral Education (CPE) at the San Diego Veterans Affairs and DOD CPE center. While taking part in the training, he worked over 1,00 clinical hours at the Balboa Naval Medical Center in San Diego and the Veterans Association Hospital in La Jolla, California. After completing the program, he applied for national board certification, and in 2017 he was board certified by the National Association of Veteran Affairs Chaplains.

The clinical chaplain training was paid for by the Navy, but the personnel who take the program are then required to utilize their skill sets and "pay back" their learning through time and work. Travis's pay back tour for his training was for three years at Walter Reed Medical Center south campus, serving as a staff chaplain at Fort Belvoir Community Hospital in Fort Belvoir, Virginia, and as the Chaplain to the DeLorenzo Medical and Dental Clinic in the Pentagon.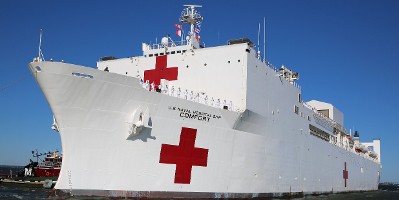 In 2019, Travis was selected to deploy with the hospital ship the USNS COMFORT, where he served as Operations Chaplain in support of operation CONTINUING PROMISE '19. During a period of six months, the ship visited thirteen countries in Central and South America and throughout the Caribbean, providing free health care, including screenings and surgeries, and multiply specialty practices for approximately 100,000 people. Working alongside the department of health of various countries and with US State Department administrations, the program served to build, expand, and strengthen regional partnerships.

"My job was not only to support the patients but also to support over 1,000 members of all 4 military branches on board as a joint force, as well as the members of the non-government organizations who also participated. We usually had two medical locations in each country where we would set up clinics and then provide surgeries on the ship during a 10-day mission stop. In addition, we completed 42 community relations projects that were designed to make a lasting impact on the various communities. They ranged from fixing up schools and orphanages to providing help for social needs.

"One interesting project involved forming a US military all-women's soccer team in Peru. Our female shipmates mentored the local young women's national team players – encouraging them to chase their dreams – and followed up by playing a game with them in the soccer stadium in Lima. Because of this project, I was able to witness an especially heartwarming story involving a sailor on the team. Her father lived in Peru, but she had had no relationship with him throughout her life. When, because of the soccer mentoring project and the ensuing game, she was featured on the local news, her father saw the coverage, recognized her name as his daughter, and traveled several hours to reunite with her the next day and tell her how proud he was of her. It was a life changing experience for them both."

In July 2020, Travis reported for duty in Hawaii, where he serves approximately 2500 personnel of the 1 Marine Aircraft Wing - including aircrew and maintainers for Cobra, Huey, Sea Stallion, and Osprey rotary platforms aircraft, and unmanned aerial vehicles - as well as their family members. He serves as a supervisory chaplain and is assisted by a Deputy Chaplain and two petty officers and three civilian personnel. The squadrons stationed at Kaneohe serve all over the South Pacific islands, Australia, south east Asia, and the ships that operate in those areas.

Travis has had many interesting adventures during his ten years as a Navy chaplain, and no doubt many more lie ahead. In addition to his service, his personal awards include the Joint Service Commendation Medal and the Navy and Marine Corps Commendation Medal (3 awards).

"It is a true blessing to serve our fighting force in the four areas – provision, facilitation, care, and advice. Helping our Sailors and Marines remain at the peak of their capacity and spiritual readiness to protect our great nation is a real privilege and a high calling."

Published October 2020


Home Page