Joy Baker Cook – Class of 1982
Chorus and Theater Arts Teacher, Northwest Cabarrus Middle School, Concord, NC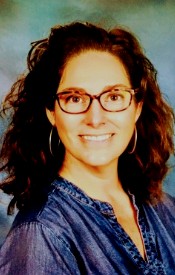 "Live your truth. Express your love. Share your enthusiasm. Take action towards your dreams. Walk your talk. Dance and sing to your music. Embrace your blessings. Make today worth remembering." Those words were written by author and lecturer Steve Maraboli, but they could just as easily have been written by Joy Baker Cook.

All students like to look back with appreciation toward the teachers who encouraged and inspired them with enthusiasm and energy. It's true of any subject area, but those who enjoy the performing arts especially thrive when they encounter a teacher who brings out the best in them. Joy is one such teacher.

"I have to say my path started at home," explains Joy. "My sister, Alice Baker, Valdese High School class of 1971, studied piano. My parents always afforded us the opportunity to do anything we showed an interest in. Alice worked hard practicing scales, fingering, conquering the classics, etc.. I watched, listened, and looked up to my older sister. She would teach me to sing the popular hits of the day, and we would sing around the piano as often as possible. My brother was more the consummate athlete, although my sister was a basketball star, too, but to my knowledge he never had an interest in music, although he has a nice voice. Alice and Rick were 10 and 11 years older than me, so it's not hard to imagine the influence they had on me.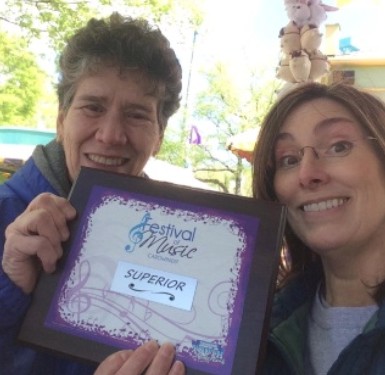 "I started piano and voice lessons with Wade Massengill at our home church, First Baptist of Valdese. The church also played a huge part in building my love of music. We always had children's choir, youth choir, musicals, and music during vacation bible school. We also visited and performed our music in other states and throughout North Carolina. I'll never forget teachers like Virginia Fite Riddle. Throughout my education in Valdese she was my third-grade teacher, my school music teacher, or she was teaching me at church. I learned to sing harmony when she taught us the beloved hymn "In the Garden." The church was always helping young people gain experience and confidence by allowing them to sing solos and specials. The church also brought in gospel groups and contemporary Christian groups to perform there. For the longest time I wanted to audition for my favorite group, Truth. I don't think they perform any more, but they live on in my mind.

"After Mr. Massengill passed, I studied with Anita Willis and a few others. But I never practiced. I found practicing the piano to be extremely boring, so I have never come close to the success my sister has had. People always say she's the pianist and I'm the singer, but she has a gorgeous voice! I'd like to publicly apologize for the months and years my piano teachers had to listen to my pitiful playing.

"I started learning the clarinet in seventh grade band, taught by Leonard Brendel. Students at Valdese Junior High could only have one special class, and I chose band. But Mrs. Barbara Hagaman and Mr. Ned Shue gave me my first role in a school musical, also at VJHS, called "Heaven's to Betsy," While I was at VJHS, East Burke would perform their spring musicals for us. That's where I first saw and heard Kim Cozort Kay, Class of 1978, portray Eliza Doolittle in "My Fair Lady," I wanted to be just like her! I thought she was the most beautiful and most talented human being on the planet! So, then it was my turn to take on East Burke where Phyllis Garrison cast me as Fruma-Sarah in "Fiddler on the Roof." The next year she produced "Brigadoon," and I played Jane Ashton.

"Theatrically, I didn't meet my goal to be just like Kim, but marching band and concert band, under leadership of Kathryn Siphers, was where my passions lay at the time. I was both terrified and in love with that woman. She was amazing! She put a new show on the field every home game. Now schools have one show they perfect for the whole season. And it was at East Burke that Jim Jerome Williams came into my life. Thankfully, high school gave students the opportunity to take more than one special class at a time, so I was able to take chorus and band at the same time. I have many great memories of Chamber Choir. Mr. Williams took us to All State and Mars Hill. My senior year he asked if I would tutor a girl who was struggling in school. So instead of singing with the class, I would take her into Mr. Williams office and teach her to read music, match pitch, whatever I could think of to help her. Maybe that's where I got the teaching bug!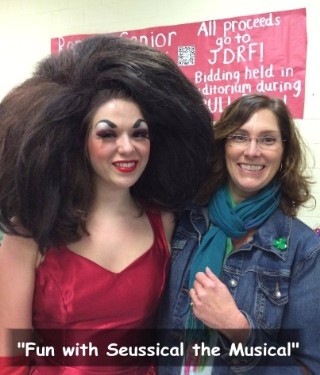 "During high school, many of my friends attended Drexel First Baptist Church. During this time my home church was in a period of transition with youth direction, so they encouraged and invited me to visit their church. Their youth were being directed by Thad Brendle. He was a dynamic musician and gave us many opportunities to shine through musicals and solo opportunities. My family was always there supporting me in every endeavor, and my mom and dad were and are forever the foundation of any success I've ever experienced.

"After East Burke, I graduated from Appalachian State University in 1986 with a Bachelor of Music in Vocal Performance and a minor in Theatre. Through college, I performed roles in various operas, musicals, and plays. I performed through the summer breaks at "From This Day Forward," The Farmhouse, and The Blowing Rock. After ASU, I moved to Columbia, S.C. where I worked as an arbitrator for Visa and Master Card International through the South Carolina National Bank, all the while traveling back and forth to Charlotte on the weekends to study voice. After two years, I decided the bank wasn't where I was supposed to be, so I went back to school at UNC-Greensboro and earned my K-12 Music Education Degree. While studying there, I performed in several operas through the school and the city of Greensboro. When I graduated in December of 1989, a middle school in a town I'd never heard of needed a music appreciation teacher. The school was Concord Middle School in Concord, NC., and that is where my career as a Cabarrus County Music and Theatre Arts teacher began.

"I had no idea I would spend the next 30 years working and falling in love with this place. Concord Middle only hired me for a semester because their class sizes were too large, so I spent most of the summer applying for new positions. Then I received a call from Mt. Pleasant High School in July of 1990. They needed a Chorus and Theatre Arts Teacher. The first musical I produced there was the second musical I had seen produced by Phyllis Garrison and Kathryn Siphers at East Burke, "Oklahoma!" I'll never forget when I ran it by my principal, he said, "Oklahoma? Isn't that too big?" I said, "No, I think we can handle it." And the rest, as they say, is history. Handle it we did! With the school orchestra, the dance teacher, the art department, and a huge cast of amazing students that worked every day and into some very long nights, we created ourselves an amazing experience. I was hooked! I knew this was how I wanted to spend the rest of my life, not only bringing theatre music into the lives of children and showing them how it can be their career, but also encouraging them that it can also be a hobby that makes a life worth living.

"I taught at Mt. Pleasant High for almost 10 years. During that time, I also auditioned and performed in the evenings with the Carolina Opera Company in Charlotte. It was wonderful but challenging, so I finally made the difficult decision to give up my dream job and stay home with my children. Then after a few years, I got the call to teach again. Weddington Hills Elementary School needed a music teacher to continue the work for their teacher who needed to take an extended family leave. I spent seven years there producing a program with a different grade level four times a year, preparing fifth graders for their D.A.R.E. graduation, and occasionally performing for the town tree lighting ceremony, At that time, Northwest Cabarrus Middle School was looking for a chorus teacher, and they wanted to start a Theatre Arts program. Sign me up! I was given the opportunity to create my own program and build it in the way that I saw fit. In Chorus we have the usual performances at the holidays and in the spring. We perform at the Carowinds Music Festival every year, and we try to visit an assisted living center throughout the year. We perform with the high school choirs and we perform around the county at Great Wolf Lodge, the county office, etc. In theatre we produce a full-length play or have an evening of one-acts in the fall semester, and then we produce a musical in the spring semester. The 2019-20 school year is my thirteenth at Northwest, and I'm still loving every minute of my career.

"In addition, I'm an active member and soloist of the chancel choir of First Presbyterian Church of Concord, where I have the privilege of working under the direction Dr, Jeffrey Price and Dr. Jacqueline Yost. Our choir has performed several times at Piccolo Spoleto in Charleston, S.C., which is a thrilling experience! I'm grateful for both their friendship and their leadership.

"So many people mentored and inspired me to spend my life as a musician, both as a career path and personally. I'm passionate about teaching my students that music and the arts are essential to a full life. In my classroom I have a poster over the top of my board that reads, 'Be a voice, not an echo.' If my students don't learn anything else in my classes, I want them to learn to speak up - and speak out.

"I plan to end my 30 years with Cabarrus County Schools as the Chorus and Theatre Arts teacher at Northwest Cabarrus Middle and then retire to the mountains of North Carolina. Perhaps I may get involved with a new home church and find a community theatre where I can continue to 'play' around. Whatever I do, music and theatre will continue to be a major part of my life."

Published May 2020


Home Page