Kim Cozort Kay – Class of 1978
Actress, Jupiter, Florida, and wherever the stage takes me.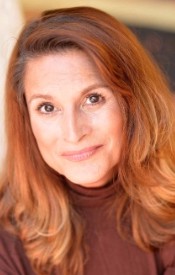 I was lucky enough to be raised in Drexel, NC. We were dramatizing literature, monologues and involved in stage plays since I was in Kindergarten. The dynamic duo of Maxine McCall and Kathryn Siphers made the Drexel community infamous for their Drexel High productions of THE KING AND I, THE SOUND OF MUSIC and CAMELOT in the Drexel gymnasium. The entire community came together to help these massive undertakings. My parents helped with the sets, my uncles were in the casts, and many other teachers created beautiful set and costume designs. Little did I know that those experiences were the beginning of an incredible journey for me. I discovered my life's work here. A life on the stage. You see, for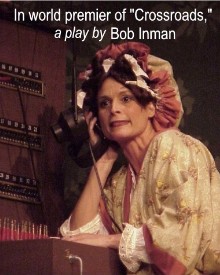 thirty-plus years, I have been a professional actress, attempting to breathe life into many different characters, both on stage and in film. The life is not an easy one, but I do enjoy every moment.

My teachers and parents encouraged me every step of the way as I was growing up. Auditions were held for the local outdoor drama FROM THIS DAY FORWARD. I auditioned and won a role as an ensemble member. I had the chance to be on stage with other actors whom I admired so much: Greg Carswell, Cheryl Oxford, and Julia Pittman They were very patient with me and were incredible role models. All were VERY good at their craft and I soaked in every second. I returned three more times, playing Anna and the Duchess, then directed the music for two summers.

Once into high school, Drexel High no longer existed. Four schools consolidated into one: East Burke High. I was a bit concerned that the opportunity for me to be in plays and sing would not be possible at EBHS. How wrong I was…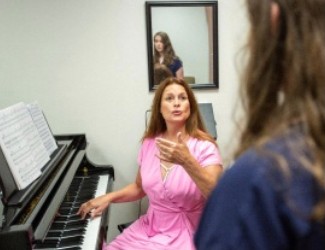 A professor once told me to teach students beginning with what they know. It was only on reflection of my time at EBHS that I realized, all my instructors there did just that. Many knew my passions were the arts, music, drama, prose, poetry, and storytelling. So each teacher never said no when I wanted to "act out" a book report or class project. Yes, I had to initially write it, but then could communicate the project in my own language, express it my own way.

My schedule at EBHS included chorus, humanities, and band every day. I was immersed. My favorite moments were: dressing up as Medusa in Mrs. Sherron Prewitt's mythology class, ANY humanities class with Mrs. Lillian Pendley or Mr. Ben Gunter. Home Economics was a bust, but I remember Mrs. Lena Hollifield taught me not to take myself too seriously.

As a junior, we were told to report to guidance so that we could focus on colleges and career paths. My desire was to keep singing onstage. In the seventies, an acting vocation was frowned upon. Steady work? Forget it… Moneymaker? Hardly… Will I become tired of the rejection and instability? Who knows? I walked into Mr. Enoch Johnson's office. He asked, "How long have you loved being onstage?" I said, "My first play was ten years ago." He said, "You still love it?" My reply, "Every minute." Mr. Johnson said (and I will never forget this), "If you have been doing acting and singing for all these years and still love it, I think you will be fine." I floated out of his office that day.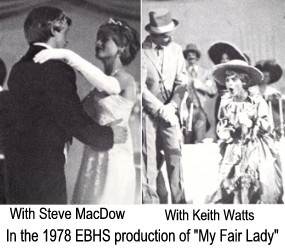 Thirty-three years later, I am still at it, still on the stage whenever I can be. Instructors at EBHS paved the way for that purpose in many other ways. Phyllis Garrison cast me in the spring musicals. When I was cast as Eliza in MY FAIR LADY, she came with a tape recorder to my babysitting job so that I could listen to myself and refine the Cockney and British dialects I needed for the role. Three months of that work with Miss Garrison has stayed with me every time I performed Eliza professionally, a total of 5 times.

J. Jerome Williams and Kathryn Siphers taught me that life as an artist was possible and was to be a respected profession. If anyone coughed or rustled programs during a concert, Mr. Williams would turn around to the audience, stare, and wait. I ALWAYS LOVED THAT! He was saying through his actions, RESPECT THE ART! Wake up! Pay attention!

Roy Sweezy, my French instructor, has helped me throughout the years with many roles. We stay in contact constantly. A few years back, I played a dog named Sylvia who loved to sing Edith Piaf songs. I called Mr. Sweezy to make sure I was singing the French lyrics correctly and also to help me translate.

I have been honored to receive multiple awards for excellence in acting. These awards include the South Florida Carbonell Award, the Curtain- Up Award, and the Metrolina Theatre Award. I have been an active member of Actors' Equity Association since 1986 and the Screen Actors Guild since 1992. I have been so fortunate to have "shared the boards" with fellow artists and Broadway vets, June Havoc, Charles Nelson Reilly, Rachel Bay Jones, Alison Fraser, Hal Holbrook, Andrea Burns, and Richard Kind. Television credits include featured roles on The Glades (A & E), Bloodline (Netflix) and Burn Notice (USA)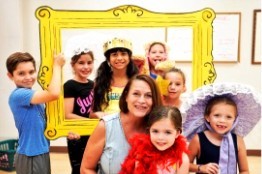 I did earn a master's degree in Music Education in the Carolinas. I am so glad I did. Stage and screen work are never constant. I use my teaching skills as a teaching artist with the Center for Creative Center and the Kravis Center for the Performing Arts, both in West Palm Beach and the Maltz Jupiter Theatre Conservatory in Jupiter, FL. My husband Ken and I formed our own production company (Kay-Squared Productions) in anticipation of the world premiere of my one-woman show, Silver Shadows; Dark Side of the Mountain, a story about the Burke County native Frankie Silver. Needless to say, it did indeed take a village to help me fulfill a lifelong love for theatre and song. I never did strive to be a star, only to do the work of the theatre. For the most part, I continue to do just that. Even when teaching, I am teaching voice, piano and acting, hoping to inspire that tiny one in grade school, just as my teachers and parents did with me. One of my favorite moments on stage was playing Papagena in THE MAGIC FLUTE with the Greater Miami Opera. My entrance was in a balloon floating over the audience. I remember being up in the air, literally flying thinking. "Ah, yes, this is what I still love, every minute!"



Published November 2019



Home Page