David Draughn – Class of 1984
Town Manager, Long View, NC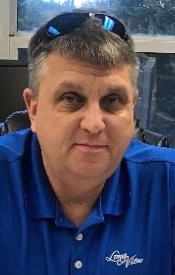 Whether a person lives in a big city or a small town, he or she is dependent in some way on local government. David Draughn, town manager of Long View, knows that all too well and takes his job very seriously.

"My duties include overseeing all aspects of the town administration," explains David. "They involve supervising all the departments including police, fire, public works, public utilities, finance, recreation, and planning/zoning. The town manager is appointed by and works for the mayor and town council and carries out all board policies. It is my job to write and administrate the town budget, work with the department heads, provide services to the residents, handle complaints, work with business development, and work to promote economic growth. I also write and obtain grants for everything from utilities to economic development projects.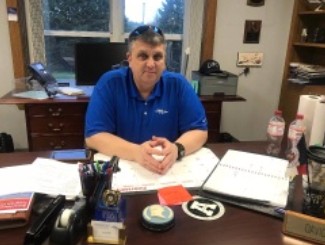 "I really enjoy the interaction with the elected officials, staff, citizens, and businesses. It is the mission of local government to provide services and improve the quality of life for the residents. We have the unique opportunity to make the lives of our residents better because we touch their lives directly. I am involved daily with the police, the fire department, and the EMS staff. Our services also include being sure that our residents have safe drinking water and proper sanitation services. All of us work together to make Long View a safe and pleasant place to live and work."

Challenges are always present in every area of life, but meeting and surmounting those challenges can lead to satisfying rewards. "Sometimes budgetary restraints make it difficult to balance the needs of the community as well as the goals of the board, but we work together to find a way. Experienced and dedicated staff members also are a fundamental component of quality service. Local government regulations must be met. Public opinion is constantly changing, and we listen to and work together with the members of the community. The task of making all these components work together is somewhat like a conductor bringing a symphony to life with each person or group playing an important and essential part, and the result is very satisfying."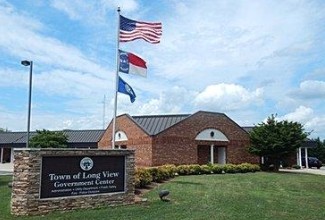 David credits his parents, Emma and Jimmy Draughn, for giving him a good foundation. "I was blessed to have been raised by two dedicated public servants who have exhibited integrity and honesty throughout their lives. My father, who was principal at Valdese High School and later became the first principal of East Burke High, served as mayor of Valdese after retiring from education. It was from him that I got my interest in local government."

After high school graduation, David enrolled at Appalachian State on a music scholarship, but he later decided to focus instead on local government. Fortunately, ASU has a great program, and he earned a Bachelor of Science degree in political science with a minor in city/county planning. The program in which he was enrolled was called Town Administration City County Management (TACCM), developed by Professor Matt Williamson. "He was a great professor, creating a network of town managers all across North Carolina." David later earned a Master of Public Affairs at Western Carolina University. He completed additional course work in municipal and county administration at UNC School of Government. "The courses at the school of government cover fundamental material that a student normally doesn't get in a college classroom."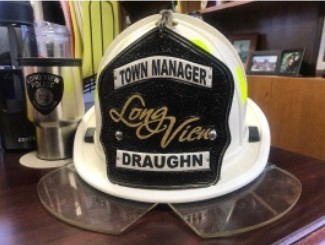 As part of the required TACCM program at ASU, David served an internship as administrative assistant to the city manager in Washington, NC. He later was employed as assistant county manager in Polk County, followed by a job as town manager of Belhaven, NC, where he also served as a member of the fire department and the EMT services. His time at Belhaven was followed by a job as town manager of Tryon, NC. His first job in Long View was as public works director and then he moved to town manager. "Each town and county has a different set of issues and different life problems. Having worked in towns in both the coastal area and the mountains of North Carolina has created a level of knowledge that I wouldn't have encountered if I had only worked in one place. Every experience has given me more insight and therefore has helped me do a better job of servicing the people of Long View.

"In addition to the skills learned in the different locations, I have to acknowledge mentors who helped me along the way. Bruce Radford, now retired, who served as the town manager of Apex, NC, and Steve Wyatt, who hired me for the Polk County job, have continued to inspire me, and I still call them for advice and counsel. These men taught me how to deal with local politics with integrity as well as how to manage the needed processes involved in managing a city. They, like my parents, always aspired to do the right thing, and I emulate them as I work to improve the lives of our local residents."

East Burke High School was also a great influence on David. "My time there shaped me in so many ways. I was socially intimidated when I got there, but I had so many great teachers that went above and beyond. When I look back, I still consider these teachers to be some of the greatest anywhere in public education. My parents, both fine educators, instilled in me a love of reading. English teacher Lynda Massengill was another who offered me encouragement in that area. Everette Johnson and Sam Wilkinson really nurtured my love of history. Betty Pennell, who is the epitome of class and dignity, taught me typing, and I think of her as I use that skill every day. Martha Wetmore was a great public speaking teacher, and I really enjoyed learning from her. Other educators I found inspirational include T. W. Wall, Danny Williams, and Jerry Murray; these men exhibited true public service.

"The music department was one of my favorite places. Leonard Brendel had been my band teacher at Valdese Junior High, and I was fortunate to have him as stage band director at East Burke. Stage band was great fun. Kathryn Siphers, our band director, was truly an inspiration. She never settled for less than our best and always motivated us to strive for excellence. The lessons we learned from her go far beyond music performance. One of the most memorable experiences for me was participating in the orchestra for two of the musicals directed by Phyllis Garrison, Irving Berlin's "Annie Get Your Gun" in 1982 and Rodgers and Hammerstein's "Carousel" in 1984. The orchestra music was rented, and I remember thinking how professional Broadway musicians had likely used the same book I was playing from. Miss Siphers brought in some professional musicians to perform with us, and that was very exciting. Those experiences will stay with me forever."

Local government touches all of our lives because it is so deeply connected with our homes and businesses. Longview is indeed fortunate to have such a dedicated professional at the helm.

Published March 2020


Home Page