Jennifer Duckworth Donnelly - Class of 2012
Choral Music Teacher, East Burke High School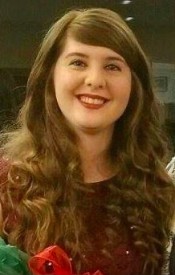 East Burke's tradition of excellence in music has never wavered over the years. Students who have participated in the music program have carried the enriching experience with them throughout their lives. Some of them have become music teachers themselves, and a few of them have returned to teach in the East Burke music department.

Jennifer Duckworth Donnelly is the current East Burke chorus teacher. "I help students learn how to read music and sing with good vocal technique. I also help them develop an appreciation and understanding for a variety of choral pieces as well as encourage them to cultivate and explore their own personal musical interests. One aspect of my job that I thoroughly enjoy is seeing students' faces light up when I play a new choral piece that we are going to begin singing. I also enjoy watching the students become invested in learning a difficult piece and seeing how excited it makes them when we finally reach the stage where their pieces are ready to be performed at a concert. I also enjoy being able to teach a variety of choral music, including foreign language pieces and pop songs.

"The most rewarding part of my job is seeing students grow in their abilities to sing and develop a love for singing with others. I enjoy seeing the journey that these students take as they grow into mature singers and performers as well as the bond that they form with their fellow singers. Another rewarding aspect of my job is completion of a concert. Preparing for a concert usually takes at least eight weeks. I love seeing students excited to share what they have learned to sing with their friends and family. After the concert is finished, it feels nice to see the joy that it brings the students to perform the music that they have put so many hours into learning and perfecting.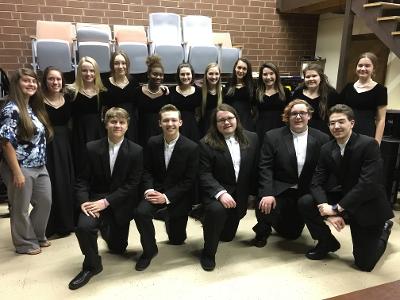 "When I was young, my dream was to become a singer or a teacher. As a young child, I loved teaching my younger siblings and the small children at church about numbers, addition, and shapes. I also enjoyed the task of helping my younger siblings with their homework. In addition to my love for teaching, I always loved singing. I was never afraid to stand up in public and belt out a song. 'A Little Ole Gasoline' was the song I was famous for within my own family. I spent many days after school singing on my Mamaw's front porch. When I was in the seventh grade, I tried out for my first solo at East Burke Middle School. 'A Dream is a Wish Your Heart Makes' from the movie Cinderella was the name of that song. I can still remember my chorus teacher complimenting me, boosting my confidence, and making me feel very comfortable despite how nervous I was. I received the solo and sang in our Disney Feature that Spring. Throughout high school, I continued to sing in choir and enjoyed every minute of it, singing various choral pieces and making wonderful memories with my fellow classmates who also loved to sing. I always loved singing, but this is where my love for choral music really began. There is something so wonderful about singing with a group of other singers, bonding with each other, making beautiful harmonies, and working together to make a song so special and meaningful.

"Although I was still unsure of what I wanted to do for a career, I attended Catawba Valley Community College after graduating from East Burke. I received a scholarship to participate in the CVCC show choir. During my time there, I was able to travel to various locations singing and dancing with a group of my best friends, some of whom are still my best friends today. My love for choral music and singing continued to grow during my time at CVCC, and I decided that I wanted to fuse my two great loves for singing and teaching to become a chorus teacher."

After receiving an Associate Degree in Fine Arts from CVCC, Jennifer went on to earn a Bachelor of Arts degree in Music Education from Appalachian State University. "At ASU, I studied numerous choral pieces that really touched my heart. I dreamed of sharing many songs, including 'Sing Me to Heaven,' 'Set Me As a Seal,' 'Goodnight, Dear Heart,' 'Salmo 150,' and 'Flanders Fields,' with future students."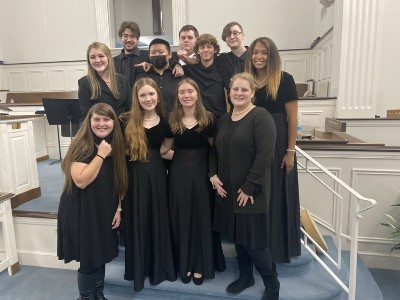 Before coming to East Burke, Jennifer taught music at Hildebran Elementary School. "Hildebran is where I began my career as a music teacher, and I very much enjoyed my time there. The excitement and energy that elementary school students bring is difficult to match. I always enjoyed watching the excitement that these students had from realizing that we were using drums, xylophones, or any other instrument on their music day. The joy in their faces when we played singing games or moved with the music was priceless. Although teaching high school is different, teaching at the elementary school level helped me to realize that when a teacher shows passion for what he or she does, many kids will follow with passion or excitement of their own. I also taught a before-school chorus at Hildebran Elementary School. Although I like teaching general music where there is a variety of musical exploration, my passion is teaching and singing choral music."

Jennifer was fortunate to have many great mentors in her life. "Brian Bowman was one of the most inspirational teachers I had at East Burke High School. I had never met a teacher who knew as much about his subject area as he did. I was placed in Mr. Bowman's American History class in the fall semester of my senior year. I learned so much about American History and was very invested in learning all that I could. Mr. Bowman's knowledge and passion for teaching his subject inspired me to share my knowledge and passion for singing in my classroom.

"Tina Lowman, my high school chorus teacher, was also a huge inspiration to me during my time at East Burke. I enjoyed every moment of singing in her class. Mrs. Lowman's expectations of us were always high, which made us better singers. She really cultivated my love for singing through teaching us countless choral pieces and giving us various performing opportunities.

"Some other wonderful CVCC teachers who inspired me were Dr. Amalie Hinson, Mary Ann Studenberg, and Mike Kirby. Dr. Hinson taught me everything I needed to know about music theory. She also gave me the opportunity to learn how to play handbells, which helped me become a much better sight reader. Ms. Studenberg had the daunting task of teaching me piano; I had not taken any piano lessons before college! She helped me greatly improve my piano skills which I use daily. Mike Kirby was my show choir director at CVCC. He allowed me the opportunity to travel to different places in the world singing and dancing during my time there. Participating in the CVCC show choir allowed me to gain knowledge about singing and performing which I continue to share with my students.

"Dr. Julia Pedigo from Appalachian State University was another great mentor to me. She taught me so much about how to use my voice and take care of it. She taught me vocal exercises to help improve the voice, many of which I use in my own classroom.

"I also played on the women's varsity soccer team all four years of high school. I loved every moment of playing soccer and enjoyed being around all of my teammates; they became my best friends." Jennifer still makes use of her love for soccer and the skills that she learned by currently serving as the assistant coach of the East Burke women's soccer team.

"I plan to continue to build the East Burke High School choirs. I would really like to see more students participating and singing in our program. I have been inspired during my time at East Burke to instill a love and passion for singing in my students that I hope they will take with them after graduating high school."

Published February 2022
Home Page