Kelly Fletcher – Class of 1986
Owner and CEO, FletcHer Marketing PR, Knoxville, Tennessee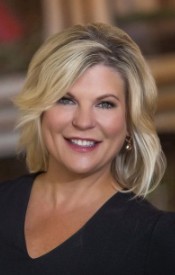 Eighty per cent of products in the United States, including automobiles, insurance, electronics, health care, and travel, are purchased by women. The mission of Kelly Fletcher's award-winning business, FletcHer Marketing PR, is to help companies connect with female consumers.

"Research proves that women process information in different ways from men," explains Kelly. "Our business not only takes advantage of that difference, but we also break the female consumer population down into smaller groups. We use solid research and statistics to target such groups as millennials, single moms, suburbanites, baby boomers, city dwellers – the list is endless – and we fashion our marketing strategy to appeal to the groups needed for a certain project. We help companies market products, but we also promote causes. One such plan involved a client who hoped to recruit people who were interested in becoming foster parents or who might provide respite care. By providing means for people to sign up for more information or offer to help, we raised awareness of the need and furthered the cause in a positive way. Another campaign sponsored by Knox County was designed to help educate parents in ways to talk to teens about sexually transmitted infections. We use all forms of media – television, radio, social media, print media – depending on the mission and the targeted group."

Kelly's various life experiences have all contributed to her business success. One important achievement occurred in 1989 when she was chosen as Miss North Carolina. "I decided in the tenth grade that I wanted to be Miss North Carolina because I wanted to follow in the footsteps of Kim Cozort who was first runner-up in 1983. I always idolized Kim; she was my voice teacher and Sunday school teacher for a while. The first time I ever watched Miss North Carolina on TV is when she was Miss Morganton and first runner-up. I never voiced that goal – I really didn't think I was capable of achieving it, but it was buried in my heart. The first time I participated in the Miss North Carolina pageant as Miss Hickory, I didn't make top ten, and I was pretty upset about it. After all, I had sung the exact same aria as Kim ("The Telephone" by Gian Carlo Menotti) and even copied her costume. I vowed I would never go back, but I changed my mind when the Director of the Miss High Country Pageant called to recruit me. Becky Ferrell told me if I entered her local pageant and won that she would do everything in her power to help me win Miss North Carolina. That got my attention because I knew I needed help. I entered and won the title of Miss High Country and then set forth on a very tedious, hard fought journey to win Miss North Carolina. Competing at that level is not for the faint of heart. The second year I was much more myself; I didn't try to copy anyone. I sang "Think of Me" from Andrew Lloyd Webber's "Phantom of the Opera" and worked on prepping for interview for hours each day. I slimmed down and built muscle for the swimsuit competition. I was very determined, although I can't say that I thought I would win. I prayed about it a lot – that God would guide me wherever he wanted me to go.

"Being Miss North Carolina also prepared me for business. Being a pageant title holder is a job and not always a glamourous one. Sometimes I would have a fourteen-hour day and be absolutely exhausted. I always got to meet people from all walks of life – from the highest levels of corporate leadership and government to everyday farmers at a festival or county fair. Being Miss North Carolina was a crash course in creating my own personal brand. I loved the school appearances and my work to promote literacy in collaboration with the North Carolina Department of Community Colleges as well as my work with D.A.R.E. (Drug Abuse Resistance Education). The friendships I made within the Miss America Organization are some of the deepest and most abiding ones I've ever had."

After high school Kelly earned two Bachelor of Arts degrees from Meredith College in Raleigh – one degree in communications with a concentration in public relations and the other in vocal performance. After college, she set out for a career in performing arts. "I served as a 'cover' in the National Opera Company based in Raleigh. I had to know all the female roles in the entire show and be able to step in at a moment's notice. We went on tours and provided a variety of programs, often for schools. I spent a summer at the Seagle Colony in Albany, New York, where, along with constant performances, the cast members were given vocal lessons and professional coaching. Agents regularly came and watched, and often cast members would be signed to a talent agency."

She then spent a period of time in New York City gaining experience as well as receiving more valuable coaching, vocal lessons, and encouragement from great mentors. "I always say my background in the performing arts has made me a better businessperson. I experienced so much rejection that walking into a Board Room does not intimidate me. When you are an artist and your instrument is your voice, the rejection can be very personal. It made me stronger and more competitive. It was a great training ground for running a business.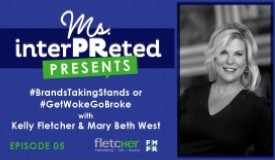 "At age 29, I decided to try my hand in the business world and moved to the thriving, up-and-coming city of Atlanta, where I went to work as the Director of Business Development for the Bernard Hodes Group. After six years, I moved on to be the Director of Corporate Communications and Public Relations at the national home shopping network called Jewelry Television. The JTV customers were 90 per cent women, and I learned a great deal there about marketing, focus groups, and customer service. Marketing is serious business, and every move that is made is based on research. I spent four years at JTV, and then I decided to start my own company.

"I realized that I was more of an agency person than a corporate person. Working for myself would give me so much more flexibility and creativity. I confess that one of the main reasons I wanted to work for myself was so that I could structure my own hours and could spend more time with my son and his activities. In addition, throughout my previous endeavors, I had recognized and appreciated strong women in leadership roles, and I wanted to continue that theme in my own life and business. Running one's own business gives a person autonomy, whereas working for someone else places the person at the mercy of others. I know when things get tough, I can always work harder to make my business grow. I am responsible, and I am fully invested.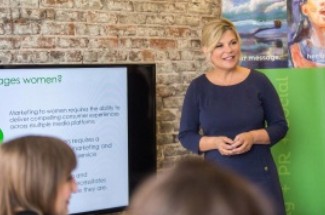 "My business, FletcHER Marketing PR, was housed in a rented house in Knoxville on what we called 'psychologist row,' and I started out with two clients. The economic crisis that hurt so many other businesses reduced my agency to one client. But I was fortunate to have a supportive landlord who recognized how hard I was working, reduced my rent, and encouraged me to continue. Eventually, I got more clients, and the business began to grow.

"One good decision I made was to join a business coaching group. Not knowing how to run my own business, I sought advice from the Chamber of Commerce and was advised to get a business coach. "You need one!" is what I was told, and it was true. Every successful person has a coach. Jack Welch, former CEO of GE, had a coach. Tiger Woods has a coach. I needed a coach. Plus, my peer business group was always there to support me when I had a bad day or needed advice about an important decision.

"There are challenges, of course. My staff and I set goals every day. We get bored if we don't have something to achieve. I thought things would get easier after my business was established, but every new client and every new project present new challenges.

"The influences I had from East Burke High School are profound. Actually, the influence goes even back further than that to Valdese Junior High. Mr. Leonard Brendel was the band director and instilled a love of music and the discipline to practice in me from an early age. Mrs. Barbara Hagaman cast me in my first play as Mary in "Give My Regards to Broadway." When we went on our ninth-grade trip to New York City, I attended my first Broadway show, Andrew Lloyd Webber's "Joseph and the Amazing Technicolor Dreamcoat." Mrs. Hagaman walked me down to the stage after the show so I could get a closer look. That was it. I knew right then I wanted to try it.

"Phyllis Garrison gave me the biggest boost of confidence when she cast me as Carrie Pipperidge in Rodgers and Hammerstein's "Carousel" when I was in the tenth grade. I couldn't believe it. She encouraged me and taught me so much about theatre, music, and acting. She talked me out of cheerleading my senior year because she said I should get serious about my voice training if that's what I was going to major in. She followed my journey and supported me throughout my college experience and was critical to my song selection when I competed at Miss America. Another contestant had already submitted a request to use "Think of Me," so I couldn't sing that piece any longer. I had about 6 weeks to find and perfect a new song, and choosing the right one is 90 per cent of the battle. Phyllis called my mom one day and said she had just heard Sarah Brightman on television performing the song I needed for Miss America. It was "Half A Moment," also written by Andrew Lloyd Webber, and was from a little-known musical called "Jeeves." So she literally selected my talent for Miss America.

"Jim Jerome Williams continues to influence me to this day with his passion for life and music. Where do I even begin? I learned so much about singing (and singing in an ensemble which is very different from solo singing) from Jim. He recognized my talent and pushed me to become better. When I was out of school sick (as I often was because I have an autoimmune deficiency), he would call my house to find out what was going on. By the time I was a senior, I was spending nearly my entire day in the choral departing taking 4 classes – Concert Choir, Chamber Singers, Music Theory, and a study hall in which I would practice piano. He followed my career, even coming to hear my recital rehearsal when I was graduating from Meredith College. We still stay in touch and have met for dinner when he and his wife are at their mountain house in Gatlinburg. He had a profound impact on many decisions that I made.

"Although I wasn't in band or orchestra, Kathryn Siphers always conducted the orchestra for our musical theatre productions, and that's how I got to know her. She had taught my mother in band at Drexel High School where she was also the Drum Majorette. She was tough as nails and intimidated me a bit due to her sheer command for perfection. She also knew how to put a student in her place if she ever started getting 'too big for her britches.' I remember walking out on the football field with her before a game and telling her I wanted to sing the National Anthem with the band before a game. She said no. I said, 'Well, Kim Cozort did it,' to which she replied, 'That's because Kim Cozort is a professional.' Alrighty then. That shut me right up, and I've been scared to death to sing the National Anthem ever since.

"The hardest and most demanding teacher I ever had at East Burke was Sherron Prewitt. She pushed us to greater heights and instilled in me a great love for writing and literature. I am thankful I had her as a teacher.

"I looked up to Sandi Fotheringham because she was immaculately dressed and so classy. She encouraged me to try again my senior year in the Miss East Burke Pageant. I was in it my sophomore year and didn't place, and my junior year I did not compete but sang as part of the entertainment portion. I listened to her and did try again -- and won. That gave me a lot of confidence. She also supported me greatly when I was Miss Hickory by helping me pick out my wardrobe and cheering me on. I babysat for her some in college and loved peeking into her closet to check out her sophisticated wardrobe. She gave selflessly of her time and resources to help me, and I will forever be grateful."

Kelly's business, headquartered in Knoxville, also has an office in Atlanta. Her success has been nurtured by many people and many events. Her skills in business have been formed by experiences in a variety of areas. As she takes her company into the future, her goals are to continue to serve her clients and by empowering women.

Check out her new podcast, "Ms. InterPReted: Public Relations Demystified," which launched in September 2019. It is available for download through Apple, Spotify, or wherever podcasts can be found.

Published February 2020

Website
Home Page