Misty Fortenberry Watson – Class of 1993
Finance Director, County of Watauga, Boone, NC

"I enjoy working with all kinds of people and serving the community." With these words, Misty Fortenberry Watson, finance director for the County of Watauga, sums up the way many people would define a successful career. Plus, her days at East Burke High served to spark the interest in accounting that brought her to this place. "I took an accounting course in high school and enjoyed it very much," she says. "As a result, I majored in accounting at NC State, graduating with a Bachelor of Science degree in 1997. I earned my CPA license in 1999."

As with most individuals, Misty was inspired by the example of others. "My first mentor was my mother. I saw her work hard every day to provide for my brother and me. She always exercised a strong work ethic, which I possess to this day." East Burke teachers were also an inspiration. "Two teachers especially made a difference. I very much enjoyed having Mrs. Rory Hefner as my calculus teacher. She challenged me every day, which made me work harder and become more successful. Mr. Mark Jolley, my physics teacher, was always a joy to be around." These teachers proved that learning can be both hard work and fun at the same time, a good model for careers and for life.

"I enjoyed my time at East Burke; however, I was ready to move on to new adventures in a larger city. Growing up in a small town made me realize that I wanted to experience new places and new people. After college, I worked in public accounting in Charlotte. This fast-paced, deadline-oriented environment shaped me into getting on a fast track in public accounting." After a move from Charlotte to Blowing Rock in 2005, and with a growing family, Misty went back to work part time in public accounting in Boone. "In 2013, I decided to open my own firm -- Misty D. Watson, CPA, PA -- in order to better serve clients." For five years, she performed audit, tax, and bookkeeping services and completed audits for towns in Watauga and Avery counties, including Blowing Rock, Newland, Beech Mountain, Banner Elk, Lansing, and the Village of Sugar Mountain. She also completed the audits for Watauga County for fiscal years 2015-2017.

"In the summer of 2018, the position of finance director for Watauga County became available, and I decided to make the jump from public accounting into government finance." The job involves administrative work including planning, organizing, managing, and participating in the financial activities and reporting for the county as well as managing billing and collections operations and staff. The finance director work also involves setting policies and goals along with the county manager and other staff.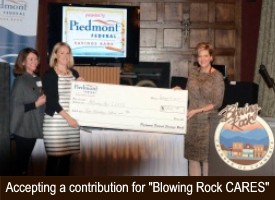 Misty also enjoys volunteer work for the community. For example, she served for eight years with the Blowing Rock CARES food pantry, a non-profit with the primary objective of helping supply food to families in need in the Blowing Rock area.

Working together with community members, volunteering for worthy causes, and helping keep our local government finances in order – all worthy and achievable goals for Misty. The talents and work ethics begun with home and family, nurtured by teachers and classes at East Burke, and grown by education and experience continue to contribute to a better quality of life for our families and communities.

Published December 2019

Home Page