Matt Hallyburton – Class of 2003
Potter - Rutherford College, NC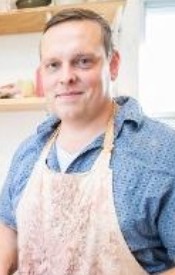 The famous British potter Bernard Leach expressed his love for his craft with these words: "A potter is one of the few people left who uses his natural faculties of heart, head, and hand in balance – the whole man." Such a sentiment could be used to describe the skill and passion for pottery demonstrated by Matt Hallyburton.

Matt didn't start out to be a potter. "It never occurred to me. It was never on my radar," he says. "I received my degree in psychology from UNC-Chapel Hill and then worked for eleven years as a clinical researcher at Duke University before even considering making such a drastic career change."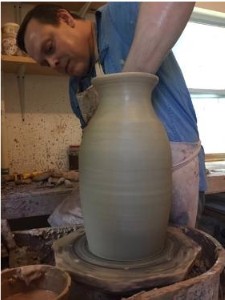 His journey from academia to pottery-making is an interesting one. "While a student at Chapel Hill, I took a class in sculpture," he explains. "I always enjoyed art, and one day while browsing at the activities board at the UNC student union, I found an opening for a committee that managed what was called the Permanent Art Collection. I joined and later became the committee chair. We were given a budget with which to purchase art that would become a permanent part of the university display. I got to meet many interesting artists, and I mostly chose North Carolina art, including works by large-scale photographer MJ Sharp, who is now a lecturer at Duke. It was a great experience, especially knowing that I contributed to the art and culture of my alma mater.

"In 2005, I attended an exhibition at the North Carolina Museum of Art in Raleigh called 'The Potter's Eye: Art and Tradition in North Carolina Pottery,' featuring the work of Mark Hewitt." An award-winning English-born potter, Hewitt has been making distinctive functional pottery in North Carolina since 1983 and today resides and works in Pittsboro, NC. "This exhibit really sparked my interest. One of the ideas that fascinated me was the fact that modern day pottery springs from ancient traditions. Pottery has been made throughout the world for thousands of years, and making pottery today, still using materials from the earth as the ancients did, ties all of humanity together in a special way. I sought out Mark Hewitt and began learning how to wood fire and process native materials. He offers apprenticeships to aspiring potters, and, although I never worked as his apprentice, I spent a lot of time there learning techniques and skills. I took my first class at the Durham Arts Council in 2007 and have been working with clay ever since.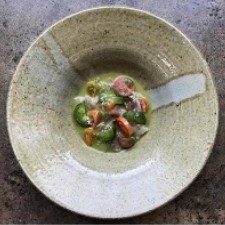 "It began as a hobby in 2007-08, but by 2010 I began to think that I could possibly make a living making pottery. My job in clinical research at Duke was a good one. I managed a great staff who worked with grants and other worthwhile projects. But I realized that, although I worked hard and was successful, such a job required 100% passion, and mine seemed to lie elsewhere. When a friend who worked as a sous chef at a local restaurant told me that the owner was looking for someone to design and make unique dinnerware for the business, I decided to give it a try. The project was a success, and since then my specialty has been working with chefs and restauranteurs to create something distinctive for them and for their guests.

"Leaving my research job and risking making the craft of pottery my livelihood was, in a word, terrifying. But when the time was right, I knew it, and I took that leap of faith. I set up a studio in Durham and worked there from 2010 until 2018. I spent much of my time on marketing, which consisted mostly in reaching out to restaurants to see if they wanted to use my services. Many did and still do. Together we choose the design, shape, size, type of glaze, etc., that make their product stand out. One of the chefs with whom I've worked is the award-winning Sean Brock, who started the four restaurants named Husk in Charleston, Nashville, Greenville, and Savannah. Working alongside these talented individuals is extremely rewarding.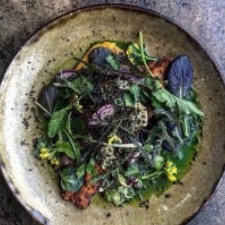 "In 2019, I moved back to Rutherford College, where I have set up my studio and wood kiln. As a native of the Catawba Valley, I wanted to become a part of the special heritage of area pottery-making that has found a recent revival. In order to use the local materials, to communicate with other local artisans, and to take part in local events, it was important for me to live and work in the area."

Catawba Valley pottery has a unique style and method. Many of the early settlers of the area were Germans who came from Pennsylvania along what is called the Great Wagon Road. They brought with them the molasses jugs, milk crocks, and pickling jars that had been fashioned in the Rhineland area of Germany. They adopted an alkaline glaze made of wood ash, ground glass, and clay, which is still used today and which Matt frequently uses to fashion jars, vases, and other items. According to pottery experts in the area, the local clay is what makes Catawba Valley pottery extra special, and it has become very popular. "I take pride in making products that are rooted in the rich heritage of our area and being a part of bringing it back to its cultural relevance. It's very gratifying."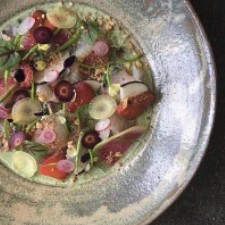 Being an artisan who creates his own handiwork, along with the freedom of being one's own boss, is certainly a romantic and fulfilling idea, but, as in every career, there are challenges to face. "The actual making of the product is very hard work. Sometimes I even call it drudgery. But I only spend about a third of my time making pots. The rest of the time is spent doing all the things necessary to maintain a business, including all the tasks that people don't see. I have to locate and purchase materials, maintain the bookkeeping, ship the products that have been ordered, and promote the business through social media and other methods.

"I don't have a company that supplies me with a 401K. My financial stability comes only from the efforts I make myself. That's why I advise people to really think things through before taking such a step. I can't just hide in my studio. I really have to put myself out there in order to bring in business. Having done this job for a number of years, I find that word of mouth recommendations between chefs and restaurants have helped, and I have been fortunate to not have to do much advertising. But I still frequently reach out to chefs and restauranteurs. One thing I have learned is that I can't allow myself to take things personally. What I am selling is my own creation, made with my own hands. It's a personal thing, very much an extension of me. Not everyone is going to be interested, but I can't let myself feel bad about that."

High school was a great preparation for his life and career. "Several of my teachers were very influential. I especially enjoyed Dr. Robert McAdams's classes. He was good at helping us prepare for college. I especially enjoyed the current events that we learned about regularly. Sometimes young people don't pay much attention to what is going on in the world, and he helped us see how important that was to know. Bill Poteat not only helped me a great deal in preparing for the SAT, but he also taught me more about life than probably anyone else. Lucille Bond was an outstanding math teacher and was also good at preparing us for everything mathematical that lay ahead. She took her work seriously, and I'll admit that at times I found her a little bit scary. So I was delighted when, after knowing her for a while, I was able to make her smile! I was always interested in art, and I enjoyed my drawing and painting classes with Jeff Sigmon. At the time, it never occurred to me that I might make a form of art my vocation." Young people often feel pressured to choose a career path at an early age, and Matt is living proof that, if a person is open and willing to explore a variety of interests, life and career can take an unexpected turn. "I say that when you are young and have a dream, it's a good idea to give it a shot. You always do a better job when you do what you love."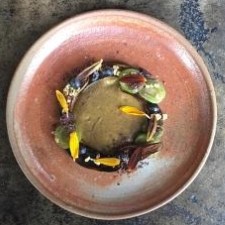 Living and working back home in the Catawba Valley area has been rewarding in unexpected ways. "I have met many more people than one might think, and I have become much more integrated into the community than I expected. Meeting and interacting with other potters in the area is interesting. One friend and inspiration is Kim Ellington who lives and works in Vale. He is very well-known in the area and has been a real inspiration. I still collaborate with some of the best fine-dining chefs in the Southeast. With them, I use whatever style they choose. One of my newest jobs is with Forestry Camp in Asheville. Restaurants with chefs whose mission it is to present authentic Appalachian Southern Food are very hot right now, and I think it is so cool that they allow my own personal creations to be a part of their story."

Matt plans to continue to make his signature dinnerware as well as other styles of pottery. He occasionally has a home sale, often advertised through social media and through a mailing list. How fortunate we are to have someone of his talent and passion carrying on the rich heritage of the Catawba Valley style right here in our community.

Published August 2020


Home Page