Kelly Kropiwnicki Harmon – Class of 2000
Owner, Kelly Harmon Photography, LLC, Rutherford College; Classical Conversations Tutor, Morganton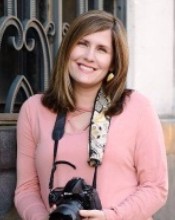 "I enjoy delivering portraits full of happy emotion to clients. I especially love children's photography, and making moms happy with their family portraits is one of my biggest personal rewards." As the owner of Kelly Harmon Photography in Rutherford College, Kelly Kropiwnicki Harmon gets the opportunity to make moms happy on a regular basis. "I've always enjoyed being the one at family events with a camera. I was the newspaper photographer at EBHS many years ago, and I took classes at all the local community colleges to further develop my photography skills. It's incredibly rewarding to walk into clients' homes and see my portraits adorning their walls. I love being able to help people coordinate the perfect Christmas card photo or wall print. One of the biggest challenges I face is keeping up with the editing side of the business. I would rather just be with people and photographing them!"

After high school, Kelly earned a bachelor's degree in Elementary Education from Gardner-Webb University and a master's degree in Reading Education from Appalachian State. She has put this training to good use in ways she did not expect.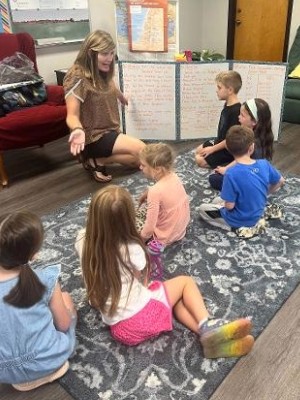 "I was hired by Mrs. Becky Roach to teach at Rutherford College Elementary school straight from college, and I taught there for five amazing years. The old historic school had such a wonderful reputation and so many wonderful teachers. Teaching under Mrs. Roach as my principal and alongside Ginger Stinson was truly an honor. These two ladies always did everything they could to reach even the students who sometimes seemed unreachable. Both of them had a desire to see children succeed. My student teaching mentor was Diane Frye, who is simply a legend in the Burke County School system. I was blessed to have Mrs. Frye start me off on the right foot in my educational career. I think back to these three ladies and all the time and energy they spent guiding me and instructing me to be a better teacher and will always be thankful for them." After taking on a new role as a stay-at-home parent, "I continued the relationship with Rutherford College Elementary while tutoring students in my home in the evening for several years after. It was the sweetest school, and I carry those memories with me forever!"

At the time, "I never thought I would be a homeschool parent," but with the training and experience, "I thought I would give it a try." Flexible scheduling, the ability to explore individual learning styles, and the feeling of success after working through challenges have all made the experience "an incredible blessing in our lives. One challenge we face in our homeschool is that one of my children has Dyslexia. Navigating this diagnosis has had its ups and downs. We have had to search 'outside of the norm' for services to help him. I am so thankful that I had my degree in Reading and was able to help him with some of the skills I learned from Appalachian. Being on this journey has helped me become a better researcher and reading teacher. He has made such wonderful progress, and I have so many people to thank who have helped us along the way, especially his Dyslexia tutor Naomi Smith and the instructors at Lindamood-Bell Learning Center in Charlotte."

The homeschooling experience has opened other doors. "Twenty-four Mondays a year my family joins other homeschooling families at Classical Conversations in Morganton. Teaching at the Morganton location for seven years, I have enjoyed learning the Classical teaching methods and helping children learn in small group settings. My duties include teaching New Grammar, Science, Fine Arts, and Presentation Skills to classes of seven or eight. I enjoy creating lesson plans to suit my students and strive to make them as fun as possible! I would say the hugs this year from my second graders would be the biggest reward!

"When I think back to walking around the circular open-air classrooms at East Burke 22 years ago as a high schooler, I think of people like Mrs. Lisa Wall, Mrs. Barbara Helms, Mrs. Heidi Hyde, Mrs. Pat Bolick, Mrs. Candice Yount, and Mr. Bill Poteat. Mrs. Wall's contagious and encouraging smile seemed to light up the entire English Department. Mrs. Helms taught me what running Carolinas meant, how to really sweat, and how to work hard and not give up in the sport of basketball. I can still remember some of Mrs. Hyde's specific lessons on book studies like The Scarlet Letter. She gave 110% in the classroom and inspired me to become a teacher. Another teacher that inspired me to pursue the teaching profession was Mrs. Bolick. Going into Mrs. Bolick's class, I despised math. But she made learning fun. She stuck with you until you really understood. She was animated and funny and made math class a place you'd want to be. Mrs. Yount taught me to persevere on projects like The Sojourner, our school newspaper. Mr. Poteat was another friendly face who was a major dose of encouragement during those sometimes difficult high school years.

"My parents, Ron and Mary, inspired me to love people and love God and have helped me in so many ways in the area of homeschooling. I sometimes wonder if I could do it without their help. Greg and Veronica Klapp were my youth ministers during my time at East Burke. Greg was always helping in FCA or other areas around the school and at my church. His wife was always alongside him cheering him on. I am thankful for the lessons they have both taught me over the years. John Payne was also a major inspiration for me as a young photographer (and still is today!) I remember having senior portraits done at EBHS and being awed by his photography knowledge and skill. Another important person is Karen Vogler, a community friend who has inspired me to go against the flow of the norm in life and not to take life too seriously. That's important!

"It's hard to know what the future holds, but I know I'll be holding on to a camera for sure. I do want to continue to help struggling readers, but I'm not sure in what capacity quite yet. Dyslexia to me is like a giant puzzle piece, so I look forward to helping parents and students put the reading pieces together. Reading is a gift! I would also like to continue helping equip homeschool moms with the encouragement and resources they need."

Published October 2022
Home Page