Adam Hastings – Class of 2001
Head Football Coach, Indian Land High School, Indian Land, South Carolina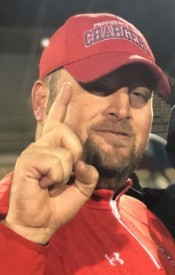 "Growing up in Burke County gave me a real sense of wanting to give back," says Adam Hastings. "When I began college, I had never aspired to be a teacher, but I began to think back to the great teachers I had at Drexel Elementary, at Heritage, and at East Burke. These people made such sacrifices and invested in me, and I became drawn to the profession. I feel so fortunate to have grown up in such a fine place. I am so proud to be an East Burke graduate."

Adam's brand new position is as the head football coach at Indian Land High School in Indian Land, South Carolina. His most recent job was as head football coach at Providence Day School in Charlotte. As a private, co-educational, college preparatory school, Providence Day is part of the North Carolina Independent Schools Athletic Association (NCISAA). The 2019 season proved to be a winner for both Adam and his students, as they were named state champions. "I'm just very fortunate to coach such great kids. They've made practice fun. They made games fun. They love each other. I love being around them. It's so gratifying to coach such great kids and to see them develop, see them buy in, and see them come together.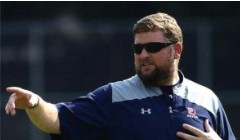 "I really enjoy working with young people. It can be both challenging and rewarding to try to figure out what makes them tick, to adapt standard methods to keep them motivated, to inspire them to work hard and succeed."

While a student at East Burke, Adam excelled at both football and basketball. "Tom Harper and Rob Bliss were great coaches. Basketball was especially fun because the rivalry with Freedom was really high while I was there. I still remember the thrill of running out of the locker room onto the court and the pride we felt in our school."

Adam also recalls having great teachers in the academic areas as well. "Dr. Robert McAdams and Mrs. Anne Stephens are two that really stand out in my memory. I saw no negatives in any of the teachers at East Burke, and I have come to appreciate them more over the years."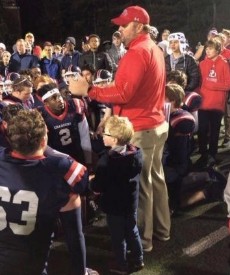 Adam attended The Citadel on a football scholarship and graduated in 2005 with a degree in Education. Right after graduation he returned to East Burke to teach and to serve as assistant football coach. "Working at East Burke was a great experience. I taught beside some of the teachers I had in high school, and I learned even more from them as colleagues. Coach Tom Biggerstaff and Principal Rexanna Lowman were excellent leaders. Their nurturing spirit made them outstanding mentors and role models."

After the two years at East Burke, Adam moved on to work for one year as assistant football coach at Ardrey Kell High School in Charlotte and later as assistant coach at Providence Day for two years. He went back to Ardrey Kell as head coach for five years and then moved back to Providence Day where he was head coach for five years. "I would consider my coaching style to be a combination of Mike Biggerstaff and Rob Bliss. I hope I can be as motivating to my students as I have found those men to be."


It has been pointed out in media reports that Adam is especially good at finding and training young players who go on to be outstanding college athletes. "Seeing them excel gives me great satisfaction."

It can only be expected that Adam's success as a championship coach will only lead to more victories and perhaps even new horizons to explore. His pride in his work and the inspiration he gives his students has been developed over a lifetime, shaped in no small way by East Burke High School.

Published March 2020


Home Page