Scott Helms – Class of 1980
Board Certified Veterinarian, Internal Medicine Department,
Carolina Animal Specialty and Emergency, Hickory, NC;
Co-owner, Foothills Gear Garage, Morganton, NC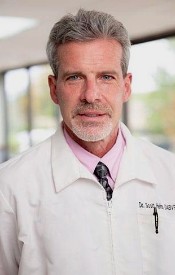 Our pets are members of the family, and seeing that our beloved animals receive the best health care is of primary importance. In the event of an emergency or if a pet needs specialized care, we take comfort in knowing that we can seek out much needed veterinary services,

Scott Helms is a board certified veterinarian who works in the internal medicine department at Carolina Animal Specialty and Emergency in Hickory. "I really do love what I do," explains Scott. "I am truly a lifelong learner, and I enjoy solving complex medical problems. Most mornings I'm happy to get up and go to work. I am truly blessed to do a job that I love. Of course, it is always sad and stressful when someone loses a beloved pet, but I am always grateful when I am able to help an animal live a longer and happier life and bring joy to his human companions.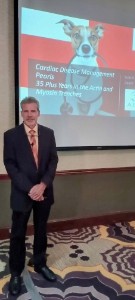 "After graduating from veterinary school, I worked for ten years in a mixed animal practice in Concord. I gave care to all kinds of animals, from small pets to large farm animals. After moving back home with my family, I joined the Unifour Veterinary Referrals in Hickory. After becoming board certified in canine and feline practice by The American Board of Veterinary Practitioners in 1997, I joined with another veterinarian and bought the practice. Seven years ago, we sold the business to a corporation for which we now work. We have three internists at the office, and we provide 24-hour emergency services.

"One of my duties is receiving internal medicine referrals. When a pet needs specialized care, the animal is referred to a veterinary specialist in the same manner that a human physician will refer a person to a specialist. Another specialty of mine is the use of I-131 therapy, which is a radioactive iodine treatment for cats with hyperthyroidism."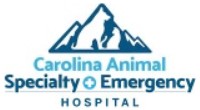 After 26 years as a board certified veterinarian, Scott serves as the medical director at the facility and supervises the other doctors. "After working full time for so many years, I decided to now work three days each week, but the other doctors and I are on call for emergencies on a rotating basis."

Scott earned a bachelor's degree in zoology from North Carolina State University. After three years as an undergraduate, he was admitted early to the NC State College of Veterinary Medicine, completing his bachelor's degree at the same time as he began his graduate studies. He received his doctorate degree in veterinary medicine in 1987.

"My years at East Burke were great training for me. I especially enjoyed literature and writing and did well in those subjects at NC State because of how well my high school teachers prepared me. I was impressed by the entire English department. I remember writing a poetry paper for Dorothy Jones which she asked me to rewrite because she knew I could do better. I vividly remember learning the prologue to the Canterbury Tales for Anne Stephens. I also especially enjoyed classes with Sherron Prewitt and Lynda Massengill. I realized that these teachers took special care to encourage us to do our best as well as prepare us for the university experience and for lifelong learning. I applied what I had learned when I later wrote veterinary publications. Even though it was technical writing rather than literary, I worked to make the sentence structure good enough to pass the careful eyes of the East Burke English teachers.

"The math and science departments were also instrumental in helping me succeed at NC State. Being accepted to veterinary school is very challenging, and I believe my high school teachers played a major role in preparing me. Another teacher who had a major influence on me was Barbara Bliss. She really inspired me to take an interest in Europe, so much so that after veterinary school, I spent a month backpacking through Europe and staying in hostels. My wife and I recently took our entire family on a memorable tour of Italy, and we look forward to seeing many more places in the world. I believe travel is important. It humbles a person and gives one an opportunity to see the world from other perspectives as well as observing how others see us.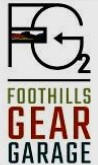 "When I am not in the office, I take great enjoyment in the outdoors. I love being outdoors in general, but hiking and paddleboarding are my favorite activities. In fact, I have partnered with another emergency doctor to open a business in Morganton called Foothills Gear Garage. We sell all kinds of sporting equipment and apparel, and most of our goods are used items supplied by the local community and sold on consignment. We strive to help our community members to reduce waste, to reuse items that still have a lot of value and life in them, and to provide outdoor gear at reasonable and affordable prices. It's a worthwhile business and provides a needed service to people who also love the outdoor life."

Scott has often given speeches to veterinary groups and plans to continue to do so. He has also participated in continuing education programs and served from June 2007 until June 2008 as the President of the North Carolina Veterinary Association. "I once tried my hand at writing a book in a similar style as 'All Creatures Great and Small' by James Herriott." Having been inspired by the East Burke English department, who knows what future writing endeavors he may pursue? Whether helping our beloved animals or encouraging others to enjoy the outdoors, Scott finds enjoyment and fulfillment in contributing to the community and to the world.


Published November 2023


Home Page