Jason Hensley – Class of 1996
Executive Director, North Carolina Bar Association and North Carolina Bar Foundation, Cary, NC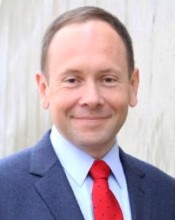 "The North Carolina Bar Association is a voluntary membership organization of lawyers, judges, paralegals, and law students dedicated to serving the public and the legal profession in North Carolina. Founded in 1899, the NCBA is a non-partisan organization that works to advance the practice of law in North Carolina, improve laws, improve the administration of justice in our court system, and advocate for increasing access justice in our state.

"The non-profit North Carolina Bar Foundation was founded in 1960 and is focused on providing pro bono (no cost) legal services to individuals who are in need and supplying endowment grants to organizations that are providing legal services to the public in North Carolina. Programs provided by the NCBF include Wills for Heroes (wills and power of attorney documents for first responders), NC Free Legal Answers (a website allowing individuals in need to receive free answers to legal questions), and disaster legal services (following hurricanes, tornadoes, floods, and other disasters)."

With these descriptions, Jason Hensley explains the importance of the organizations for which he has served as Executive Director since January 2017. "In this role, I am the chief executive officer of both organizations and am responsible for management of their operations, finances, and employees.

"Many of the legal resources that are produced by members of the NCBA are woven into the fabric of legal practice in North Carolina, including the standard forms used by most attorneys and realtors in North Carolina in real estate transactions, as well as estate planning documents and various types of contracts.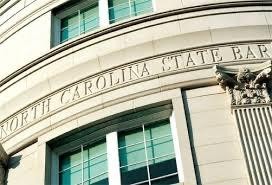 "During my time as Executive Director, the operations of both organizations have been reorganized and refocused for the present needs of legal professionals and the public. This work has included a new membership engagement model, the implementation of new management and educational software systems, and a focus on digital delivery of resources and assistance that began well before the pandemic."

Before undertaking his current position, Jason's legal career was with Bernhardt Furniture Company in Lenoir, NC. "I began as the first in-house attorney for the company in 2002 and left as General Counsel, Corporate Secretary, and Director of Real Estate in 2016.

"During my time with Bernhardt, my responsibilities were very wide ranging. I was responsible for the company's key commercial agreements, management of litigation, various forms of regulatory compliance, duties related to foreign offices and transportation, and management of real estate owned or leased by Bernhardt and affiliated companies. My role included responsibility for the Company's central maintenance and engineering departments as well as the High Point Showroom. Included in my experience at Bernhardt was the opportunity to serve on the team that helped bring the Google data center to Lenoir. It is located primarily on what was the former Bernhardt lumber yard.

"Bernhardt is a strong corporate supporter of public service; the company supported me in my volunteer work with Communities in Schools of Caldwell County (CIS Caldwell) and with the North Carolina Bar Association. I actively worked on the Board of CIS Caldwell from 2004 through 2016, serving in several roles such as chair of Audit and Finance and Policy and Procedure. A key accomplishment was acquiring and physically moving the Rankin House in Lenoir to become the permanent home of CIS Caldwell. The fulfillment of my public service work at Bernhardt led me to apply for the Executive Director position of the NCBA."

Jason graduated from Appalachian State University in 1999 with a BSBA in Production and Operations Management and was the top overall graduate in the College of Business with a 4.0 grade point average. He received his Juris Doctor degree from the UNC-Chapel Hill School of Law in 2002. While at UNC, he served as president of the Student Bar Association and was inducted into the James and Carolyn B. Davis Society for the demonstration of integrity, leadership, dedication, and service. In 2014, he earned an MBA from the UNC-CH School of Business, which included a leadership initiative designation and a certificate in cross-cultural business communication.

Jason's experiences at East Burke High School laid a great foundation for his higher education and for his desire to serve his community. "I was most influenced and benefited by my involvement with the JROTC program and the school's AG/AP program. Both programs have been the cornerstones of my career since high school. Looking back, I know that I have benefited from an excellent education and from a school and teachers who afforded me remarkable opportunities.

"I participated in JROTC throughout my 4 years at East Burke, and in this program I learned a great deal about myself and about others. The instruction and practice that I was provided regarding leadership has been my foundation. While JROTC provided many unique adventure activities such as tower and mountain rappelling, spelunking, white water rafting, kayaking, deep sea fishing, summer and mini-camps, and high ropes courses, it also provided day-in, day-out practice in working with others of various backgrounds, experiences, abilities, and needs to accomplish common goals and work as a team. I learned a great deal from my instructors and my friends in the program.

"The AG/AP classes provided me with a challenging and rewarding education in English, history, math, and science. The curriculum and extra-curriculars such as Model UN provided me opportunities to explore the connections of our world – and gave me an early appreciation of how all of these areas impact every moment of my life. My life was made even richer by my instructors and friends in these programs.

"In retrospect, I know that much of the great benefit that I received from the programs and classes at East Burke was a result of my teachers going above and beyond their job description, by taking a strong interest in me and in other students, helping us see what we could do better and helping us excel where we could do more. Each day I think about Lucille Bond, Robert McAdams, and Anne Stephens, among others, and how they gave of themselves, worked to make the world better one class, one student at a time, and how I believe (and hope) they have helped me to be a better person."

Published September 2022

Home Page