Kay Honeycutt Draughn – Class of 1984
Clerk to the Board, Burke County Commissioners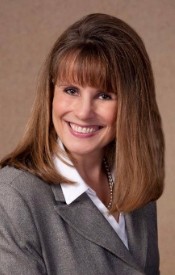 "I have to be a bit of a 'jack of all trades' – researcher, event planner, problem solver, facilitator. Whatever programs the Burke County Commissioners decide to implement, it's my job to help them do it." Kay Honeycutt Draughn's official title is Clerk to the Board, but that title does not describe her many far-ranging duties.

"In terms one often hears used for government jobs, I 'serve at the pleasure of the board.' County clerk is an appointed position, and there is one clerk per county in North Carolina. In addition to the jobs that the public might expect – record keeping, managing the minutes, agendas, handling contracts and resolutions, maintaining the budget, paying bills, coordinating travel, being sure all ordinances and regulations are processed – I am responsible for helping the commissioners accomplish whatever they decide is needed for county governance. Sometimes that can be a real challenge, but it can also be fun and is always rewarding."

The Burke County Board of Commissioners is comprised of five members who serve four-year terms. Every two years, either two or three members are elected or re-elected to the board. So the personnel can change frequently, and Kay's job is to work with them both individually and as a collective board.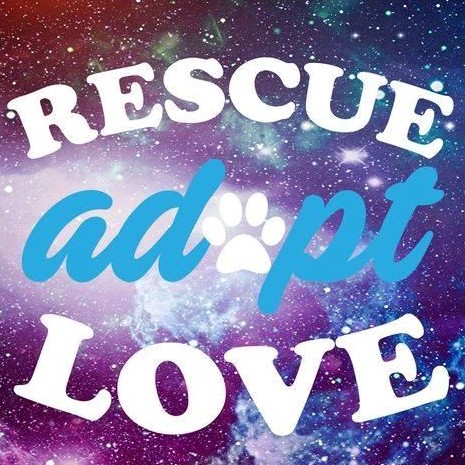 "One of my favorite projects involved transforming the county animal shelter when it was taken over by county administration in 2019. Working as a team, Lance Riddle, who is the executive assistant to the county manager, Commissioner Johnnie Carswell, and I did a great deal of research and then wrote a program for the Animal Services Department from scratch which included 39 recommendations of change. The report itself was more than 600 pages. With Animal Services' new 'Cops & Slobbers' initiative, all 39 recommendations have been implemented. This fun program involves having dogs ride along with law enforcement officers, benefitting them, the dogs, and the public. Officers also get their picture taken with a cute shelter dog.

"One of the separate outcomes of this long-term project was the formation of a non-profit organization called Animal Services Foundation, Inc. It has an all-volunteer board, and its purpose is to support the county animal shelter. Kay currently serves as the President of the Foundation's board of directors.

Burke County Animal Services plays a role in saving animals of all kinds. Early in 2023, the staff helped save 49 miniature horses that had been subjected to neglect and cruelty, providing them with proper veterinary care and finding them foster homes. With support from the community and media outlets, the Foundation quickly raised over $20,000 to pay for the horses' food and medical care.

"The entire Animal Services program has been a great success, and I have stayed involved with that department for three years now. Major missions of the Foundation continue to be to raise awareness of the purposes of the organization as well as to find much needed funds for a new animal shelter. Because of the report, I consider myself to be the 'mother' of the program, and, as a true animal lover, and mother to four rescue pets, I am delighted that I could be a part of such an important and meaningful endeavor.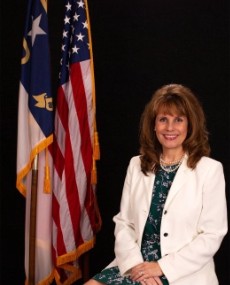 "Some activities that I arrange have even more drama. An example of how I sometimes have to 'adapt and overcome' came about while organizing the groundbreaking ceremony for the Jonas Ridge Waste and Recycling Center. Plans were made for speakers, food, a tent, and chairs for thirty people. Everything from shovels and loose dirt had been planned. But Mother Nature had other ideas. On the day of the event, the wind was more than 20 miles per hour, and two inches of rain the night before didn't help, either. The equipment needed to set things up got stuck in the mud. I finally tracked the grading contractor down in Asheville! But after making some connections and with some cooperation, the emergency management team found a way to get the job done, and we were able to hold the event. Needless to say, challenges like this make the job stressful but also exciting and interesting, and it is so rewarding to find a way to 'make it happen.'

"My office is the one that gets called when people don't know who else to call, and we try to help find solutions for the issues that citizens encounter. It's a good feeling to be able to help people and solve problems."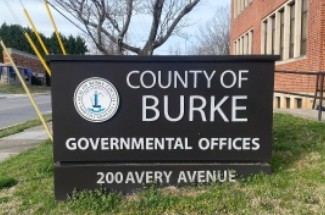 Kay holds two degrees from Western Piedmont Community College, one an Associate Degree in Secretarial Science and another Associate of Arts degree. She has 27 years of experience in local government, eight years as clerk in Cabarrus County before returning to Burke, where she has served as clerk for 10 years. She began as a certified county clerk, and with continuing education classes through the UNC School of Government at Chapel Hill and many years of experience, her classification has changed to North Carolina Master County Clerk. She is also a Certified Municipal Clerk through the International Institute of Municipal Clerks. "Through the years, I have been involved in every aspect of local government, including planning and zoning, public works, and community development. Every job that I have had has given me skills I use today. My very first job was as a cashier at Bi-Lo, and it provided a great foundation for future work experiences. I had to practice people skills, provide customer service, practice accuracy, and even do math, especially when cashing paychecks and making change.

"Often my job today involves research. Sometimes I have to look to find suggestions and solutions for an idea suggested by board members. I am what educators today call a 'lifelong learner,' and finding new information about interesting subjects is something I find enjoyable and rewarding.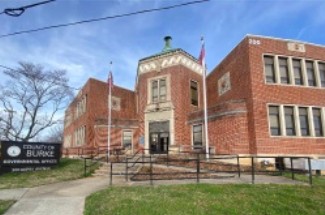 "I had some great influences in my life. I got my love of animals from my grandfather, Zeb Honeycutt. We used to ride all around Roan Mountain on his wagon and visit the horses and the goats. It's a really beautiful memory. My grandmother was a retired teacher. She worked in a time when most women didn't have careers, and she was an inspiration. She taught me many life lessons that I still remember today. My maternal grandfather Winters lived with us. Being around him gave me a real love for older people. I often say, 'Don't let me catch you being mean to a senior citizen, a disabled person, or an animal.'Anyone who knows me is aware that I am a real champion of the underdog, and I think that mindset contributes to my desire to serve the public in my career today.

"I also had some great role models at East Burke. Kathryn Siphers instilled in her students a desire for excellence. We learned not only musicianship but also teamwork, determination, and the realization of how important it was to be a part of something bigger than ourselves. Today when I am challenged or face an emergency situation, I remember how 'the show must go on' and must be as perfect as I can make it.

"I spent a lot of my time in the business department at East Burke, and I especially remember the professionalism and friendliness of Betty Pennell. I often think of her and how she embodied such grace and warmth and how those traits can be carried out into the community."

Cavalier graduates continue to play major roles in the fabric of our society. We each have a part in making our world better. Often the average person doesn't think about or know how changes and improvements come about, but players like Kay who work behind the scenes to bring about positive community growth have a huge impact on our lives. We can always know that she will be one who will continue to love and support people, animals, and her community.

Published March 2023

Home Page