Mindy Knox Cook - Class of 2011
Chorus and General Music Teacher, Heritage Middle School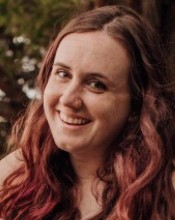 The middle school years – grades six, seven, and eight – are a time of major change and growth for young students. Teachers have both a tremendous responsibility and a special opportunity to inspire and lead these young people and to help them begin to develop new and exciting interests. Mindy Knox Cook is one of those teachers who is making a difference by guiding students toward a better appreciation of music.

Mindy teaches General Music and Chorus at Heritage Middle School and also serves as assistant volleyball coach. "On top of my regular teaching duties, I work with students during lunch giving mini voice lessons and helping to prepare them for state honors chorus auditions. I also just recently started the first-ever HMS show choir and a podcast called 'Learning to Become: Exploring Careers in Music.'


"I love that I get to come to work and make music all day! I always knew I wanted to be a teacher. As a child, I would play school with my younger cousins, teaching them how to solve math problems and allowing them to 'check out' books from my personal collection. It wasn't until my senior year of high school that I knew I wanted to teach music. That year was filled with lots of chorus classes and singing, and I realized that choral music was something I wanted to one day offer to students of my own. I actually never really thought I would love teaching middle school as much as I do, but my students are a group of hard-working, fun, and energetic people. We have such a great time working together and creating beautiful music. A lot of middle schoolers haven't yet outgrown some of the fun musical games you can play, but they can also get serious and will work hard for you to learn the harder pieces of music that come together so beautifully!

"Being a teacher is a customer service job; you want to make sure you are always making the customer (parents and stakeholders) happy. This task can be hard to do when you are dealing with humans who have different opinions, inputs, and understandings of the way things should be. Trying to find a way to make sure that everyone's individual needs are being met and all are happy can become exhausting. But the rewards are hearing the final product of a piece of music that my students have worked so hard on putting together. It is such a joy to hear when something finally clicks for them or the baritones finally sing out their notes with confidence or the altos remembered their part without help from me. Every day I find small rewards!"

Mindy received an Associate of Fine Arts degree in Music from Catawba Valley Community College and went on to earn a Bachelor of Music and a Bachelor of Science in Education from Western Carolina University. "I want to make a quick plug about community college. I learned so much from my mentors and teachers at CVCC. A lot of what I do in my classroom today is based on what I learned from CVCC and my mentors Amalie Hinson and Cheryl Weldon. Both of these women played a huge role in the educator I am today.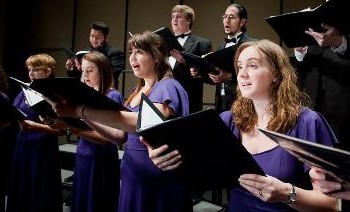 "I am currently in my second semester of graduate school. I am working on a Master of Music Education with an emphasis on Peacebuilding and World Music Drumming from Elizabethtown College in Elizabethtown, Pennsylvania." This college is the first in the nation to offer this type of degree, and Mindy plans to complete her studies in the summer of 2023.

"Prior to taking my position at Heritage Middle School, I was a kindergarten teacher on the Cherokee Reservation. This was a job that I was able to take right out of college and was not in an area that I am certified in. That job taught me so much about how to learn on the fly and adapt when needed. Each day presented its own challenges that helped me to become a better teacher. I credit that job for helping me to develop my teaching philosophy and encouraging me to never stop learning about my content area.

East Burke teachers were a great inspiration. "Tina Lowman was a big influence on my passion for choral music, and she provided me with so many opportunities to perform and perfect my voice. Heather McGovern was my senior English teacher and really prepared me for writing in college. Without her class, I don't think I would have become the writer I am today. Heather Conwell was always a teacher that I could talk to and who would be there for me in more ways than just academics. She understood what it means to teach the whole child.

"Tracy Greene was my volleyball coach and junior English teacher. I can still remember many of the life lessons that Tracy provided me with. Brian Bowman with his PowerPoints and stories taught history in a way that was understandable and relatable. I strive for my lessons to be just as impactful as his.

"Jim Williams was never my teacher, but I have had the privilege of singing under his direction. I always learn something new from him. He is truly a Burke County legend, and I can only aspire to come close to his greatness!

"While in high school, I played volleyball and was in the Drama Club. I was also a part of the school newspaper for a small amount of time and even wore the Cavalier mascot in a couple of football games during my junior year!"

The future holds endless possibilities for Mindy. "Once I receive my Masters in Music Education, I would love to teach at the collegiate level. I had such a great experience with my mentors and teachers at the community college, and I would love to be able to give back. Another option could be for me to be an arts administrator or instructional coach to help other educators be impactful in their classrooms. If I ever left the classroom, I would want to start a children's and youth community chorus so I could continue the enjoyment of making beautiful choral music."

Published October 2021


Home Page