Ron Lail – Class of 1981
Owner, Automated Machine Design, Inc., Hickory, NC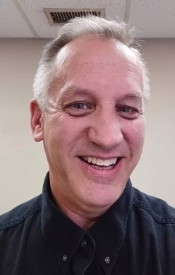 Owning one's own business presents a unique set of challenges, but the rewards are certainly worth the effort. Ron Lail, owner of Automated Machine Design in Hickory, has put both his mechanical knowledge and his creativity to work to find success in this competitive field.

He explains: "Primarily, I design machinery parts, industrial machines, and structural pieces for the fiber-optic industry. I manage employees in their various duties such as fabrication, machining, machine programming, welding, and assembly. In 1990, an opportunity to open my own business presented itself. Prodelin Corporation, now General Dynamics Corporation, flooded me with so much contract work that I needed to find a building and machinery for myself. To make specialized assemblies for the US Armed Forces and maintain delivery control, I opened my first machine company.

"After gaining success in this field, I left the industry for about four years. In 2000, another opportunity came to me under the machining and design umbrella. Automated Machine Design was born, and it is still thriving after twenty-one years. Every day is different, and this makes my job exciting and different from most. There are always challenges in developing ways to make parts and get them to customers on time. We take great satisfaction in seeing our customers receive their parts on time or even earlier than promised. Our biggest challenge is finding capable employees who are critical thinkers and analytical people. A college degree is not needed for this type of work, but a willingness to learn machining techniques and grow with the business is important. There is a huge shortage of young people in our type of work.

"After studying Mechanical Engineering at NC State, I went to work for JEMCO in Icard as a Purchasing Agent from 1986 to 1990. I also oversaw shipping and receiving of millions of dollars of raw materials, and I was charged with supervising new machinery installations and equipment start-up for customers from California to Puerto Rico. While at JEMCO, I learned to wire control panels, weld, schedule deliveries, and assist in troubleshooting problems in the customer's facilities. I later studied at Catawba Valley Community College where I honed my skills as a designer and learned to design with computers using CAD software. Keeping up to date with the latest software and techniques is important, especially in this business.

"All my teachers played significant roles in my success. From first grade at Icard Elementary School to graduation at East Burke High School (with three years attending Hildebran Junior High School thrown in between) I was encouraged to seek my goals, and I was given the tools to make my way. I love to learn new things, and I am always asking, 'Why'? I think I could name all my teachers (approximately sixty-seven in all) from day one through the end of my twelfth year. Each one was unique and special! I stay in contact with some of my most favorite!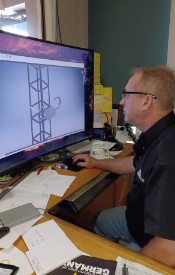 "Lillian Pendley, Sherron Prewitt, and Anne Stephens truly prepared me with great writing and communication skills. Some papers I wrote in my Literary Criticism class were used in college and received "A" grades. For several years after graduation, I would get a few gallons of ice cream and deliver it to the English Department as a token of my thanks. All three ladies have been guests of mine at shows that AMD has produced at The Green Room Community Theatre in Newton. I have recently played roles in 'Southern Fried Nuptials,' 'The Hallelujah Girls,' and the musical 'The Secret Garden.' My interest in theatre grew after attending 'Oklahoma!' at the Pineville Dinner Theatre with these wonderful ladies.

"Ron Hastings was my primary baseball coach all three years at EBHS. I look up to him as a great example of a Godly man who made a sound investment in his players. He and I have an ongoing joke between us to this day. One summer day after graduation I was working as a lifeguard in Longview, and he was having a cookout for a group of boys at the recreation center next door. When he saw me on the lifeguard stand, he said, 'Ron Lail, I sure hope you are a better lifeguard than you were a catcher.' My reply was, 'Ron Hastings, I hope you are better cook than you were a coach!' We still laugh about the exchange!

"Barbara Bliss and Roy Sweezy were fantastic French teachers. I only wish I had more opportunities to practice that smooth, beautiful language.

"Lucille Bond was an excellent Algebra teacher. I thoroughly enjoyed her classes. Solid Geometry, taught by Mr. Reynolds Hollifield, was so helpful in continuing with my college studies. Understanding three dimensional vectors came easy after his teaching. I utilize almost all my math and geometry skills daily.

"Mark Jolley, Jerry Murray, and Eleanor Lindsay were instrumental in creating an interest in the natures of biology and chemistry. 'Why' and 'how' are my most asked questions!

"Jerome Williams' search for perfection with the Chamber Singers led me to pursue singing opportunities while in college and afterward in civic ensembles in Raleigh. I felt confident in my voice and technique through his instruction. About fifteen years ago, I put away fears of playing musical instruments in public. I taught myself the guitar and banjo while improving my piano/keyboard skills, and I have enjoyed playing in public with a praise team and a small bluegrass group here in Hickory. I still sing, but not as much. Life is too short to allow fear to hold me back.

"All my teachers and coaches had positive influences on me. I thank each one for their patience with me. I hope this article finds its way to them and that they know their efforts have paid huge dividends in my life!

"My main goal for the future is to pass as much information to a successor or successors as possible. I do not plan to retire because I absolutely enjoy my work. I would like to assist others in starting their own businesses… to be a mentor to them."

Published August 2022


Home Page