Darren Lingafeldt – Class of 1991
Vice-President of Operations, Eastern America,
Averna Technologies, Inc., Charlotte, NC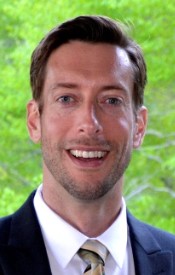 In today's society, technology is advancing at a lightning pace, and Darren Lingafeldt has found himself on the cutting edge of this challenging and exciting world.

"I am currently the VP Operations -Eastern America at Averna Technologies. Averna is a global test engineering company that provides custom, automated test, and inspection systems to a variety of clients in industries including automotive, aerospace, consumer goods, medical devices, and telecommunications. Our systems are very technical and require a combination of electrical, mechanical, and software engineering skills. We have 10 offices across North America, Europe, and Asia. I am responsible for sales and delivery of automated test solutions for our eastern US and Canada territories. Achieving success involves managing and coordinating activities with sales, project managers, engineers, technicians, and logistics personnel at my office in Charlotte and our supporting offices in Montreal, Quebec, and Guadalajara, Mexico. Add a diverse set of clients and technologies, and one could say it's a very dynamic environment!

"I graduated in 1996 from NC State University with a BS in Electrical Engineering. Later in my career, I earned certifications from National Instruments as a LabViEW architect and as a Professional Instructor.

"I started my career at Ericsson Mobile Communications in Research Triangle Park, Durham; I was fortunate to intern with Ericsson while in college. This opportunity provided me with a great deal of real-world experience and motivated my studies. It also helped with my first job as I was literally working as an intern on Friday, graduated on Saturday, and went to work as a full-time test engineer on Monday! The late 90's was an exciting time to be part of the telecom industry as it was going through the wireless transformation that would eventually impact us all. While I was there, our design center actually produced the first digital handheld cell phone sold in the United States.

"As a test engineer, I was involved in developing the test systems that verified the phones performed to specifications. Things were evolving very quickly as mobile networks were being deployed across the world and phone manufacturers were literally releasing new products every few months to keep pace. In addition to working in our labs, this job offered me the opportunity to travel the country as a young engineer. New cellular upgrades were first released in the major metro markets. To make sure our phones would work against the new cellular base stations we had to travel to New York City, Miami, Chicago, Seattle, Dallas, Washington, and San Francisco and field test them.

"Field testing meant spending days driving around in a rented van with another colleague and a fleet of laptops connected to test phones forcing them to call each other thousands of times and logging the results to make sure our software was working. We looked like an FBI operation. It was also a great way to explore the country and learn what each region had to offer.

"In 1998, I was assigned to a new satellite phone program. Soon after joining the program, we learned that it was being transferred to an Ericsson design center in the United Kingdom and that there was an opportunity to move with the program. I decided to take the transfer and moved to a village outside of London for most of the year. The international work experience broadened my professional and cultural horizons and had a tremendous impact on my career and world view.

"I left Ericsson in 2002 and, with one of my Ericsson colleagues, Brian Esque, founded a test system integration business called Nexjen Systems in Charlotte. We utilized our Ericsson experience to design and build custom test systems for regional clients in a variety of industries. We literally worked with everyone from NASA to NASCAR! Over the course of 14 years, Nexjen executed hundreds of projects, but I take special pride in the positive impact we made working with Western North Carolina clients. I watched the furniture and textile industries that supported my hometown for generations dismantled in less than a decade. I was passionate about any project we took that made the manufacturing businesses in the region more competitive.

"Saft Batteries in Valdese is an example of a local company we worked with. We built the production test stations that verify that all their military battery products meet stringent DoD performance specifications. Our systems helped them reduce test time and increase measurement accuracy; they have been in use for nearly 18 years. We also helped BorgWarner Turbochargers in Asheville revolutionize the way their turbo products are validated with new engine designs. Our systems reduced a two-week manual process down to two days with automated measurements/analysis and went on to be adopted by BorgWarner globally. I smile every time I see a Ford Raptor because I know our systems tested the twin turbos designed for the Ecoboost V6 engine. At Curtiss Wright in Shelby, we delivered complex systems that test everything from the V-22 pilot controls to the F-35 flap actuators. In 2014, we helped them with the development of the first electromechanical aircraft control surface actuators. Over the coming decades, these new lighter, more efficient electric actuators will replace hydraulic systems used on aircraft for the last century. In addition to traditional manufacturing, we also implemented many interesting projects with NASCAR teams in the Charlotte region. We built systems that test power steering modules, suspension dynamics, vehicle aerodynamics, and even training systems for pit crew tire changers. It's a passionate industry, and the friendships I have built with race engineers and crew chiefs have been some of the best of my career. As a 'motorhead kid' from Burke County, working behind the scenes at race shops, attending races/test sessions with teams, and even flying on a team plane are memories I will never forget.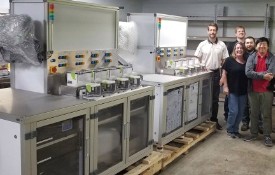 "In 2015, I was approached by Averna Technologies, Inc., to see if we might be open to selling Nexjen Systems. Their primary investors had funded the management team for a round of acquisitions with the goal of doubling the company's revenue and creating the world's leading provider of custom test and measurement solutions. The inquiry came as a surprise. We were proud of our people, the work, and the reputation we had built in the Southeast but did not expect it would have attracted the attention of a larger corporation. We had grown our company to about 30 people and recognized that continued growth would require a significant investment in sales, marketing, and operations. Averna had these elements in place, and by joining them we would have global reach and greater opportunity for our employees. As an entrepreneur, building a tech business and selling it is viewed as the ultimate success. We decided to move forward with a potential sale.

"After nearly a year of due diligence and negotiations, we closed the sale on July 1, 2016. I would say selling the business was a significant learning experience, and I am glad to have had the rare opportunity to go through the process. The sale also closed a chapter of my career as a President/Company owner and opened a new chapter. For the first few months, I helped with the transition of employees, projects, and customers. After 14 years of building and running a business, I was more than ready to take a step back and spend some quality time with my family. My new role involved supporting sales by leveraging my contacts and experience for new business development. I am passionate about the work we do and enjoyed meeting clients, learning about their application, explaining our capabilities, and working with them to provide a solution for their technical challenges.

"The 'reprieve' from leadership responsibilities lasted a little over a year. After some management reorganizations, I was asked to join the executive team and take over one of the four corporate regions. It's exciting to be part of an international team that is working with clients at the cutting edge of technology across so many applications.

"I enjoy the diversity and being part of the bleeding edge of technology. Test and quality inspection is found in every industry. We get to work with the best and brightest in these industries. They may be developing new products in consumer electronics, automotive, or aerospace components. The test systems that verify the performance of the products have to be developed in parallel. The systems have to incorporate the same technologies and be developed on the same timeline. That means we have to create a team of people that can 'go to war' alongside the best and brightest in the world.

"The primary challenge from a technical perspective is that we are often doing something that has never been done before… at a fixed price on a fixed timeline. We have to take on technical and execution risk in many projects. We have to rely on our experience from the past and our innovative spirit, and we must have confidence that we will be able to find a solution. I can think of multiple occasions when we have accepted million-dollar projects where we didn't definitively know if we could achieve our proposed solution. These projects included weeks of sleepless nights as we struggled through technical iterations, implementing ideas, failing, learning, and trying again. The shared struggle brings the right people together. It becomes more than a job, more than overtime, more than working weekends. We are part of something bigger than ourselves or the project. We are breaking new ground. I have aged years in weeks … awake in the middle of the night wondering if this will be the project where we fail… but so far, we have always found a way. When the breakthrough comes, when we see the solution working and we deliver a beautifully executed piece of work, that is the greatest reward. As a team, we faced the unknown and through a shared mental and physical effort overcame it. Honestly, it's one of the best feelings in the world.

"I owe a lot of my success to my father, Glenn Lingafeldt. He was an electrician by trade but then went back to seminary school, received a Master of Ministry degree, and became a pastor at Pleasant Grove Church in the South Mountains. Pastoring a small Baptist church did not provide enough income to live on, so he actually held three other jobs while I was in school. Having a commercial electrical and plumbing license, his primary day job was running the Burke County Building Inspections Department. This position required him to manage several employees and a budget. Two nights a week, he taught Electrical Courses at WPCC. Between church and WPCC, he was essentially preparing four public presentations each week. When the state made continuing education a requirement for electricians, he started a business, developed several course books on a word processor, and began teaching weekend courses around the state. He taught me about leadership, entrepreneurship, the power of public speaking to convey ideas, and the importance of sharing knowledge with others. Equally important, he taught me practical skills. We built four houses while I was growing up and did a lot of the work ourselves. He taught me how to diagnose electrical problems and how to maintain the family vehicles. It is truly surprising how many graduating engineers have little practical or vocational knowledge. One of my favorite interview questions for new grads is, 'Tell me how you change the oil in your car.' If a person can't change the oil in a vehicle, they are going to struggle at a company that builds test systems for fighter planes!

"Looking back, I was very fortunate to come up with a special group of talented kids and passionate teachers in Drexel. That group won the state Science Olympiad twice and went to the nationals... from Drexel, NC!! Then we combined with some other smart kids at East Burke in Mrs. Lillian Pendley's Humanities program. For mathematics, we depended on Mrs. Lucille Bond, who had an intimidation factor that I still remember today. We always showed up to Mrs. Bond's class with our homework completed or we risked an embarrassing trip to the blackboard where we would have to solve the equations in front of the class! Dr. Robert McAdams provided guidance and a sense of Zen balance to each day. Now that I have sold my company to a French-Canadian company, not a week goes by that I don't think about Mrs. Barbara Bliss. My biggest regret about high school is my behavior and performance in her French class. For some reason, I chose her class for most of my high school hijinks, and, despite being a smart guy, I actually failed French and had to retake a year. We battled, but I could tell she cared about me and had a passion for the language. Fast forward 30 years and I am in Montreal several times a year and on web conferences with French-Canadian colleagues nearly every day. I was in France a few weeks ago meeting with a French aerospace company. Having some capability with the French language would dramatically improve my interactions in these situations. In the end, the joke is on me. Pay attention to your teachers!

"I've been working professionally for 25 years, and I don't plan to stop any time soon. As I enter the second half of my career, I am more selective with my time and energy. It's important that my team's work continues to make a meaningful contribution to our region and society overall. We have some exciting projects ahead that touch everything from autonomous vehicles, robots that deliver packages to your door, and augmented reality headsets that will change how we interface with technology. It's still an exciting time to be an engineer!

Published Januray 2020

Home Page