Katie Lowman Moore – Class of 1991
Principal, East Burke High School

East Burke has been blessed to have had graduates to return to become principal. Who is better to understand and treasure the pride and joy of being a Cavalier?

Katie Lowman Moore is currently serving in her fourth year as principal of East Burke High School. "When I graduated in 1991," she explains, "I would never have guessed that I would have the privilege of returning to my alma mater to serve as principal.

"The best part of my job is giving back to the students, staff, and community of East Burke High School. The hours may be long and tiring, but my heart is always full of the family feeling in Cavalier Country.

"Before entering the field of education, I worked eight years at Impact West, which was a boot camp for youthful offenders. Most offenders were between the ages of 14 and 18 years old. During this time, I realized it was time to accomplish my goal and make a difference in the lives of our youth by becoming a teacher. My goal as a teacher was to make every child feel important regardless of their situation. I didn't take the normal route right after high school of becoming a teacher, and I often remind the students to never give up on reaching their dreams. The paths we take along the way shape us for our future."

Katie earned a bachelor's degree in Business Administration and a master's degree in Middle Grades Education with a School Administration add-on from Gardner-Webb University and is currently working on a doctorate in Educational Leadership, also from Gardner-Webb.

"My third-grade teacher, Mrs. Linda Wagner, had a great impact on my life. After being in her classroom, my dream was always to be a teacher one day. Mr. Robert Patton and Mr. Shane Mace made my dream come true and hired me in July 2002 to be a math teacher at East Burke Middle School, where I taught for ten years. Mr. Patton provided me with many learning opportunities and inspired me to always keep students first. Mrs. Rexanna Lowman encouraged me to step out of the classroom and hired me as the Middle School Math Instructional Coach, serving all math teachers in the district. Upon completing my School Administration program, I would serve as Assistant Principal at Liberty Middle School and Draughn High School. My first principal role was at Heritage Middle School before coming to EBHS in 2018.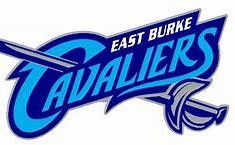 "Some of my fondest memories at East Burke High School were in the social studies department with Mr. Sam Wilkinson, Dr. Robert McAdams, and Mr. George Henne. I enjoyed the enthusiasm and passion they had for their subject material and for the students. One of my favorite teachers was Mr. Wade Hildebran, who constantly encouraged and instilled the importance of always doing your best.

"My lifetime mentor has always been my mother, Mabel Lowman. She has been my biggest supporter and encouragement throughout my educational career. Through her actions, I have gained the importance of serving others and giving back to my community.

"It's exciting to welcome a new group of freshmen every year and share my hopes and dreams for each one of them. Getting to know them allows me to set the tone for the next four years as their leader. I want them to feel the excitement of what it means to be a Cavalier and the fun they will have along the way. My goal is to make everyone who walks into EBHS realize they are important to me. As they say: Once a Cavalier, Always a Cavalier."


Published January 2022


Home Page