Shea Mobley Ruff – Class of 1990
Family Nurse Practitioner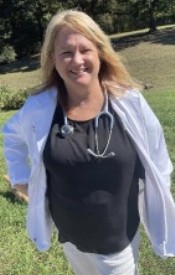 Having a capable and compassionate health care provider is so important to our well-being and peace of mind. Shea Mobley Ruff has been a registered nurse for 25 years and has recently chosen to take the important step to earn a new degree to become a Family Nurse Practitioner.

"I believe in a holistic approach to medicine. It is my opinion that 95% of caring for a patient centers on how he or she is treated rather than just the medical procedures that are used. Care is the most important ingredient. I have worked in a variety of nursing areas. I spent ten years at Frye Regional Medical Center and 'floated' all over the hospital doing a variety of jobs. It was good because I was able to gain experience in many areas. Then I worked for many years in home health, visiting and caring for patients in their homes. Although I cared for patients of all ages, I have always enjoyed working with children best, and many of my home health patients were children. Most recently I have been more involved with marketing and sales for CenterWell Home Health, which is the largest home health company in the nation."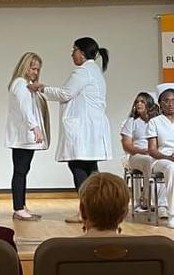 Shea had never planned to go into nursing. She studied criminal justice at Western Piedmont Community College and worked as a correctional officer at the Western Youth Institute (often called "the Highrise") for three years.

"My father, Mack Mobley, used to tell me that I should become a nurse. He mentioned it often. I continued to tell him that I could never be a nurse. But it was after he died in an automobile accident while I was working as a correctional officer that I decided that he was right and that if he thought I should have been a nurse, then perhaps I should become one. So I went back to WPCC and earned my degree to be a Registered Nurse in 1998. Then in 2001 I earned a Bachelor of Science degree in Nursing from UNC-Charlotte, and I am graduating soon with a Master's degree from South University to become a Family Nurse Practitioner.

"It was during the Covid-19 pandemic that I made the decision to go back for the FNP degree. The health care profession was so overwhelmed, and I felt guilty because I was working in marketing and sales and wasn't directly involved in hospital patient care like so many others. So I decided that becoming an FNP was a great way to get back into direct healthcare and be of service to people.

"I love working with individual people and am greatly rewarded when my personal care helps them to be better. There are challenges, of course. For example, I am truly saddened when many patients are not able to get the care they need because they don't have insurance. In addition, the hours are often long, and we regularly have to work on holidays. That means time away from family. But those long hours are part of the job for nurses. Patients need care all the time.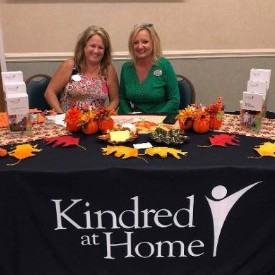 "I am grateful for the opportunity to learn more so I can serve better, but I admit that going to school while raising small children and working to help support my family has been very challenging and difficult. The important thing to remember is that I was able to do it and others can do it as well. It takes determination and desire, but being willing to make the necessary sacrifices and keeping focused on the goal will eventually pay off.

"I had some great motivators and role models as I was growing up and going to school. I remember so vividly how our elementary school principal, Henry Clontz, would visit out classrooms. He had so much energy, and he must have come by everyone's class at least once a week. He emphasized how important it was for us to behave properly in public. He realized that not everyone came from a home where values and respect were taught regularly, so he felt like it was his responsibility to tell us how we must follow the rules and respect teachers. He expected us to stand still and listen during the national anthem. It was important to him to teach us good behavior. He was a very inspirational man.

"Dianne Mobley was the receptionist at East Burke High for many years. She was the first face visitors would see, and her lively and friendly personality made her ideal for the job. The best part is that she is also my mother, and she is smart and wise and still gives great advice. There was also a nice perk; as a child, I got to spend some time at the high school, so it felt like home long before I became a student there. My mom and dad were a great team and true role models.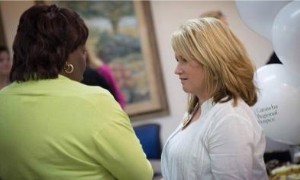 "My teachers at East Burke were great, and I enjoyed them all. For example, Anne Stephens and Sherron Prewitt really challenged me. They pushed me to the max, and I appreciate their guidance. Eleanor Lindsay was an excellent science teacher, and I think it was her lessons that gave me the inspiration to later pursue a career in the sciences. I especially enjoyed Phil Smith's social studies classes. There were so many fine teachers.

"I was involved in a lot of high school activities. I was on the track team, and I still hold the record in the 300-meter hurdles and the 4x200 relay. But what I treasure the most from student athlete days centers around the lasting relationships that I made with the other students. The same can be said for my years as a cheerleader. It was fun, and I still very much enjoy attending the football and basketball games at East Burke. It's different now because the schools are all smaller. I loved being a part of the big school and having the chance to meet and be friends with many people from all over the eastern area.

"I also had the privilege of serving as Senior Class President. Being in student government helped me develop leadership skills that I still use today.

"When I was in elementary school, I got the opportunity to participate in two of the musical theater productions that Phyllis Garrison directed at East Burke -- 'Annie Get Your Gun' in 1982 and 'Carousel' in 1984. It was a so much fun to be on stage and to enjoy the company of the older students. It was a great experience.

"Memories of my school days remain vivid, and all of the activities were so worthwhile. I encouraged my own children and all young people to take part in school activities because they will always remain with you."

Published January 2023
Home Page