Nicole Monk Roper - Class of 1988
Rehabilitation Director, Conover Nursing and Rehabilitation Center, Conover, NC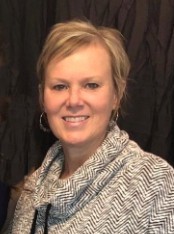 Conover Nursing and Rehabilitation Center (CNRC) is an award-winning, privately owned and operated facility which provides state of the art equipment and the finest in treatment. Patients in need of physical therapy and recovery find themselves in the capable hands of Nicole Monk Roper and her kind, caring, highly-trained staff.

CNRC has received a five-star rating every year since 2014, and recently it was recognized by the American Health Care Association for quality achievements in three national goals: reducing use of antipsychotics, improving residents' functional outcomes, and re-hospitalizations.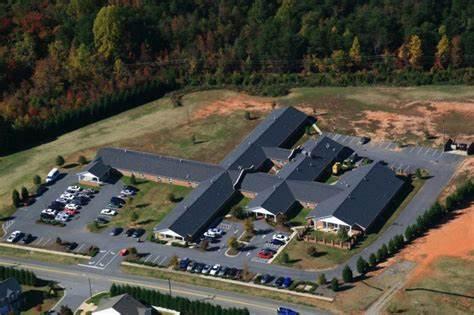 Nicole is Rehabilitation Director for Conover Nursing and Rehabilitation Center. "We provide Physical Therapy, Occupational Therapy, and Speech Therapy to senior adults. I supervise 5 fulltime employees and approximately 8 PRN staff. I attend weekly meetings to discuss patient progress with facility staff, and I am a liaison between staff and family to field their questions about their loved ones. I handle all insurance audits and denials and ensure that therapy billing and coding is correct. I review all potential patient inquiries to determine eligibility and overall fit for our facility. I spend a great deal of time with patients and families and help them navigate their journey.



"I love spending time with our seniors. They have lived through so many world events and personal changes and have many stories to tell. Helping them regain their abilities and watching them be able to return to their favorite activities and pastimes is rewarding. Working with a great team (especially mine) on a day-to-day basis is like having a second family. Watching them pour their talents and heart into our patients gives such a sense of pride at the end of the day.

"I started my career working with children and never dreamed I would work with senior adults. About 13 years into my speech therapy career, I met the owner of CNRC, and he opened my eyes to a different type of 'nursing home.' As a result, I have been here 15 years.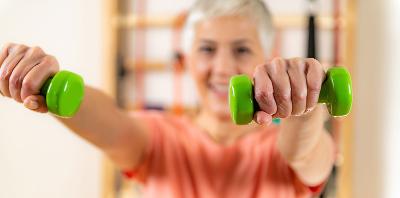 Every career has its challenges, and when the well-being of loved ones is involved, those challenges take on special meaning. "Currently our challenge is with COVID, and it has added a whole other level of stress not only to our patients but also to the therapists who show up every day and take that chance of being exposed so they can provide therapy to our patients who so desperately need it. We have amazing nurses and CNAs who have also put their lives on the line to provide the everyday care our patients need while recovering from their injury or illness. Dealing with insurance companies is always a challenge as well. We spend much of our time being advocates for our patients who unfortunately do no know how to navigate an often convoluted system."

Nicole attended the University of North Carolina for two years and then received both BA and MA degrees in communication disorders from Appalachian State. She continued her education at Nova Southeastern University in Miami, Florida, where she earned a Doctor of Education degree in Child Youth and Family Studies with a concentration in communication disorders. She also holds family studies credentials from Duke University and is a certified in Vitalstim therapy for swallowing disorders.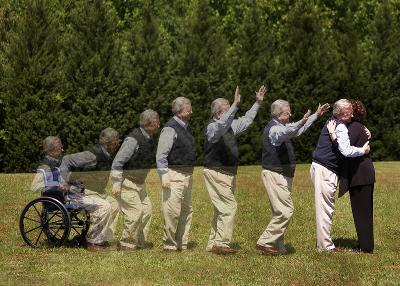 "My first job was at a skilled facility in Nashville, and then I worked at the Family Infant and Preschool Program (FIPP) in Morganton where I was so fortunate to work for a legend in the early childhood field, Dr. Carl Dunst, who taught me to think outside of a traditional speech therapy paradigm. Thinking outside the box is a must when working with senior adults with various levels of illness and/or cognitive abilities. Not being stuck in a traditional therapy rut has helped me, and my team, provide the best therapy for our patients.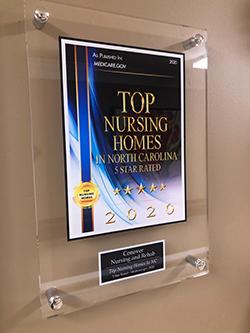 "I loved my time at East Burke, and it is the social activities that I will always remember: cheerleading, time with friends, lunch time shenanigans, homecoming, Friday night football games, and participation in the drama performance of 'Cinderella' (which was so outside my comfort zone). I am still best friends with my best friends from high school after all this time.

"The future is uncertain, but what my past has taught me is to be open to all possibilities, for you never know where you may find yourself. I never thought I would work in a 'nursing home,' but when I allowed myself to get beyond the stereotype, I have had some truly rewarding experiences. It is true that not all nursing homes are created equal.




Feel free to look us up at
"Conovernursingandrehab.com"


Published October 2021




Home Page