Royce Morris Bolick – Class of 1978
Data Manager/Office Administrator, Hallyburton Academy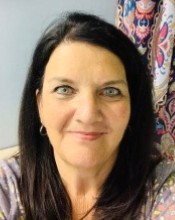 "I absolutely love my job and would not change it for anything. I enjoy meeting and greeting new students and their families. I like being one of the first faces they see and letting them know that everything is going to be okay." Royce Morris Bolick is the Data Manager and Office Administrator at Hallyburton Academy, part of the Burke County Public School system. The Mission Statement for the school is as follows: "At Hallyburton Academy, we are prepared, appropriate, and productive." The Vision Statement is "for our graduates to be compassionate, constructive, and confident citizens."

Students who attend Hallyburton Academy have fallen behind in their academic credits and are at risk for not graduating. On average, about 100 students from across Burke County are enrolled at the school, and currently twelve people are on the faculty. The student/teacher ratio is much higher than in the regular classrooms. The administration, faculty, and staff there are able to give them more individual attention, and they work especially hard to help these young people succeed. The emphasis there is always on positivity, as people who drive by can see from the inspirational sayings that are regularly posted on the marquee outside the building.

"Just because our students are attending an alternative school does not mean that they will not receive a great education. In fact, they are going to get an abundance of help, love, and guidance while at Hallyburton Academy. I am responsible for all areas of the office work including payroll, finance, data entry for the students, transcripts, report cards, etc. One of my favorite parts is gathering transcripts from their previous schools and showing them what they have completed and what still needs to be done. I enjoy making their schedules and showing them how everyone at Hallyburton is going to help them become a high school graduate."

After graduating from East Burke, Royce attended Western Piedmont Community College where she earned her Associates Degree in Executive Secretarial Science with the hopes of working in the corporate world. But, as for many, life took a different and likely better turn.

"I was raised in a strong Christian home by parents who loved the Lord and loved their church and church family. My mother worked in our church day care program for 47 years. Children were a big focus of her ministry, and I was led to start working there as well. As my young family grew, I thought a great deal about how I would only want to trust my children with caregivers who loved them as if they were their own. So I continued to work at the day care, knowing how important a task is was to provide guidance and support to the children and their parents."

"Twenty four years later, I was led to go into business with my brother and his wife, who owned a trophy and gift basket business in Valdese. I loved this change in my life, but there was still a yearning to get back to an office job. It was then that the Lord opened a door for me when I delivered a plaque to Mr. Danny Ritchie, who at the time was the principal at College Street Academy. I asked him if it would be worth it for me to put in an application to the school system. He looked at me and said, 'Go right now and do it!' After I did, the process got rolling for me to work there as their teacher assistant. But eventually the Lord used that opening to get me in the office clerical position I always desired."

"When Burke County Public Schools decided to split the alternative school up to have one on each end of the county, I was asked to go to Hildebran and help open East Alps, which was the eastern school. I was then promoted to Data Manager and Office Administrator. After several years, the decision was made to put the alternative schools back together in a more centralized location. That is how I ended up back in Drexel at Hallyburton Academy."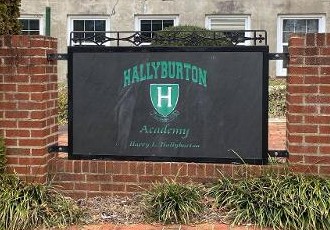 Hallyburton Academy is located in the same building that formerly housed the old Drexel High School and Drexel Junior High School, followed later by Hallyburton Elementary School. "I had been a student at Drexel Junior High before going to East Burke High, and it was so awesome to be back in my old school. To be totally honest, when I walked through the front door the first time to see what changes we would need to make to the classrooms, etc, I absolutely panicked. All I could think of was 'Do I have my math homework completed!!?' I could see Mrs. Mildred Leatherman standing at the top of the stairwell welcoming us in the building and asking if we had our work. The look she would give if we didn't have it made an impact on me, and I can still feel it all these years later.

"Other teachers and mentors inspired me as well. I absolutely enjoyed every aspect of high school. Being in the band was an integral part of East Burke for me. Miss Kathryn Siphers worked us hard each and every day. She instilled listening, practicing, and striving for excellence. It is important for each band member to do the best he or she can do. What we did individually on the field was really nothing. BUT when we all went on the field and each did our parts together, we made beautiful designs and fun halftime shows for fans and spectators each week. The band was like another family. I am truly blessed because, in addition to meeting my husband there, I made some good lifelong friends who I know would always be there for me if I need them."

"Mrs. Lynda Massengill (I can still hear her laugh), Mrs. Betty Pennell, and Mr. Jerry Murray are some of the great teachers who I remember so well. My junior year, I enjoyed participating in the musical production of 'The Music Man,' directed by Miss Phyllis Garrison. That was so very much fun."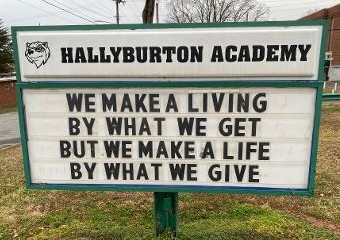 "Having had such a great high school experience, I am hopeful that I can help some of our young people have a positive experience as well. Of course, our major challenge at the time is the remote learning that our students are having to do because of the pandemic. BCPS has worked really hard to get each student a device for their education. But even after many obstacles have been faced and conquered to help remote learning become a possibility, there are many of our students who desperately need face to face instruction. They need interaction with other people, both staff and students. I am looking forward to the day when we will be able to have our students back with us full time.

"I have worked in the Burke County school system for sixteen years, and I take my job seriously. Not only am I using my education as an office manager and doing the job that I always wanted, but I am also able to interact with the students, faculty, and other staff members to help make Hallyburton an efficient, caring, and inspirational place of learning for these young people who need guidance and support."

Published March 2021


Hallyburton Academy

Home Page