Jamie Page Norton – Class of 1982
Educator
Career and Technical Education Coordinator, Burke County Schools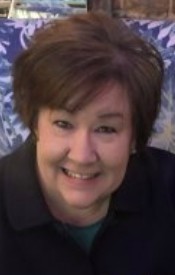 Today's public schools teach more than basic knowledge. One important task of our school system is to provide career counseling, training, and instruction to the students. Jamie Page Norton has a demanding job, serving as the Career and Technical Education Coordinator for Burke County Schools. This important field, abbreviated CTE, includes the Business, Health Sciences, Technology Education, Family and Consumer Science, and Trade and Industrial Education throughout the entire school system.

"I serve in multiple capacities in this position," says Jamie, "including Curriculum Specialist and Testing Coordinator, and I also concentrate on the Career Development efforts of fifth through twelfth grades, such as organizing Career and Job Fairs, classroom speakers, industry tours and Internships. I also serve as the Business Liaison for the system."

Jamie earned a Bachelor of Science degree in Business Administration from ASU in 1986, with a major in Marketing and a minor in International Business. In 2005, after working as an educator for six years, she earned her Master's degree in Education from NC State with a major in CTE Curriculum and Instruction and Business and Marketing Education. But before becoming an educator, her work experience in other fields helped prepare her for the challenges to come. "After graduating from ASU, I worked in outside sales for a company out of Richmond, VA, covering half the state of North Carolina, from Burlington to the coast. I then worked as a Sales Manager for Radisson and Hilton Hotels in Raleigh. I moved back to Valdese in 1992 and worked as a Marketing Manager for AlbaHealth Products. There was also a year with the North Carolina Forest Service as the state Seedling Coordinator (I sold baby trees) before I began my career in education in 1999 as a Marketing Teacher at East Burke High School. I moved to Draughn High in 2008 as a charter faculty member teaching Business Education, which led to this position in CTE. Every previous job helped me to become a better teacher. Students have appreciated my 'real world' experience, and I think all experiences gave me more credibility in the education field."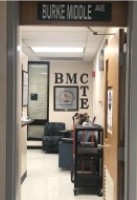 As a classroom teacher at East Burke and Draughn, Jamie taught a variety of courses, including such subjects as Marketing, Marketing Management, Sports and Entertainment Marketing, Business and Electronic Communications, Multimedia and Webpage Design, and Digital Communications Systems. She also served as Yearbook sponsor at Draughn and coordinated a number of other extracurricular activities at both East Burke and Draughn. After fifteen years in the classroom, she became the CTE coordinator at Draughn High, which included coaching other teachers in the CTE field. She also serves as a county wide on-line instructor for the Personal Finance course through the North Carolina Department of Public Instruction.

"I truly enjoy helping students explore career opportunities and help them find the relevance of their studies to the real world. I was a lateral entry teacher, coming straight out of a sales and marketing career. I was involved in employee training as a result of a company acquisition, and it sparked my interest in education. Our current day students have grown up with technology and entertainment. Our challenge is to grab their attention and help them focus on completing their goals for future gainful employment. They are SO SMART!!! The world is at their fingertips, and they have such great capacity to move mountains. There are many rewards, but to have a former student tell me how much they enjoyed my class is the most impactful for me!

"My experiences as a student at East Burke were great fun, and I'll always be grateful for the memories and friendships in numerous clubs and activities. The single most useful class I ever had in either high school or college was Personal TYPING!!!! The class was only one quarter, and it was way before the computer era, but I use it every single day!!! "Leaving the world of business and entering education was both exciting and challenging, but I was fortunate to have people who helped me make the transition. Phyllis Garrison was my mentor when I entered the education field, and I will always be grateful for her guidance in so many ways. She encouraged me to enter the field as a lateral entry teacher and helped me tremendously as I went through the steps to become certified and navigate the classroom. Rexanna Lowman also guided me as a beginning teacher and teacher leader in CTE. She taught me more than I can ever list about the field of education both in the classroom and how to navigate education as a parent, which is itself a challenge!"

In addition to her many career responsibilities, Jamie serves on the Recreational Therapy Advisory Board at WPCC and is a member of the NC Association of Career and Technical Education. She is active in the Valdese First Baptist Church. She has also served on the State Employee Credit Union Advisory Board for the Rutherford College Branch and has been a Girl Scout Leader.



Proper training, real world work experience, and continued growth as an educator all work together to make Jamie a good choice for this job. "I am so pleased to have the opportunity to contribute to the lives of our young people and to help guide them into a great future. It's a tall order, but working with these eager and interested students is a gratifying and exciting mission."

Published November 2019

Home Page