Alex Powell - Class of 2007
Band Director, Liberty Middle School; Videographer, Luma Films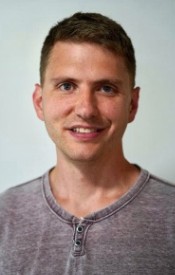 Introducing young students to an instrument for the first time requires patience, dedication, and a true love of music. It is exciting to help them begin their journey performing and learning how to work together as an ensemble. The appreciation of music is a lifelong gift.

As the band director at Liberty Middle School in Morganton, Alex Powell has such a task. "I start the beginners in 6th grade and help them develop into young musicians. On normal years (pre-COVID times) around 45 percent of the school has participated in band.

"Outside of teaching, I am a videographer for my company Luma Films (www.lumafilms.us), where I work with my wife, Lydia, to produce polished digital media primarily for businesses.

"I enjoy helping children learn about music. It is rewarding to see the students grow from playing simple songs like 'Hot Crossed Buns' to being able to perform more advanced literature. The students most often begin my course with only a casual interest in music, but I get to help them experience the rewards of developing as an individual performer and as a member of an ensemble.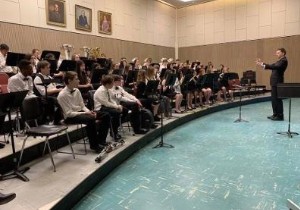 "Teaching is very challenging for me at times, but it is also very rewarding. Some of the biggest challenges are taking care of the required administrative tasks like fundraising, receipting, trip planning, instrument inventory, instrument cleaning, repair, and maintenance. It often feels that there is no time for these things, but they must still be done. On a teaching level, it is challenging to take a group of untrained 11-year-olds and shape them into an instrumental performance ensemble. It is very rewarding to lead the students through their performances. When they all focus simultaneously and produce a great performance, it is exciting for everyone. And as the students grow in experience, I do not have to lead them as much through the basics of music performance. They learn to lean on each other. It is also rewarding to travel and perform at competitions. I have taken student ensembles to perform at Music Performance Adjudication at Lenoir Rhyne University and at festivals at Carowinds in Charlotte and at Busch Gardens in Williamsburg, Virginia."

Alex earned a Bachelor in Music Education from UNC-Greensboro in 2011 and achieved National Board Certification in 2019. "When I was in college, I got a job as an assistant to the director of IT services on my campus. During this time, I learned many skills that have helped me be more efficient in creating and organizing digital resources. My first teaching job was in Elkin, NC, where I taught Kindergarten - 6th Grade General Music and 6th grade band. Towards the end of my tenure in Elkin, I was asked to direct all instrumental music, grades 5-12. Elkin was a very small town with great families, and it was a wonderful place to start my career.

"My biggest mentors were definitely my parents. My mother drove me to hundreds of music lessons while I was growing up. She was committed to me becoming a musician even when I didn't feel like doing the necessary work. She registered me for camps and celebrated my successes along the way. I certainly wouldn't have become a music teacher if not for her. My father was just as much a mentor but in a different way. He owns his own business. I saw firsthand the dedication that he brought to providing excellent service, doing more than is expected, helping people, and working hard every day. Both my parents are also committed to continuing their education.

"At East Burke, I had many great teachers. Some of my fondest memories were in history classes with Dr. Robert McAdams, in band classes with Mr. Jonathan Berry, and in chamber singers with Mrs. Renee Shatley. 'Dr. Mac' provided a world-class education in history. I cannot overstate the quality of the two courses I had with him (European and US history). I learned to think and write on a much higher level. I am so grateful for that. In band, Mr. Berry provided a well-rounded and exciting environment to learn music. One of my favorite memories was going to MPA (Music Performance Adjudication) and performing Halvorsen's 'Entry March of the Boyars,' followed by Shostakovich's 'Festive Overture,' and ending with Ron Nelson's 'Rocky Point Holiday.' To this day, I'm not sure how we pulled off such a challenging program, but I attribute our ensembles' successes to the culture that Mr. Berry built at East Burke. Mrs. Shatley provided a wonderful environment to learn to sing in an ensemble. She helped me audition for the Mars Hill Honor Choir. I was admitted to the honor choir, and the festival was one of the more memorable musical experiences I had in high school."

These experiences contributed to the knowledge, skills, and understanding necessary for opening young students to the world of musical performance and appreciation.

"I am excited to be hosting a student teacher from Appalachian State University this fall. It is rewarding to help guide the next generation of teachers. I hope to continue to develop my craft and perform exciting music with future students."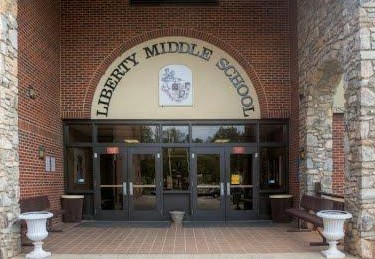 Published August 2021




Home Page