Todd Propst - Class of 1982
Freelance artist and writer; Furniture Inspector, Bernhardt Industries, Lenoir, NC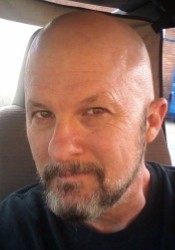 Sometimes our livelihoods don't match up with our dreams. Good jobs, even great jobs, although important to society, don't always feed our souls. Such is the case with Todd Propst.

Furniture manufacturing remains one of the major industries in the Catawba Valley area, and Bernhardt Industries in Lenoir is a vital part of that heritage. Todd has been a member of the Bernhardt team since 1993. He has had a number of roles with the company, and his current job is as a final inspector and quality control manager in the upholstery division at Plant 6. "My father was a senior engineer at Bernhardt," he explains, "and I knew what a reputable company it has always been and what quality products are produced there. I take great pride in our products and am pleased to be a part of this industry."

Todd's maternal grandfather, Henry Seitz, was a big influence on his life in many ways. "He did such beautiful and creative woodworking including handmade furniture and hutches. He designed his workshop to look just like an 1880s general store, one like you would find in the western United States. It even had swinging doors. He loved history, and it was because of him that I began to develop my own interest in history.

"My great-grandfather, Albin Seitz, was to me a legendary and almost mythical figure. He left home at the age of twelve and hoboed all over the country before returning to Burke County. What adventures he must have had and what stories he could tell! I think his example has helped fuel my own need for storytelling.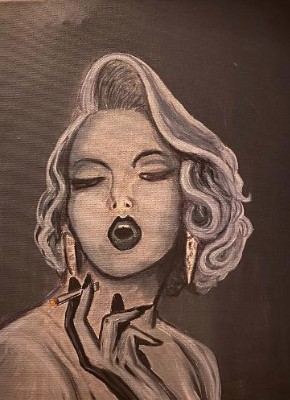 "I started drawing and sketching on my own when I was about four. All through school, I read a lot and kept mostly to myself. I collected hundreds of comic books about adventure heroes like Batman, Spider Man, Superman, and the Marvel characters. My brother, Tim, got me interested in toy soldiers, and we would set up army men and have battles on the bedroom floor and make up adventures. My father and my brother were big 'Star Trek' fans, and when I was about ten, I began to watch it with them on tv. Something that we noticed about the show was that each episode was a little morality lesson wrapped up in a science fiction program. I loved that, so I began writing my own science fiction series. I wrote the original premise for the storyline in August of 1979 when I was fifteen. I set myself up as one of the main characters. Basing other characters off TV heroes and other people I knew, off I went.

"Back then, I called the storyline 'Adventures in Outer Space.' While in school, just for fun, I filled up fourteen sketchpads of art and outrageous science fiction stories about this young kid from the 70s lost in space with an ex-US Marine and a tragic wizard. They were on board a stolen spacecraft, running from the Slade empire while trying to find their way back home to Earth. I loved making fun of the usual standard for science fiction at the time. I changed the title in 1984 to 'Tales of the Wandering Star' and then in 1998 to 'Tales of the Wanderjahr.' The idea is to have different characters, ordinary people from different times in history, drawn together by fate in order to face extraordinary circumstances throughout time and space. My friends enjoyed it, and I wrote many episodes before putting it away for several years.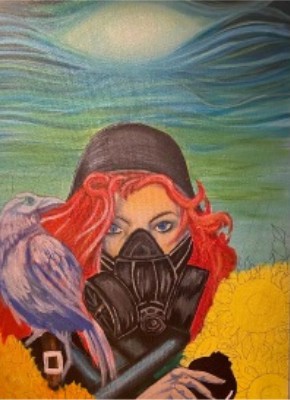 "There were definitely teachers who made an impression on me. I always loved art, and I especially enjoyed drawing characters. My junior high art teacher, Steve Helser, suggested that I put my drawings in a story line. Later at East Burke, art teacher Ron Barnes said that I should put them in a comic book format. Ron Barnes was an interesting guy. Among the many different projects that we pursued, I remember how our class worked on the plaster cast of the Cavalier, using Alan Shuping as the model. The statue still stands in the reception area in the office. Ron was a member of the National Guard, and he was commissioned in 1982 to paint a mural in the National Guard Armory in Morganton tracing the history of the US Army from the minutemen to modern soldiers. He was no longer teaching at East Burke, but it was my senior year, and he contacted me to ask if I would help him. That was a great experience, and the mural is still there in the armory gym on Kirksey Drive.

"History was, and still is, a favorite subject. My eighth-grade history teacher, Denny Young, was especially interesting. One of my favorite teachers at East Burke was Sam Wilkinson. I really loved his class called 'Teepees, Tribes, and Tears.' It focused on my favorite time in American history, starting with the Civil War period through the days of the settlement of the West. I also enjoyed speech class taught by Howard Williams. He was a quiet, soft-spoken man who always appeared to me to know a lot more than he was going to tell. One assignment was to make a five-to-eight-minute speech about something that we liked. I remember that my speech was mostly unplanned, but Martha Wetmore, who was the forensic speech and debate coach, overheard much of it and was impressed enough to invite me to join the competitive team. It's amazing how the most random high school memories will stick with a person. East Burke was a pretty overwhelming place when I first arrived, so I had to find my favorite activities where I could.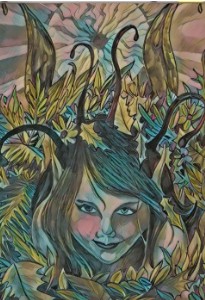 "My love for art has always been with me, and I guess now it's time to reveal a secret that I have kept for all these years. It all started with an episode that almost anyone who has ever been a teenager can relate to. Like many teens, I suffered from acne, and I also had frequent allergy attacks. One morning when I was experiencing both of these ailments, I looked in the mirror and knew I couldn't show my face. But I couldn't stay home, either. So I remembered a great comedian named Murray Langston who was a regular on 'The Gong Show.' He wore a paper bag over his head and called himself 'The Unknown Comic.' So I cut a couple of holes in a paper bag and put it over my head and wrote 'The Unknown Artist' across the top and went to school that way. I remember how Sam Wilkinson looked at me and asked, 'What are you doing?' I lifted the bag a little bit, and then he agreed that it was probably better to leave it on.

"It was not long after that embarrassing episode with the paper bag when early one morning before the first bell rang, I saw a drawing on one of the classroom chalkboards. I thought it was a pretty poor specimen of art and knew I could do better. So I quickly drew a picture next to it and signed it 'The Unknown Artist.' Since the first drawing was a success, I tried a second and a third and then many more. I would usually include a drawing of a man with a hat and cape modeled after my favorite comic book crimefighter, The Shadow. I would write above the drawing 'The Unknown Artist strikes again.' Charles Fox was my scout. He helped me find good places to draw and kept a look out for people who might see me. To my knowledge, he is the only person who knew the identity of the Unknown Artist. It was quite the talk of the school there for a while. I was told later that the 1983 yearbook staff was looking for me to draw an illustration for the yearbook, but I had already graduated.

"After graduation, I spent some time following the rock scene. I worked as a roadie for a while with some local bands and followed around a number of top name bands like the Grateful Dean and Aerosmith. I didn't have the support and encouragement that I needed to seriously pursue a career as an artist, so I tried to do what I could on my own. I often designed and sold t-shirts and other trinkets for the bands. There wasn't a lot of money in it, but I sure did have a lot of fun.

"Soon I realized that if I was going to be truly serious about my artwork that I needed to take a different action, and I decided that I would try the art program at Western Piedmont Community College. My professor, Raymond Goodfellow, was a highly regarded instructor who later became the Dean of the Humanities and Social Sciences and then the Vice-President for Academic Affairs at WPCC. He brought so many new and exciting art programs to the college, and I was lucky to have the opportunity to spend time learning from him. Under his guidance, I was able to participate in some Hanging Comic Book Shows. They are a type of sequential art. A series of works making up one story is displayed around a gallery, and the viewers walk around reading one story from beginning to end. I was able to do these types of shows at both Western Piedmont and at the Jailhouse Gallery. People really seemed to like them, and several viewers wrote to me asking what story I was going to show next.

"In 1982 and 1984, Marion Lieberman, who was a highly acclaimed columnist for the News Herald and for the Asheville Citizen-Times, wrote two articles about me. The News Herald article was called 'Ink – Fuel for Todd's Spaceships,' The text of the article is included HERE. The Asheville article was titled, 'Propst Gives Life to His Fantasies.' The first paragraphs read, 'Todd Propst is out of this world. As the central character in "Adventures in Outer Space," he travels on intergalactic rockets. He is a conquering hero, escaping the villains and monsters of one planet only to face even greater dangers in other celestial encounters while searching for a way to return to Earth. Todd Propst is also a budding science fiction writer, fired with imagination, using ink as the fuel for his spaceships and astronautical inventions as he pilots story plots through the medium of comic strip art.' The articles mention East Burke and WPCC and were illustrated with some of my drawings.

"While attending WPCC, I, like many other students, worked in the restaurant business. I had jobs at Pizza Hut and Papa's Pizza, and I stayed at Max's Mexican Eatery from 1991 through 1997, five of those years while also working at Bernhardt. It was during that time that I also had an art studio in Morganton called Unknown Artist Productions where I taught painting and drawing. But it was difficult as a single dad to pursue my art career, work two jobs, and take care of my daughter. As it turned out, though, Caitlinn has been my best and most successful student, and she now makes her living as a professional artist.

"It's important to be a responsible employee, and I have certainly been that, but my heart was always with my art and my writing. Raymond Goodfellow was a real inspiration, and he advised me that if I wanted to make commercial art or comic book art my profession that I needed to leave Burke County and make my way in a large city. During the pre-internet time, I was not sure how to go about looking for a publisher, so I only ventured as far as Charlotte to begin asking questions. Today I could have likely found others online who could direct me to possible sources.

"I've also done other interesting activities along the way. For example, my love for history came to the forefront again in the early 90s when I was cast as an extra in the movie 'The Last of the Mohicans,' I was active on the set at Lake James where I played a French soldier and a colonial, and I later participated in the massacre scene filmed near North Cove in Marion.


"I was a Civil War reenactor with the 26th North Carolina Troops, the largest reenactment group in the state, from 2004 until 2019. I took part in many battle reenactments from North Carolina to Gettysburg. I also did living histories for towns and schools, and my goal was to show the kids what it was like for the average soldier that came out of the area and went off to fight a war he really wanted no part in. I retired from reenactments after participating in the 150th anniversary events sponsored by the North Carolina History Museum. One interesting aspect of this type of activity is that, just like playing a variety of roles in the movie, I often had to play a soldier from both the North and the South in the same event, changing between the blue and the gray. Just like any other acting job, we were sent where we were most needed at the time.

"After college, the comic series was put away but never forgotten. In 1998, I pulled the old sketchpads out of the closet and began to rewrite and revitalize the series. I have written and illustrated work for these characters for most of my life. There is a lot of in-depth storytelling within 'Tales of the Wanderjahr.' I have had two short stories from the series published and have been encouraged by the editor to continue writing. I honestly believe the time has come to see the series it where it belongs – definitely on bookshelves, perhaps as a series of graphic novels for young adult readers -- and maybe, just maybe, one day as an animated film. There's no doubt in my mind that these stories could become profitable. For this artist and writer, the most important part of the whole thing has been the story about how these characters dealt with these outrageous situations and remained friends.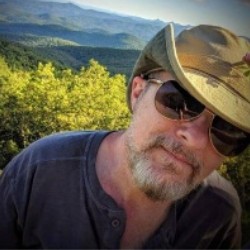 "For me, art is a balance between the familiar and the contrived and a balance between something in your heart and somewhere you want it to go. I believe that's what any form of art should do; from the movies and all of that state of the art animation, to the painter, the writer, the poet, the sculptor, the dancer, to the kid drawing something in art class, all are a part of the experience. I as the artist don't know who will be viewing or reading what I'm doing now; I do not know what it will mean to them. But if I am true to myself, then maybe the work I do will touch their hearts in some way. "What else is it all for if not that?

"My advice for anyone is that if you can't follow your dream in the beginning, you can always follow it later. Don't EVER, EVER give up on your dream."

Published October 2021

Home Page