Connie Rodriguez Thompson – Class of 1996
School Counselor, Burke Virtual Academy and Burke Middle College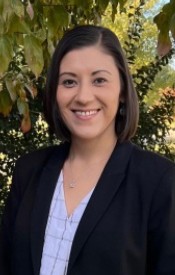 Counselors play a valuable role in our school system. Helping our young people find their paths in this complex society is an invaluable service. Connie Rodriguez Thompson is currently employed by Burke County Public Schools as a School Counselor for Burke Virtual Academy and Burke Middle College.

Burke Middle College is located on the campus of Western Piedmont Community College and is a partnership between Burke County Public Schools and WPCC. High school students enrolled in BMC can complete their eleventh and twelfth grade years while also working toward an Associate degree or certificate. Students can complete their entire community college degree by the time they graduate from high school and can have a two-year start toward achieving their college or career goals. The Burke Virtual Academy allows students to gain credit for online courses in a variety of subjects. These two entities allow students more variety in their learning choices and provide new opportunities for learning.

"School counselors," explains Connie, "are certified/licensed educators who work with their students to help them reach their goals and improve academic success. Roles we should do include individual planning and goal setting, individual and small group counseling, and assisting with classroom guidance lessons to help manage emotions and teach interpersonal skills. We do referrals to outside agencies as needed and collaborate with staff, parents, and the community, all with our number one goal to support and advocate for our students. We work with students on college and career goals and assist them with scheduling and registration to ensure they are taking the courses they need to reach those goals.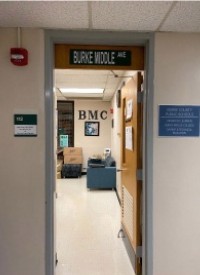 "I have to say I was unexpectedly led to this profession. I went to graduate school for Agency Counseling and while there learned more about school counseling, I liked the idea of helping students and decided to add that track to my degree program, so I ended up with a graduate degree in Agency and School Counseling. I also have to give some credit to my high school counselor, Lin Gentry, at EBHS. Her support helped me get to college and probably planted the seed for school counseling even though at the time, I didn't know it. I actually had the honor of taking her position at East Burke High School when she retired. Thank you for everything Mrs. Gentry!

"Working directly with the students is the best part of my job. Helping them achieve and reach their goals is amazing!! The pride I feel for my students is tremendous and the joy they have brought me over the years is priceless!!

"The many rewards of this job include supporting my students, advocating for them, and watching them succeed in whatever that means for them. I am also rewarded by working with a great group of people who also support and want what is best for their students. Rewards come unexpectedly when a former student says your name in the grocery store or comes up to you when they are grown to tell you how much you meant to them or how much a lesson meant. They come when they receive that acceptance letter or finally pass that class and you get to see them graduate. They come when you see how well they are doing on Facebook. Rewards happen all the time, and they are always a blessing."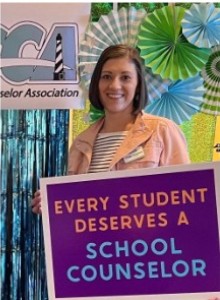 But, as with any career, there are always challenges. "Challenges in my profession are things like people not supporting our children, addressing mental health and other issues/concerns with limited resources, and, obviously, it is hard when students decide it is best to drop out. It definitely feels as if at some point we failed them. Another challenge is finding the time to be present for all students and fulfill all other duties. A major challenge we face is the need for more school counselors in our schools, and we dream of reaching a point where it is required to have at least one school counselor in each school. We should aspire to the American School Counselor Association (ASCA) recommended ratio of one school counselor per every 250 students."

Educators, including counselors, strive daily to find ways to overcome those challenges and reap the vast rewards of seeing students achieve.

"I would have to say growing up in a family where everyone worked in the hosiery mill definitely shaped my future. My grandparents worked very hard and had a successful business in our area. I am very proud of them and what they achieved. I also worked in the hosiery mill growing up and then on into college. I think this helped shaped me to know I needed to work hard to reach goals. I also learned I did not want to work in the mill all of my life. I met some amazing people at that mill. Those were wonderful times, great people, and fond memories that I will never forget, but I always knew I wanted to go to college. During and after college, I worked for some other agencies helping others, all of which helped prepare me for my current position."

Connie went on to attend UNC-Chapel Hill and Lenoir-Rhyne College, earning a Bachelor's degree in Psychology and Human Services and a Master's degree in Agency and School Counseling. She is a licensed school counselor and a licensed clinical mental health clinician (LCMHC). She is also a National Board Certified Teacher in School Counseling (NBCT).

"Mentors along the way would definitely include my mom and grandparents. They always encouraged and supported me throughout my education. But other than family, mentors would include teachers from EBHS. In high school, I planned to enter the medical field, so I took Allied Health courses (now called Health Science) and had the privilege of meeting one of the best women I have ever known, Mrs. Barbara Temple. Although I didn't technically end up where I originally planned, her dedication and encouragement really meant a lot to me. Being part of the HOSA club was amazing, and I had great experiences competing at the regional, state, and even the national level.

"Again, Mrs. Gentry, my school counselor, who assisted me with college information was integral. Jonathan Berry and the band program helped me feel connected and find my niche upon getting to high school. All of these and more had a tremendous impact. It is hard to just name a few because all of my teachers I feel shaped and encouraged me along the way. As a first-generation college student, I needed all of the support I could get.

"My future career goals right now are related to serving on the board of the North Carolina School Counselor Association (NCSCA). I will be president-elect for NCSCA come July 1 and then will serve a 3-year term as president-elect, president, and then past president. I am excited to continue to serve my fellow school counselors across the state in this new role."

Published March 2023
Home Page