Brett Self - Class of 1989
Business Owner- Bistro to Go, Inc., Macon, Georgia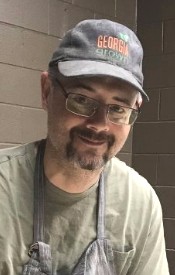 "Good bread is the most fundamentally satisfying of all foods." This profound observation by the legendary chef James Beard is brought to life every day at Bistro to Go, Brett Self's Macon, Georgia, artisan bread and pastry business.

Brett's interest in food began, like so many others, at home, watching his mother and grandmother weave their magic in the kitchen, preparing many meals from the fresh grown produce from his father's garden.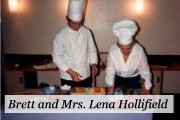 While at East Burke, Brett found opportunities to expand his interest. Home Economics instructor Lena Hollifield was an important influence, and together she and Brett started a Culinary Arts Club at the school. "I also took some art classes, which I really enjoyed," he recalls. "One of the most memorable projects I completed combined culinary arts and visual arts when I made ice sculptures that were displayed at the prom."

An interesting part of the educational experience is that, even though subjects such as English, mathematics, and history are taught separately, skills studied in those classes can be integrated into every aspect of learning and life, including making a product such as bread. For example, as Brett points out, "Mrs. Lillian Pendley and Mrs. Lucille Bond taught different subjects, but they both were excellent in helping students master complex issues. Mrs. Pendley taught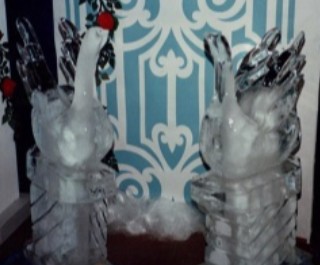 us to use critical thinking skills to examine and analyze a piece of writing in order to find the true focus and meaning. Mrs. Bond, in a similar fashion, required us to reason through a math problem, insisting that we understand how each component related to all the others, leading toward a solution. Usually after we worked through the problem 'the hard way,' she would show us an easier way to solve it. These skills are useful in any task. If the 'easy way' is the only way one knows, the outcome will not be the best it can be. If I don't fully understand each component that goes into my product, I will not achieve the desired results."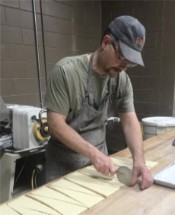 His culinary interest grew outside of school when Brett's mother enrolled in a cooking class at WPCC and asked the instructor, Ed Robinson, if she could bring her 16-year-old son along. "Ed was the head chef at Mimosa Hills Country Club, and I soon went to work for him. It was real-life hands-on experience in the food preparation industry." It was Lena Hollifield and Ed Robinson who encouraged him to enroll in the prestigious Culinary Institute of America, where he graduated in 1991 with an Associate of Arts degree. Students at the Institute learn about all types of techniques used in cooking and baking and are also trained in food service management, preparing them for all aspects of the industry. "Our lessons at the Culinary Institute were much like the ones I studied in high school. We learned the fundamentals and how to do the work the hard way before we learned the shortcuts. It makes a world of difference."

Following graduation, Brett worked at the Lake Hickory Country Club and later went on to become the head chef at the Twin City Club in Winston-Salem. While there, he also worked part time for Gordon Sparber, owner of the very popular Ollie's Bakery, where he developed a special interest in bread baking. "I helped Gordon out, and in exchange he taught me the fine art of artisan breadmaking. It proved to be a great partnership." In fact, Brett used his newfound skills to open Stone Hearth, his own successful bakery, in Hickory. After four years, he moved on to work at restaurants at the Outer Banks and then later at the Sanctuary Hotel on Kiawah Island near Charleston, SC. "The Sanctuary was a four-star hotel working toward becoming five-star. When I began there, they were using premade bread and pastry. My job was to supervise the overnight crew making fresh bread and breakfast pastry to supply the restaurants at the hotel. I worked there for three years, and we reached our goal of helping the hotel attain the five-star status it desired."

After the Charleston success, Brett moved to Atlanta, where for three years, he worked as head baker at a very popular independent business called Alon's Bakery. He also worked at Rose Cottage south of Atlanta, which was a bakery and café as well as a supplier to retail markets and restaurants.

It was the work in Atlanta that became the springboard for Bistro to Go, Inc., in Macon. "At first, the business was part time. We did corporate catering and focused more on food than baking. Originally, we baked bread just so we could make sandwiches. But soon the baking aspect took off, and now the business focuses solely on various types of bread such as ciabatta, Danish, croissants, baguettes, sourdough and multigrain sandwich bread, etc., that we sell to both wholesale and retail clients. We supply restaurants and other businesses, and we sell retail at farmers markets in Atlanta and the surrounding area. We have a steady clientele who seek us out, and we usually sell out quickly. Often I will post on Facebook or Instagram if we have a particular specialty product available so that our regular customers can take advantage."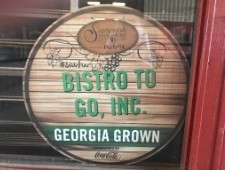 Over the past few decades, what is known as the "farm to table" movement has grown, and the demand for fresh, local, organic foods has become an important aspect of society. "When I was growing up," observes Brett, "my father grew the food, and my mother and grandmother prepared it. That was the original farm to table experience that many of us in small towns and rural areas found to be normal – and still do. But now people who live in urban areas and are unable to grow their own food have begun to seek it out at farmers markets. The vendors at the Macon State Farmers Market, where our baking facility is housed, sell crafts and other items in addition to food because more people in the area can still maintain gardens. But the farmers markets in the Atlanta area sell produce and other food products almost exclusively. It is important to me that I buy my ingredients from local sources and that I sell my products to local clients. The local ingredients are fresher and, as a result, the products tastes better and are healthier for the consumers. Occasionally I will purchase products from outside of Georgia, but even those come from neighboring locations and are not shipped in from other countries or from faraway states. For example, I use an excellent whole wheat flour milled in Asheville, and I make a specialty sandwich bread from toasted whole kernel corn meal from Edisto, SC. My customers know the difference in quality, and that makes a successful business."

When asked about future plans, Brett says that at some point he would like to expand by adding desserts such as cakes and pies and other products to market to restaurants, working with seasonal ingredients, creating events at restaurants with new clients, and perhaps setting up a more permanent retail location. There is much room for thoughtful expansion in the marketplace, and he is weighing his options.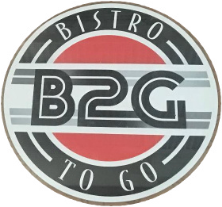 Owning and operating one's own business is both challenging and rewarding. Often businesses come and go depending on fluctuations in the economy. Recruiting, training, and maintaining quality employees is a universal challenge for small businesses. In addition, most independent business owners find the work time-consuming and labor-intensive. "Bakers spend a lot of time on their feet. Even though some mixing and shaping is done by machine, I have to run that mixer or press, and I have to measure, cut, and form each item by hand. I often work late into the night so that the dough can rise and be ready for shaping and baking in the morning. It is definitely a lot of work. But I can truly say from my own experience that there is nothing like being your own boss, making your own decisions, and taking pride in your product. If the job is too easy, the rewards are not as great. It is because it is difficult that a person can feel the satisfaction of accomplishment, just as my high school teachers made clear every day."

Published September 2019

Home Page