Alan Shuping – Class of 1981
Director of Facilities and Infrastructure, Grandfather Golf and Country Club, Linville, NC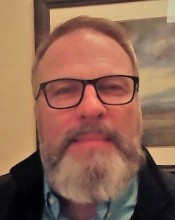 Taking a break from the stresses of life, relaxing in a beautiful mountain setting, competing in a game of golf – all of these activities sound appealing. Guests at a facility that provides such enjoyable pastimes should ideally not notice how everything operates, but there is no doubt that much planning and hard work is behind the management of the organization. Alan Shuping is one who takes pride in keeping such a facility operating smoothly and efficiently.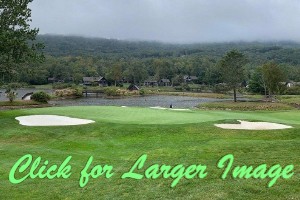 Alan is currently employed as the Director of Facilities and Infrastructure at the Grandfather Golf and Country Club in Linville, NC. As he explains, "I manage a department that handles all the buildings and grounds and maintain assets including roads, a 35-acre lake with a large dam, hiking trails, etc. I also manage the club's privately owned water and sewer utility and am the Zoning Administrator for the incorporated town of Grandfather Village which encompasses the club. In addition, I handle all the engineering, environmental, and legal matters in the club's dealings with North Carolina Department of Environmental Quality on water quality for the Linville River, dam construction, and utility discharges.

"I ended up here because of my extensive background in construction, real estate development, and facilities/asset management. I grew up doing construction and maintenance work and after college started as an assistant superintendent for a construction company in Raleigh and stayed in the industry in some form or fashion from then on. Being mechanically minded, I enjoy the construction process and also repairing and renovating buildings and grounds after they are built. This is a seasonal club so most of the work gets compressed into the months of the year where the weather is the worst in the mountains. Working around the cold weather, snow, and rain pose specific challenges that low land or year-round clubs don't face.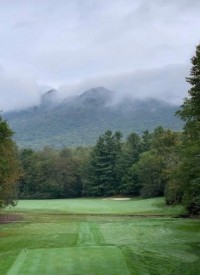 "I have held positions as a superintendent for construction companies, facility manager for both real estate companies and an electronic manufacturing company, and asset and project manager for a large real estate development firm, I've been a partner in a construction company and owned my own plumbing and electrical contracting company. Each job offered its own form of experience, both good and not good, that informed the next phase in my working life. Each experience enabled the creation of a unique set of skills that were tailor maid for my current position."

Alan earned a BS degree from UNC-Chapel Hill and holds a North Carolina Electrical Contractor License and a North Carolina Plumbing Contractor License. He is a Certified Manager of Community Associations and an Association Management Specialist and is currently working on a certification for Professional Community Association Manager and for Facility Management Professional.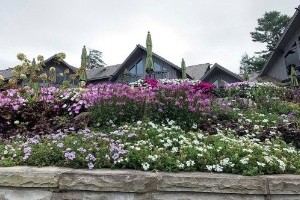 Often the people we encounter during high school turn out to have a profound effect on our future, even if we may not realize it at the time. Alan remembers two individuals with different yet meaningful approaches who influenced his outlook.

"Being young, dumb, emotionally ignorant, and uncertain of what I was supposed to be doing in the world during my high school years, practicing and playing football was the one activity where I was able to forget about all the other crap in my life and be totally in the present moment. Coach Danny Williams provided a loud, frenetic, physical space where if you weren't engaged completely, body and mind, you were quickly reminded, either verbally or by being knocked over by a teammate, of the need for total concentration and participation. At the same time, I can remember being almost surprised when I had my first and subsequent conversations with Coach in his role as Assistant Principal. His engagement with me talking about various scholarship opportunities, college football programs, and on a couple of occasions my behavior inside the school building were just as helpful and grounding for me as our interactions on the field.

"On the opposite end of the spectrum was the gentle guidance I received from my Guidance Counselor, Dorothy Gregory. Her sympathetic ear and vast amount of help in negotiating the high school experience in general and making the transition to college life is something I'll always remember.

"Coach taught me the importance of focusing on a goal and having a team you trust around you. Mrs. Gregory taught me the importance of planning and empathy. My greatest professional failures were when I lost sight of these lessons."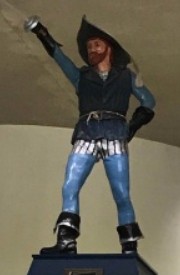 One small "claim to fame" that Alan modestly neglects to mention is that he was used as the model for the Cavalier statue that has graced the East Burke office space since 1981 and now stands in the cafeteria. Art teacher Ron Barnes was the guiding force behind that remarkable project, but Alan will always remain the living symbol of the proud Cavalier, sword held high and ready for the challenge.

After a career well spent, Alan turns his thoughts toward how he can use his skills to further help the industry and community. "I plan to work about 8 to 9 more years, and it will be either where I am now or in a similar position elsewhere. I consider myself in the twilight of my career and have started to experience how ageism begins to limit options for folks at this point in the path. I can continue to improve myself at the current level, but any aspirations of moving up are limited by my choice of homeplace and by my unwillingness to give up any more of the life part of the work-life balance. A little further into the future, I will start to explore consulting opportunities or companies that may need help in starting up electrical or plumbing divisions where I can work as needed and as wanted."

Published May 2023

Home Page