Chad Smith – Class of 1995
Principal, Whitnel Elementary School, Lenoir, NC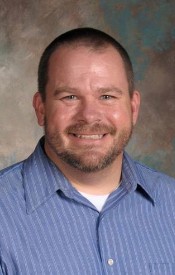 "Every day is a fresh start and different from the day before." With these words, Chad Smith, who currently serves as Principal of Whitnel Elementary School in Lenoir, sums up both the excitement and the challenge of an educator.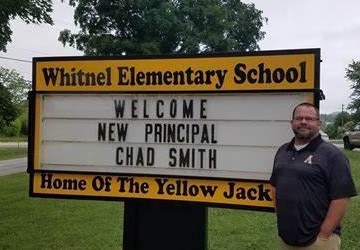 "I consider myself a 'people person.' As a principal, I have the opportunity to interact with students, teachers, support staff, and community members on a daily basis. These interactions are the highlight of my job. I love that every day brings new opportunities to have an impact on my life and others I see on a daily basis.

"As a student in the Burke County School system, I had many great teachers that made a huge impact on my decision to become a teacher and administrator. I have always loved to learn new things and create positive friendships, so it seemed only natural for me to pursue education as a career. Participating in middle school and high school athletics introduced me to how important effective leadership is in all aspects of life. Many of my past coaches also played a significant role in leading me into my profession. Mark Crisp and Mike Colbert are perfect examples of great role models. Both were football coaches at EBHS when I played, and these two men made a huge impact on my life. Both were motivators, compassionate, and driven!"

Chad's participation on the varsity football team was an important part of his high school experience. He also enjoyed leadership roles in other activities, including serving as vice-president of the Service Club, a BETA Club officer, a member of the Student Government, and participation in the Model UN.

After graduating from East Burke, Chad earned a Bachelor's Degree in Special Education from Appalachian State University in 1999 and a Master's Degree in School Leadership from Gardner-Webb University in 2011.

He has held a variety of educational positions. He began his career as an Exceptional Children's teacher at Jacob Forks Middle School and then at Fred T. Foard High School, both in Catawba County, and then later became Exceptional Children's Program Specialist at Fred T. Foard. He then moved on to West Caldwell High School in Caldwell County, where he also served as Exceptional Children's teacher and Program Specialist.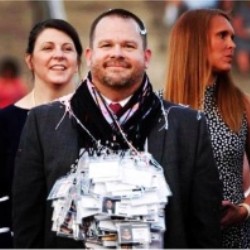 His first administrative job was as assistant principal at Fred T. Foard High, and then he returned to Caldwell County, where he served as principal at Happy Valley School (K-8) and at South Caldwell High School before his present position as principal at Whitnel Elementary.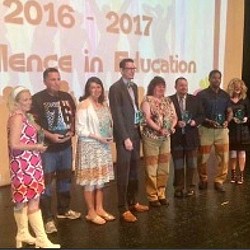 In 2017, he was honored to be chosen Principal of the Year for the Caldwell County School system.

"Each job that I have had throughout my educational career has made a huge impact on moving into a leadership role. I had the privilege to take on leadership roles early in my career, and I had to desire to continue to grow as a leader of students and teachers."

Fall of 2020 presents special challenges for the school year, as public school teachers and administrators face the challenges of remote learning and re-entry plans in the face of the COVID-19 pandemic.

But whatever challenges lie ahead, Chad plans to be a part of overcoming them. "My future goals consist of continuing to service the Caldwell County community in any role as needed and called to do."

Published September 2020


Home Page