Meghan Armour-Steele – Class of 1998
Physical Education Teacher, George Hildebrand Elementary School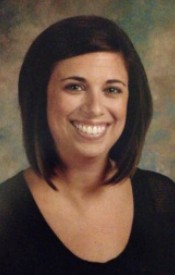 I grew up my entire life in Burke County except for my college years. I teetered back and forth throughout my adolescent life as to what I was going to do when I grew up. I had considered pharmacy, recreational therapy, something in the medical field including teaching biology---but NEVER did I imagine that I would become an elementary physical education teacher. I have a love of science and biology--thanks to Mr. Horace Brown and Mr. Jim Hipps from East Burke High School--but physical education???

When I began my college career, I was the recipient of the North Carolina Prospective Teachers Scholarship. I had planned to pursue a teaching degree in elementary education. I attended Western Piedmont Community College for two years and then transferred and graduated in 2002 from the University of North Carolina-Wilmington with a degree in physical education with a concentration in biology. It was during my second year at WPCC that I met my husband, Michael Steele, also an East Burke graduate and a physical education teacher, who has been one of my biggest career inspirations. I began my core classes at UNC-Wilmington in elementary education and, after my first semester, I was not happy with my college career choice. I was missing something. Teaching in a classroom every day with all of the constraints---well, it was not me.

During my senior year at East Burke High, I worked as an apprentice at Broughton Hospital through Burke County Public School's Apprenticeship-School to Work program. I was a Recreational Therapy Assistant, and we would plan and attend activities with patients--dances, recreational outings at parks, fishing, etc. After high school and during my first two years of college, I also worked for Burke County Public Schools in the after-school daycare program. I always enjoyed playing and creating games and activities with the daycare students.

Michael suggested that maybe being an elementary physical education teacher would interest me since I still wanted to be in an elementary educational environment. I wanted an environment where learning took place but where every day students were excited to come to the class and have fun yet I would not have the same students or grade level every day. He said, "You would be one of the people that kids would look forward to seeing each week!" I could use my love of biology and health and still work with students in an educational, fun setting. So, at his suggestion, I spoke with Dr. Lisa Griffin, a professor who was a former elementary physical education teacher. After consulting with her and thinking about it more, I recalled that one of my favorite times during the week when I attended Drexel Elementary School WAS P.E. with teacher Gail Mosteller! I looked forward to coming to her class each week! It was ALWAYS fun!

But still...a PE Teacher? I had never played a traditional team sport, except attending a basketball camp and playing with the neighborhood kids. I did enjoy being active in non-traditional sports such as swimming and gymnastics. I even twirled a baton! However, I never felt confident to be a part of a team sport. I was not always the most athletic student or the most successful student in PE--never the first one picked for a team. PE in elementary school was fun, but, as I got older, I did not really like it. In fact, I dreaded it.

But, I thought, I can do this, and I can make my PE program different! So, I made it my goal to become an elementary physical education teacher and create a program where ALL students regardless of athletic ability felt safe, had fun, and enjoyed success! Teachers set the foundations in elementary school for students, and I wanted to begin with students having both success and the feeling of self-worth.

I was assigned to two student-teaching positions at UNC-Wilmington, my first being with Melanie Champion at South Brunswick Middle School and my second at an elementary school in Wilmington. I was still unsure of myself, lacking confidence that I could be a PE teacher, but Mrs. Champion took me under her wing and was one of the best mentors during my student teaching time. She gave me confidence, tons of teaching ideas (many I use today), and a fantastic experience. She both told me and showed me that I could do this! In fact, I was awarded the Physical Education Student Teaching Award from UNC-Wilmington at graduation!


I came back to Burke County in the fall of 2002, unsure of my career path with teaching. Since I had graduated in the fall--midway through a school year--I became a substitute teacher for the remainder of the 2002-2003 school year and also worked for the Burke County 4-H program in the summer of 2003 as an Assistant Summer Program Coordinator. When I interviewed at the Burke County Public Schools job fair for the 2003-2004 school year, the only physical education positions available were secondary programs, which I did not aspire to pursue. I accepted a position at George Hildebrand Elementary in 2003 as a preschool teacher instead. I taught Pre-K there for two years, earning my certification in Birth-Kindergarten.

When a PE position at George Hildebrand opened after my first year, I chose to stay in Pre-K, but in the fall of 2005, the position came open again! I felt it was a sign! At the encouragement of principal Jan Crump, I decided to take the plunge!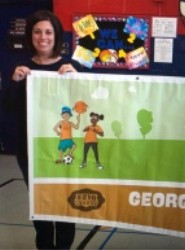 I have been a part of the George Hildebrand Elementary School family for 17 years, 15 years as the Physical Education teacher! Over the many years, I have done my best to hold fast to my goal to create a safe, fun, and successful environment for ALL of my students no matter what their athletic abilities are. I want them to look forward to coming to my class, to have time to be social, and to learn something about their bodies and themselves—and to have fun.

Some of my accomplishments over my teaching career have been to earn Teacher of the Year at George Hildebrand Elementary School and to have the privilege of being a student teacher mentor to two Appalachian State University physical education student teachers, something I enjoyed very much.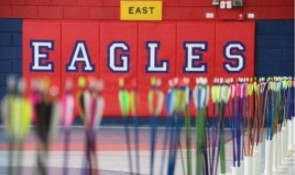 One of my biggest accomplishments at George Hildebrand has been my involvement with the National Archery in the Schools Program. My husband started this program for Burke County Public Schools, and I naturally followed suit. I became a certified Basic Archery Instructor as well as a certified Basic Archery Instructor Trainer.

The archery program helps me fulfill my goal of making my physical education program different. I want to reach students in different ways--not just traditional sports. I am very passionate about giving students experiences and opportunities where they feel successful and can also learn something.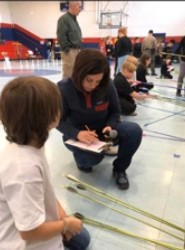 Archery gives students from all backgrounds and abilities the chance to participate in a disciplined sport as well as learn a life-long skill. It reaches my goal as a PE teacher because ANYONE can participate! In archery, we tend to reach those students that may not necessarily be the more common "traditional-sport" athletes. Archery gives students a rare and unique experience and targets ALL populations with all different skill levels and abilities.

Not only do I teach archery through NASP in fourth and fifth grades, I also coach an archery team. Over the last ten years, our team has attended the state competitions and National Competitions in Louisville, Kentucky, as a team or as individuals.

The 2019-20 school year was one of George Hildebrand's most successful years. Our team placed second at the North Carolina National Archery in Schools Program Tournament, which earned the team a spot at the National NASP Tournament. Students from the team also placed individually in the top ten in North Carolina and earned a spot at the NASP Nationals as well. In addition, the team placed first in North Carolina's IBO 3D Archery Tournament, also earning them a spot to compete at the national level. Unfortunately, because of COVID-19, all National Competitions were cancelled for the 2020 year.

Having the National Archery in the Schools Program has been one a wonderful thing for Burke County--with much credit going to Michael for beginning the local program! This year he and I also helped to host the 1st Annual Burke County Elementary Schools 10 Meter Tournament at George Hildebrand with the support of our Elementary Education Director, Karen Auton. It was a huge success! It was wonderful to see the excitement and the skills of the participating student archers as well as the tremendous support from the parents, guests, school personnel, and administrators who attended. It is an event that I hope and believe will continue in years to come!

As I continue down my path in education, it will always be tailored back to my original goal--to give every student a successful experience. Teaching is not always easy. No matter the subject area or grade level, a teacher wears many hats. He or she is educator first, but to many, a teacher is also a "parent," a counselor, a role model, a mentor, etc. Each year of teaching is a different experience. Some years are harder than others, and some are more successful than others. However, I find that it is always gratifying to be remembered by the students because of something I did, an experience I gave them, or something I inspired or encouraged them to do. It is at that moment that I know I have done my job.

Published May 2020


Home Page