Casey Stephens – Class of 2009
Statistician, Center of Outcomes Research and Evaluation, Atrium Health, Charlotte, NC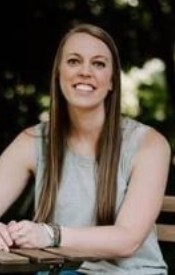 The field of health care involves so much more than doctors, nurses, and others who come in direct contact with patients. So much progress is being made in the field of medical research, and a variety of specialized skills are required in order to make progress in this important endeavor. Casey Stephens is currently employed as a statistician for the Center of Outcomes Research and Evaluation at Atrium Health in Charlotte and as such plays an important role in making the medical system work for the benefit of all.

"My job is to assist physicians and clinicians with designing the research question, methods, statistical analyses, and dissemination (writing a scientific journal article, giving a presentation at a conference, etc.) of a research study. Depending on the project, I am usually involved in the beginning, middle, and end of the study. Sometimes it's a lot of pressure because I am trusted with analyzing data that can impact hundreds or even thousands of patients' lives, but I enjoy working under pressure as well as the opportunity to make in impact in the research community."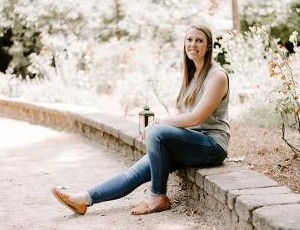 After high school, Casey began her academic career by earning a Bachelor's Degree in Health and Exercise Science from Wake Forest University. "I did not graduate from high school or college with the dream of becoming a statistician. My dream was to become an occupational therapist - until I had to shadow an occupational therapist at Wake Forest Baptist. I learned that the hours are long and there were parts of it that didn't seem that enjoyable (hello, insurance!). I then decided to pursue a Master's in Public Health at the University of North Carolina at Charlotte because it was located in the same city as one of the biggest hospitals in the state and it seemed like a great place to live and find a job. I learned in my first semester of my Master's program that I actually LOVED health statistics, and that I was pretty good at it. I have always loved to ask questions and learn, and I knew then that pursuing a career in research was possible for me.

"I have been a pharmacy technician, a shoe salesman, a marketing coordinator and office manager, an instructor at a university, you name it. I take a small part of each previous job into the next one, which helps to create a more well-rounded view of different perspectives. It has helped me to understand and accept that other people may have different ideas and opinions from me, and that's totally okay.

"My advice to young people would be this: It's totally okay if you don't have your career figured out right after high school or even college. Trust the process and choose a career that you are passionate about. If you can go to work every day and love your job even when it gets tough, you've chosen the right career for you.

"I absolutely love my job. It challenges me every day, allows me to do something I'm passionate about, and lights a fire under me to keep working so that patients can have an improved quality of life. Currently, I am also a PhD student in the Health Services Research program at UNCC – with the goal of becoming a data scientist. A data scientist gets the opportunity to ask their own research questions, design their research methodology, and lead other team members to help answer those questions. My goal is to give all that I can to improving healthcare and to lead with integrity and perform research of the highest quality possible.

"During the COVID-19 pandemic, my biostatistics team was tasked with predicting several measures regarding the spread of the virus. My job was to predict deaths for the upcoming week for the Charlotte area. And most of the time, I was spot on which was terrifying. Separating numbers and actual humans was something I had to learn to do, and it was difficult at first. However, providing those numbers and statistical models assisted Atrium's leadership with making decisions for the healthcare system."

Education continues for Casey, as she is currently pursuing a PhD at UNC-Charlotte. She is also certified in Ethical Research from the National Institute of Health and is required to have ongoing training as a research employee of Atrium Health.

Success in such challenging pursuits can rarely be achieved without the encouragement of mentors.

"My mom is my ultimate inspiration. She is my soundboard when things get tough (like during finals at Wake Forest) and my cheerleader when amazing things happen (she was able to see me defend my Master's thesis). She is a cancer survivor, and it always reminds me that when things get tough, there are also good things ahead and to keep fighting for what I want and believe in. I use this 'grit' mindset in my personal life too: I've run 8 half marathons and the Chicago Marathon in the past 4 years.

"My dad has always taught me to work hard and to give 100% to anything I do. He shows me that hard work really does pay off in the end, and I think that's something that's been engrained in my head from a very young age.

"My grandpa is another inspiration that has been an encouragement along the way. He took a chance and opened his own business, and I've seen the countless hours he has put in (and still does) to make sure everyone that walks through those doors is treated with the utmost care and compassion. I always use the phrase 'scrub toilets' a lot. It doesn't matter if you're the CEO or the janitor, if you're not willing to help out and 'scrub toilets' where it's needed, you will never fully be successful. He has also always taught me to 'Remember who you are and where you come from,' and I take that phrase to heart every day. I will always be proud to be from Burke County and be a graduate of East Burke High School.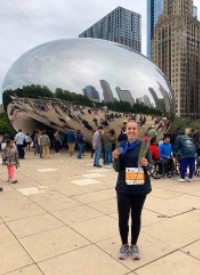 "My favorite high school experience was being a drum major for the marching band and being a part of the band in general. My very best memories, to this day even years later, are with my best friends in band, whether it be on trips to Florida for competitions, marching band competitions, or just goofing off together before and after school in the band office. Jon Berry has always been a father figure to me and always inspired me to be my best and become a great leader. I use the leadership skills I developed as a drum major in my daily life and to live a life of discipline, integrity, and honesty.

"Dr. Robert McAdams was another teacher who was truly inspiring (I'm sure other graduates have put him on this list). Dr. Mac really taught me that memorizing information wasn't the key to a successful academic career; it was synthesizing the information he taught and making it fun to learn. So many of those opportunities to excel at East Burke High School' (haha) really taught me to enjoy learning.

"Patrice Drake is another one of those high school teachers whom I will ALWAYS love. Having her as a teacher for AP Chemistry in a small group setting allowed us to learn more quickly and to better use the creative tasks to help us remember information. (For example, we made up songs to remember the numerous scientists and chemistry concepts). Teachers that make learning fun really make an impact on one's academic future.

"I am extremely goal-oriented, so I always have career goals, short and long term. Long term, I would like to become a successful published researcher and make an impact on patient care and research. I am already published on Pubmed, but my goal is to have over 200 published journal articles throughout my career.

"Short term, my goals are to finish my PhD program and become Dr. Casey Stephens, and to transition into a data scientist role in my department at Atrium Health. I will always continue to grow and learn, but obtaining my PhD will be the last part of my formal academic career."

Casey is an example of how hard work, determination, and being open to new opportunities can lead to a career that provides a valuable service to society.

Published August 2021

Home Page