Andy Thompson – Class of 1993
Co-owner, Heritage Funeral Service and Crematory, Valdese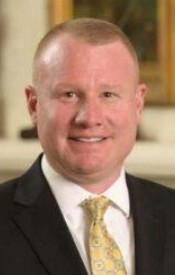 Losing a loved one is one of the most challenging experiences in life, but paying tribute to the one who was lost is an important part of the human experience. Andy Thompson, co-owner of Heritage Funeral Service and Crematory in Valdese, has made it his life's mission to provide professional and caring service to the families and friends of people who have passed. "The most gratifying part of my job," says Andy, "is helping families through the darkest and most difficult times in their lives." Heritage Funeral Service opened its doors in June of 1999 and has become an important and thriving business in the Burke community.

"At the age of 16," remembers Andy, "I attended the funeral of a close friend, and it was then that I decided that I wanted to work in this industry. Two people at East Burke were really encouraging to me and helped me find the right path. Judy Lowry, who at the time worked with students to find jobs that would benefit them long term, helped me to meet Ed Plemmons, who was the person in charge at Kirksey Funeral Home in Valdese. So at the age of 16, I began working for the man who would later become my business partner. Guidance counselor Malinda Clay contacted Gupton-Jones College of Funeral Service in Atlanta and got an application for me. While I was attending school in Atlanta, I did my clinicals at the H. M. Patterson and Son Funeral Home; among the famous people whose funerals they prepared are President Franklin D. Roosevelt and author Margaret Mitchell. After earning my Associate degree, completing my clinicals, passing my National Board exam, and obtaining my North Carolina Funeral Director license from Raleigh, I went to work for Kirksey. In 1998, Ed Plemmons and I began construction on our own business."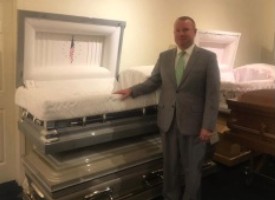 Most people do not realize what complex and detailed jobs that a funeral service does. After the staff picks up the deceased, they prepare the body for burial or cremation and then meet with the family to obtain information for the obituary, which after completion is sent to newspapers of choice. The death certificate must be taken to the doctor's office for signing and then to the health department in the county of death for the director to sign. Then it is taken to the office of the Register of Deeds to be filed, and a stamped and signed certified copy is provided for the family. The funeral staff meets with the family to make all the arrangements for the services, including choosing the casket and vault or urn, setting times, and contacting clergy. The funeral staff is then responsible for conducting the visitation and the services, whether they be in the chapel, at a church, or at graveside. They are also responsible for contacting the graveyard or church cemetery, and they in turn mark the gravesite with a flag. Heritage has its own grave crew who prepares the graves and sets up the tent. Then the vault company brings in the vault and sets up the chairs and grass.

Military funerals naturally need special attention. With a signed application from the family and a copy of the veteran's honorable discharge, an American flag is procured for the local post office and used at the service. The funeral staff is also responsible for making arrangements for the military honors.

In 2008, Heritage opened its crematory service. "It was the first in Burke County," says Andy, "and we as a business are pleased that we can give comfort to the families by ensuring that their loved one will never leave our care." In 2009, Heritage Monument Sales, LLC, opened and has been able to offer a full line of granite, marble, and bronze headstones and markers. The ability to offer all of these services at one site makes for a more efficient business and a less stressful experience for the families.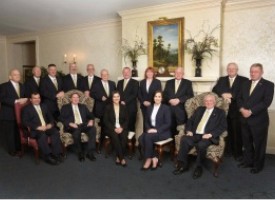 "We have an outstanding staff," says Andy. "In addition to Ed and myself, we have three employees who are licensed funeral directors and embalmers and a total of six certified crematory operators. Our people are so well-trained and efficient and work together so well that we can avoid problems. They all know to check and double check each detail so everything goes smoothly.

"We at Heritage provide a much-needed service to the people of our area, and we always hope that the families will be pleased with our efforts. We want to put them at ease and assure them that they will be well taken care of. We are rewarded when we know that we have served a family well. I even had one lady bake me a cake to thank me. That's when you know you've done the best you can.

"And just in case anyone is thinking that there can be no humor in this business, I'd like to share a story that involves one of the most enjoyable experiences that I had while at East Burke – working as a media center assistant. I had already aspired to become a funeral director and was not shy about talking about my goals. Mrs. Linda Ingle, one of the media coordinators as well as a very creative lady, wrote the following clever entry in my yearbook: 'Mr. Mort, What can I say? You're just you, and I doubt I'll see anyone remotely resembling you pass this way again. Actually, it's going to be deadly dull in the media center fifth period after you graduate, but hopefully (for us at least) we'll survive. Here's my personal prescription for your future success. 1. Undertake all tasks cheerfully. 2, Keep a stiff upper lip. 3. Re"hearse" before every performance. 4. Take everything lying down. 5. Bury all your frustrations six feet under. 6. When trouble comes, "cask"it aside. 7. Embalm all your fears in hope. 8. Don't be a deadbeat. 9. Stay a"wake" at all times. 10. Remember… there's more to life than a funeral procession. Your friend, L. Ingle.' I'd say that's good advice for anyone. Thank you, Mrs. Ingle."

Published November 2019

Home Page