Craig Treadway – Class of 1988
Police Chief, Drexel, NC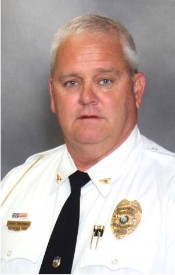 The role of law enforcement is crucial to any city, county, or state, but the police officers who serve small towns have a special role. By working with the public on a daily basis, they come to know well the citizens and the businesses making up the community. Craig Treadway has served as the Police Chief in Drexel since June of 2013 and takes very seriously his mission to keep people and property safe and to make life in the community better in every way possible.

The chief of the police force must fulfill a variety of duties. Craig explains, "I oversee the day to day operations of the Police Department as well as the administrative duties that come with it. I follow up with investigations and arrests within the department, along with managing and submission of evidence to the State Crime Lab, District Attorney`s Office, or any other agency that may require such documentation for criminal investigations. I keep up with equipment orders, office supplies, vehicle maintenance, work schedules, etc. I do the vehicle specs when ordering/purchasing a patrol unit to ensure it has the needed equipment for the job. I am responsible for preparing the yearly budget request for the Police Department and making any needed adjustments to our Standard Operating Procedures in order to keep up with the ever-demanding changes of law enforcement duties and responsibilities.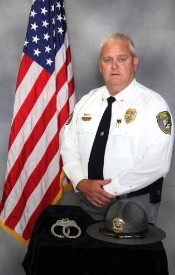 "Being the Police Chief of a small town, I do not have the luxury of assistants and other ranking officers that some Chiefs may have. Therefore, I wear ALL the hats so to speak. I work my own investigations and make my own arrests, just as my officers do. Although I have many more responsibilities than my officers, I still love my job, and I love helping the fine citizens of Drexel.

"I have worked in law enforcement for the past 28 years, starting my career with the Burke County Sheriff`s Office from 1992 until 2005, serving as Deputy Sergeant for eleven of those years. From there, I went to work for the North Carolina Department of Health and Human Services, serving with the Broughton Police from 2005 until 2013. I worked as Interim Assistant Chief until my last year there, when I served as Interim Chief. However, while waiting for that position to become 'official,' the past Police Chief of Drexel announced his retirement, so I quickly jumped at the opportunity.

"I enjoy helping others any way I can, from recovering stolen property, providing assistance and/or resources to someone in need or battling an addiction, to something as simple as directing traffic or helping with the school crossing. Law Enforcement offers so many opportunities to help others.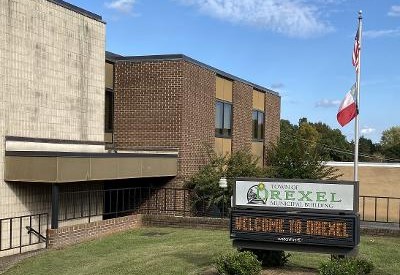 "I remember growing up as a kid, knowing all the Officers with the Valdese and Drexel Police Departments and how they would always keep an eye on us. At the time, I didn't think much of it, assuming my father had his 'lookouts' keeping tabs on us. But looking back, I realized those guys really cared, and that's what I aspire to be like. It`s not always about making arrests but more so just looking out for others.

"When I started law enforcement with the Sheriff`s Office, most of those men and women had been there a long time, so I was fortunate to learn from the 'Old Timers.' They took care of me and taught me to treat people with fairness and honesty, first and foremost. They have all since retired and some have passed, but I will always have special memories of them.

"I can honestly say that all of my teachers at East Burke High School inspired me in different ways. I had some favorites, but I liked all of them. I enjoyed participating on the wrestling team and spent a lot of time with Coach Farrell Street and Coach Jerry Hyde. They taught us that hard work pays off, and they pushed us to the limit in practice. If you were loafing you got to do extra as your reward, so loafing was not an option. As a result, we had a good run in the wrestling program when I was there. I think these lessons are true in life as well; always give your all and never give up, and in return you will find success. I appreciate everything that every one of my teachers did to help me prepare for life, not only in my career but also as a person.

"When I was in high school, my brother was starting his career in the Fire Service. I remember watching how much determination and dedication he was putting into something that he cared so deeply about. Watching him throughout his career made me want to continue setting goals for myself. It was obvious from the beginning; he would accomplish great things in his career, which he certainly did. He is retired now, but I still have a graduation card that he gave me when I finished high school. In the card he wrote me a personal note. It reads, 'No matter what you decide to do in life, do it with pride and be damn good at it!' I have always remembered these words of encouragement.

"I completed my North Carolina Level-1 Firefighter Certification and HAZ-MAT Operations certification in 1994 while serving with the Triple Community Fire Department. I was with them for 14 years, but I put the fire service on hold in 2005 when my first wife became ill. After she lost her battle with leukemia, I never returned to the Fire Service, though I still plan to someday. I hold numerous law enforcement certifications, such as Field Training Officer, Rapid Deployment, Interviews and Interrogation, Crime Scene Processing, Front Line Supervision, and Direct Supervision, just to name a few. My most rewarding is my Advanced Law Enforcement Certification, which I completed in 2011. This certification takes many hours of training in many different law enforcement related courses.

"I attended Gaston Community College after graduating high school, where I studied Fire Science in hopes of starting a career in the Fire Service. However, I got sidetracked and went into Law Enforcement before completing my degree. I have attended several schools throughout Western North Carolina during my career, taking numerous classes in law enforcement training. We are always training!!!"

While working as a member of the Burke County Sheriff's Department, Craig was the recipient of several recognitions and awards. In 1996 he was chosen as Officer of the Year, and in 1997 the Pilot Club of Morganton presented him with the award for Outstanding Service in Law Enforcement to the Citizens of Burke County. In addition, he was also the winner of the Most Arrests by a Sergeant in 2000 with 121 arrests and again in 2001 with 107 arrests.

"Times have really changed over the years, making law enforcement a much tougher career. We are constantly under the microscope, and some people are just waiting on us to make a bad move. I agree that there are some incidents when officers have made the wrong decisions, and that will always be the case. Everyone makes mistakes regardless of their profession. However, I also believe fair news reporting and less social media would help reduce civil unrest when these incidents do occur. It saddens me to turn on the news and see so much hatred going on in our country with people destroying property and harming others. I think that so much negativity in the news and social media has really left a bad mark on Law Enforcement as a whole, but I am also very grateful for those who still have faith in my Brothers and Sisters in Blue!!!

"I continue to set goals to be a better father and husband than I was yesterday. My future goals in law enforcement are to complete my career and teach some younger guys a few things along the way – things they can use throughout their careers. But most importantly, I hope to leave the Drexel Police Department in better shape than I found it!!!"



Published November 2020




Home Page