Renee VanHorn Shatley – Class of 1983
Adjunct Professor, Music Department, Lenoir-Rhyne University /
Chancel Choir Director, First United Methodist Church, Hickory, NC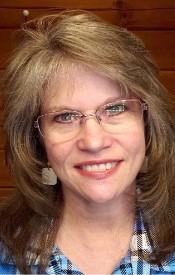 "I actually have two jobs since my retirement." So explains Renee VanHorn Shatley, whose busy life has been – and still is – centered around music. After a career of teaching public school choral music, many of her years spent at East Burke and Draughn High Schools, she has continued to use her considerable skills to both train and inspire singers of all ages.

"I have had the pleasure of being an adjunct professor at Lenoir Rhyne University since August of 2017 when Dr. Dan Kiser contacted me and asked if I would be willing to join the faculty of the music department." During her time there, she has taught a variety of music classes and lessons. "I teach Applied Voice which involves work one-on-one with both music majors and non-music majors. These students have weekly voice lessons in which we work on technique and repertoire appropriate for their voices. I most recently taught one of the Music Theory classes in which students learn the fundamentals of note reading and the structure of music (key signatures, chord structure, counterpoint, etc.) I know it sounds simple, but it is really quite difficult and detailed.

"I also teach Choral Music Methods. In this class, students are taught the necessary skills for entering the classroom as a choral conductor for both middle school and high school choral music. They receive the tools, or survival kit, for successfully teaching students and also the non-musical aspects of an educator with communication, organization, etc."

The job at Lenoir-Rhyne has brought a lifelong dream full circle. Early in her career, Renee aspired to earn a Doctor of Music Arts degree and become a college professor, but, like so many others, home building and a growing family sidetracked that dream a bit. "It was hard to fit in that doctoral degree at that point. Regardless, I did not see a position at LRU on the horizon, and I was surprised when the offer came up. I am glad it did because I enjoy working with the college students. I have also had the pleasure of directing the LRU Choral Music festival in conjunction with Dr. Ryan Luhrs. That has been a real pleasure."

Every job, even the most interesting ones, are not without their challenges. Scheduling individual voice lessons for the students can sometimes be tricky, and grading students' work "is much more time consuming than most people realize." But meeting new students, helping them to work toward their career goals, and "working with the wonderful music faculty" make the effort worthwhile and very rewarding.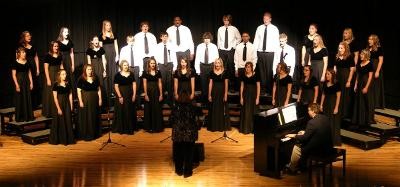 "My position as the Chancel Choir Director of the First United Methodist Church in Hickory began in September of 2007. On a weekly basis, I rehearse our Chancel Choir in preparation for each week's service. The choir is literally part of our worship team, and they contribute an important part in the service by using music as a worship tool.

"Under normal circumstances, I find it challenging to prepare music for each Sunday service. The pacing and planning are different from that of school. You have one one-hour rehearsal each week in which to prepare an anthem. That's 52 anthems a year, minimum. In a school setting, you spend five days a week preparing four or five songs over six or seven weeks for a scheduled concert. The manner in which you arrange your rehearsal strategy must also be stretched over six or seven weeks, but you have much less time to learn and polish the music in the church setting.

"Unfortunately, Covid has forced our church to share our service virtually. We now have a small ensemble from our Chancel Choir that rehearses weekly and sings on Sunday morning. We are very careful to be socially distanced and practice Covid protocols. Working virtually has been quite challenging, and I will be so happy to return to in-person singing when that time comes.

"My choir members are so much fun to be around, and I miss them right now. They are jovial and will try anything I ask of them. This choir is made up of mostly adults, and the majority of them are retired. It is a change of pace from working with teenagers and college students, but I love their enthusiasm. These singers have become my friends. I care about them and what happens in their lives. They brighten my week.

"Prior to retirement, I spent 28 years teaching high school choral students. I loved making music with these young people. The energy and excitement they brought to singing were amazing. I enjoyed taking them on educational music tours, especially to New York City. To see their faces when they saw the Statue of Liberty in person for the first time or walked down Times Square or saw their first Broadway Show was priceless. Many times, some of my students had not been out of Burke County, and they were blown away by their new experiences. The trips were the best because they received more education in those few days than many times a whole semester in class.

"I also loved their excitement when they performed, whether it was for our yearly school concerts or participating in a choral festival at one of the NC universities or performing at the NC Music Educators National Conference. Such joy in their faces!

"There are lots of challenges in teaching high school music. Scheduling conflicts for students wanting to take chorus is a big concern. Many times, chorus class would clash with a class a student would need for graduation. Sometimes, in an effort to keep that student, I would work out a solution for independent study for them, provided they were able to be self-motivated and complete the work independently. But that effort also meant double the work for the teacher in preparing the instruction material.

"Teaching is a continuous job. What I mean by that is the day doesn't end at 3:15. For me, it included lesson planning, recording accompaniments (which took HOURS), grading papers, personal staff development by searching online, listening to new songs to consider for my classes. I easily worked 55 – 60 hours every week. Just ask my husband! He will tell you!"

For Renee, music has been a lifelong passion. "My life consisted of music starting from a young age. My grandfather, Lester VanHorn, was the first person who encouraged me to be involved in music. My grandfather died when I was eleven, so he had no way of knowing that music would be my career, but he loved to sing, and I loved singing with him. Every time I visited his house, we would sing together. 'You are My Sunshine' and 'Sipping Cider Through a Straw' were two songs that I recall quite vividly. My grandfather was thought to have MS, and he was unable to walk the latter part of his life. He and my grandmother lived across the street from my parents. At this point in time, assisted living and nursing homes were not available, so my grandmother was his nurse caregiver. This situation also meant he was rarely able to leave his home. I would visit him often to sing, but once I started studying the piano, he was unable to hear me play in person. He would phone my house, and my mother would hold the phone as close to the piano as she could so I could play for him. (Remember, this was during the days of corded phones.) He never did get to see me play, but at least he was able to hear these tiny performances.

"I had many folks who influenced my music, including my two piano teachers and my school choir and band teachers. As I was leaving Valdese Junior High to enter East Burke High School, I decided I wanted to be in the band with the goal of being the drum major one day. I did not play a band instrument, only piano and organ. I approached Mr. Leonard Brendel at the end of the school year and told him I wanted to learn to play the tenor saxophone so I could be in band next year. Up to this point, I had participated in chorus. The look on his face was priceless. I know he had his doubts, but he helped my parents purchase a used tenor sax (which I still have and play from time to time) and gave me an instructional cassette and music book to learn to play the sax. A few months later as a sophomore, I was playing in the marching band with Miss Kathryn Siphers. During my junior year, I sat first chair in District Band. My senior year, I was drum major.

"I was also a member of the choral department with Mr. Jim Williams. I think he had the most influence on my career. Having him as a choir director was incredible. He would definitely challenge me, but I enjoyed a challenge. My first experience working with Jim Williams was during the 1981-82 school year during my junior year of high school. I had no idea at that time that the next 37 years would be filled with him being my teacher, my mentor, my choral colleague, and my friend. To this day, I still contact him for advice. I am grateful that our paths crossed when I was a high school student.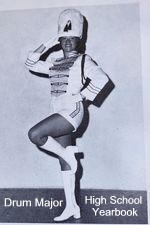 "Through high school and college, I held your typical 'student' jobs. My first employment was at Childers Market (now known as the Vine and Prosperity Mercantile). I stocked shelves, ran the cash register, pumped gas for customers, and did anything else I was asked to do. Virgil Childers was the owner, and he was quite the character.

"During college, I worked one summer at National Linen in Long View. Not a job that I enjoyed, but I knew after that summer that I would definitely complete my degree! Not that I minded hard work. I just knew that particular job was not my calling and that I would not enjoy spending every day doing that work. I also worked one summer at Burand's in Morganton. Each job had its own challenges, but I learned that I had to show up on time and be a dependable worker. "I extended that work ethic both in my college work and then as a teacher. I had to be self-motivated in the classroom to be a successful teacher and have a strong choral program."

Renee graduated summa cum laude from Mars Hill University in 1987, earning a Bachelor of Music Education degree with a concentration in voice. The following year, she received a Master of Science in Music Education from the University of Illinois in Champaign-Urbana, graduating magna cum laude. She also holds the North Carolina National Board Certification.

Her teaching career began with three years at A.C. Reynolds High School and Middle School in Asheville followed by three years at Bandys High School in Catawba County, where she not only taught choral music and assisted with the band but also worked with speech and debate and the school newspaper. In 1994, she followed in the footsteps of Jim Williams as choral director at East Burke High School, where she remained for fifteen years. In 2008, she became a member of the charter faculty of Jimmy C. Draughn High School, where she again taught choral music until retirement from public education in 2017. The choral ensembles at East Burke and Draughn traveled extensively, receiving consistent Superior ratings at festivals in locations that include Williamsburg, VA; Gatlinburg, TN; Washington, DC; Myrtle Beach, SC; and Atlanta, GA, in addition to the many trips to New York City over the years.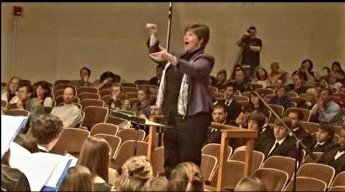 In 2014, Renee was recognized as the Burke County Teacher of the Year. Over the years she has participated in, coordinated and/or directed a number of programs including serving as the clinician for the All-County Choral Festivals in Gaston and Catawba Counties in 2014 and 2019 respectively, co-directed the Foothills Festival Singers in 2019, and directed a choir in tribute to Jim Williams that was presented at the Hickory Music Factory in January 2019.

In November 2013, the Draughn Chamber Singers were honored as a featured performing choir at the North Carolina Music Education Association Conference in Winston-Salem. Another special highlight came in February 2012, when Renee directed "A Parting Blessing" in honor of Jim Williams at the Mars Hill Choral Festival. The performance is available for viewing on YouTube (https://youtu.be/7jDDfGUJFJc)

Renee continues to share her expertise in her two jobs as well as pursue other musical activities. "I have been enjoying being a member of Pianos 'N Sync for the past three years. While teaching full time, I did not have time to be a member of ensembles or to do solo work. My days were too busy. Playing with Pianos 'N Sync has given me a challenge and forced me to dust off my piano skills. The folks that I am playing with in this group are just the nicest people. A performance consists of four people at four pianos playing together. I love it. This year, we were forced to do a virtual concert, but it turned out quite well, I think.

"I am also singing with the Hickory Choral Society. My first experience with this group has been in the form of virtual singing. I am looking forward to next season when, hopefully, we can meet and rehearse in person. Zoom does not lend itself to meeting groups of people easily."

East Burke has consistently demonstrated an excellence in musical performance, and Renee has been an important contributor to that ongoing heritage. How fortunate our area is that she has chosen to continue sharing her gifts on into the future.

Published February 2021

Home Page