Keith Watts – Class of 1978
Music Director, Christ United Methodist Church; Owner, Watts Home Improvement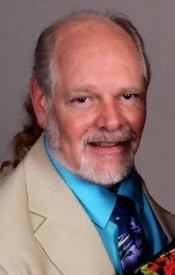 "I was nine years old when I sang my first solo in church. I was eleven when I began working with my grandfather and observing how he could design and build things." So explains Keith Watts about how from childhood his two main interests in life took hold, both of which still shape his life today.

Keith's job title at Christ United Methodist Church is Music Director, but like most people involved in church, his skills are utilized in many different ways, some involving music and some using other talents. In addition, he also spends several hours each week as a home improvement specialist. His experience in many areas of construction, installation, and repair make him a sought-after worker.

"Directing the music at Christ United pre-Covid involved a full adult choir. But, as has happened with many churches in recent years, our attendance is smaller, and we have modified much of our approach. One of our favorite music groups is the handbell choir, and we have enjoyed learning together and playing a variety of music. Our handbell ensemble members come from a variety of backgrounds. Some of them have had musical experience while others have none at all. So, as a result, we learn how to read music as we play. Often these lessons take place during rehearsal as we embrace a concept needed for a selection. But I am also available on Wednesday evenings before rehearsal for individual lessons, and several of our members have taken advantage of them.


"The word 'worship' is a verb, and I know that I need to see and worship with people on a regular basis. Our culture has changed so much in recent years, and not as many people attend. Church music is so important. Everyone who participates is a volunteer, so I know they want to learn something. And for some people, this experience may be the only thing they have to look forward to. They are very faithful.

"I have also taught a number of music appreciation classes, and I have enjoyed helping people learn notes, symbols, and musical terms. Sometimes we also experience vocal or instrumental training. Here is an example of a story that needs to be told. In one of my classes, a 78-year-old man explained to me how he could not sing a note, so I did my best to convince him that if he could hear I could teach him to sing on pitch. With his favorite hymn, 'Amazing Grace,' a step-by-step approach, and a little patience, he soon was matching pitches. Two weeks later, the same experience happened with another gentleman. They were both so joyful they danced. It was a blessing to them and to me. A person is never too old to learn and enjoy music, and it is a joy to watch them develop their knowledge and skills. We are told to 'make a joyful noise,' and that's what I intend to help them do.

"Part of my church job is to oversee what we call 'worship arts.' We have a Worship Arts Team, which participates in theater and public speaking. My wife finds materials online and in printed sources, and under her direction, our members enjoy taking part. We also have a variety of programs through the United Methodist Church organization which are designed to help churches become more relevant in the community. ImagineHub is one such program. We implemented it by taking an interest survey of our attendees and began such programs as a spring festival and a beginner sewing class which later branched into a quilting class. We have a large campus with buildings and several acres of land, and we are making use of them. We have fashioned a crafts room, use our outdoor pavilion for performances, fashioned a Veteran's Memorial with a flag display, and have made great progress on our oak forest nature trail which includes a pet memorial garden. These are only a few of our programs, and I find great fulfillment in creating others and expanding the existing ones."

Keith remembers the first time he sang in public: "I was nine. We were attending Pleasant View Baptist Church, and I sang 'Do Lord.' Our members were very supportive of the children and youth, and we had dynamic choirs for the young people. We also did plays. I remember playing Henry Phipps in the classic 'Spoon River Anthology.' It was a beginning spark of what I would continue to do all my life.

"Fifth grade brought the band and my introduction to the great Kathryn Siphers, who certainly inspired and shaped my life. Then in the sixth grade, our middle school chorus teacher, Beth Morris Clough, organized a chorus, and that was something new and exciting. By the time I got to East Burke, I was ready for new musical adventures. I continued band with Miss Siphers, and she gave me a lot of responsibility as a trumpet player. We worked really hard in marching band. Those were the days when we learned a new routine every week, and she made the other band members learn the steps while I played the melody on my trumpet and marched at the same time. I asked her once years later – reminding her that I was asking out of love -- why she had 'picked on' me so much. She said that she saw my potential and knew I could take it. It was challenging, but it was also a lot of fun.

"I also played in the jazz band, directed by another of my heroes, Leonard Brendel. It was an entirely different musical experience that provided me with another level of proficiency. The music was challenging in an entirely different way, and it was truly a blast. We often performed for community groups and schools. Especially memorable were our yearly trips to Foothills Correctional Institution to play for the inmates. They enjoyed our music very much.

"It was at East Burke that I met Jim Williams and participated in the choral program. I was introduced to serious music and learned to develop at least some discipline – although I'm afraid I wasn't as disciplined as I could have been. I was mostly just having fun. It was during that time I decided that I wanted to be a musician. I teasingly told Mr. Williams that whatever I turned out to be, musically speaking, would either be because of his great influence or it would be his fault! I think he was amused. I hope so. He continues to be one of my closest friends and inspirations.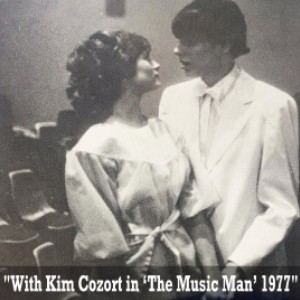 "It was also at East Burke that I began to develop my love of theater. When I was a junior, Phyllis Garrison cast me in the leading role of Professor Harold Hill in 'The Music Man.' It was a huge part, and we worked very hard. We patiently practiced every word, every note, every gesture, every inflection, until we had it like it needed to be. The next year, I played the part of Freddy Eynsford-Hill in 'My Fair Lady.' It wasn't the lead role, but singing 'On the Street Where You Live' at each performance was a really memorable experience.

"But school and church weren't the only places I sang. My mother directed weddings. Lots of weddings. So when the couple had no one to sing at their nuptials, my mother would say, 'My son sings. He can sing for your wedding.' So that's how I wound up singing at approximately 50 weddings! I guess that was a pretty good introduction to performing and maybe helped prepare me some for the vocal training that I was to receive and the degree in music that I would earn from Mars Hill University.

"I have sung all kinds of music in all kinds of groups, and I still get nervous. I understand that many professional singers still have nerves, too, but we all have to channel those nerves and step through that fear and make them work for us by building strength and confidence.

"While I was a student at Mars Hill, I had the pleasure to participate in the Southern Appalachian Repertory Theater (SART), an organization that produces five or six summer productions year after year. It was a great challenge because while the cast would be performing one show, we would also be learning and rehearsing another show. We often had professional actors who would come each summer to participate. some of them for 30 years or more. Working beside them and learning from them was a great experience. I vividly remember 'The Pirates of Penzance' and 'Kiss Me, Kate.' We also performed in several world premieres, including one called 'The Frankie Silver Story.' My most challenging role was Bob Ewell, the villain in 'To Kill a Mockingbird.' My director kept telling me I wasn't being mean enough until one day I lost my temper and yelled at him. 'That's it,' he said. 'Do it just like that.' When we later had an open house for the audience members, there were some children who ran away from me, thinking I was that mean man. I tried to explain that I was really a nice person, but I guess it showed that I was successful in the part."

After graduating from Mars Hill, Keith worked at a number of jobs. He directed music at several churches in Burke County, including Oak Hill United Methodist, Zion Memorial Methodist, Catawba Valley Baptist, North Morganton Baptist, and Calvary Baptist. But singing, acting, and directing music were not Keith's only jobs. "When I was nine years old, my uncle hired me for my very first job, which was delivering Flavorich milk to the houses on the right side of the street. I was too young to be allowed to cross the street. During the summers in high school and part of college, I worked at Drexel Knitting Mill, Premiere Hosiery, and Drexel Furniture Plant No 7. During this time, I also attended classes at CVTI to learn about furniture production and drafting."


Later when he worked at Henredon, he was able to use the drafting he had learned and was promoted to a product engineer. In another job at Duracell, he was employed as an electrolyte mix operator on second shift. "It was a dangerous job involving lots of heat, pressures, and the mixing of chemicals. Duracell was a cutting edge company in the field of lithium technology, and they took every precaution for the safety of their employees. As a result, they formed an emergency response team and trained us in firefighting techniques and first aid. Those skills are still useful today.

"My maternal grandfather, William Smith Browning – I called him Papa -- was my hero. He was short in stature but very smart. He could build anything. He made his own plows and built his own blacksmith shop, and I got to watch and learn from him. He had a farm near Mt. Home Baptist Church in Morganton, and when I was eleven years old, the church decided to build a new fellowship hall. So instead of destroying the old building, Papa and about six men from the church spent the summer dismantling it so they could use the materials for other projects. I helped out, and it was then that Papa explained to me all the parts of the building, how they fit together, and the techniques used to do it.

"I would watch Papa work on a project, and sometimes he would seem to be just standing there staring into space. I would ask him what he was doing and why he wasn't working. He would tell me that he had to do some 'head scratchin' before he could build. He was having to design it in his head before he could begin. He was truly gifted in that way. Today when I work on a project, I find myself following his example. A little head scratchin' usually does the trick. I also worked with my Uncle Jack who was a master mason, and that knowledge has also come in handy.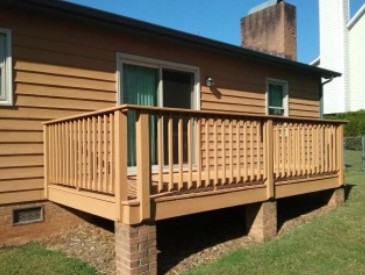 "Through the years, I have worked on many construction jobs. When I was seventeen, a church member asked me to help build a room by converting a deck to an enclosed porch. When I started asking questions about dimensions, pitch, etc., he asked me how I knew to ask such things, and I told him I didn't know. Then I realized I knew because I had listened to my Papa. While at Mars Hill, I helped two professors build their houses. So I got a good foundation and was able to continue with these types of jobs, even to the present day.

"At one point, my growing family and I picked up and moved to Sarasota, Florida, where I continued to work in all kinds of jobs including lawn care and HVAC. By the time I moved back to North Carolina, I had learned several more skills and was able to join in on more building projects. For a while, I worked with Bill Thomsen, who was a great influence and mentor. Bill was a retired engineer, and one of his claims to fame was designing the glasses on the Hubble telescope. It was a great learning experience working with him. I also helped build log homes all over Western NC, including one on the golf course at Mt. Mitchell that took more than a year to construct. Other jobs and partnerships followed, including learning from some of the best house painters around. Eventually I began working by myself. I have been in the construction business now for nearly forty years."

These two paths – music and building – may seem so diverse, but they actually have much in common. Both require preparation, precision, and training. Both add beauty, comfort, and meaning to our lives. Both jobs provide service to the community, and they both can bring a great deal of satisfaction.

"I find it interesting that so many experiences in my life have come full circle. I still love to teach and direct music. I still remodel and paint in homes, churches, and other buildings. And my years of performing and acting have also prepared me for some of the most enjoyable activities I have experienced in recent years. My worship arts team at church does dramatic readings and performances on a regular basis. And in 2017, I teamed back up with some East Burke classmates, some new friends, and my former high school drama teacher, Phyllis Garrison, to play King Arthur in her production of 'Camelot' at CoMMA. Some of us have continued with dinner theater shows at the Morganton Community House and readers theater presentations in the local elementary and middle schools. Performing is always a challenge, but it's one that I savor and enjoy very much. I hope to have more opportunities to perform in the future."

Along the way, Keith has also experienced a number of health challenges, which he continues to manage. "Cancer, liver disease, and heart issues – all have sought to stop me, but I'm still here, and I continue to interact with people and enjoy fellowship within the community. I guess God isn't finished with me yet, and I will do my best to find a way to serve every day."

Published February 2023
Home Page