Patti West Ramseur – Class of 1991
Attorney, Ramseur Maultsby LLP, Greensboro, NC; President,
North Carolina Bar Association and North Carolina Bar Foundation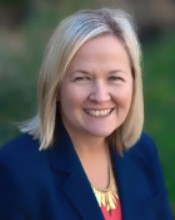 "I was in ninth grade at Drexel Junior High when I first decided I wanted to be an attorney," recalls Patti West Ramseur. "I had Denny Young for Civics class, and we did a mock trial as we were learning about the judicial system. I loved it! Mr. Young made the class interesting and gave me the first exposure to our legal system. Although I did not understand it at the time, the information we learned from Mr. Young in Civics class was critical to understanding our government, what each of the three branches of government does, how they operate with checks and balances, and our rights and responsibilities as citizens."

Patti took those lessons from her junior high days and fashioned them into a career as an accomplished and highly respected attorney. "I am currently a partner with the law firm of Ramseur Maultsby LLP in Greensboro, where I do mainly employment counseling and litigation. Before starting my own law firm in September 2020, I was a partner with a large national firm with over 900 attorneys.

"We represent employers of all sizes – from nonprofits to publicly traded companies. I thoroughly enjoy litigating and arbitrating cases, particularly the strategy involved during each phase of a case. I've really enjoyed having my own law firm and being able to practice law with my partners, Alex Maultsby and Tina Hlabse, who are amazing attorneys and friends. Our firm's website is www.ramseurmaultsby.com.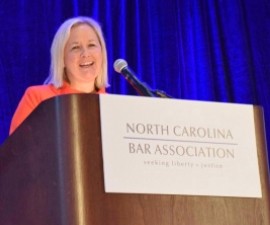 "This year, I am also serving as the President of the North Carolina Bar Association (NCBA) and North Carolina Bar Foundation (NCBF). The NCBA currently has over 17,000 members, consisting of lawyers, judges, law students, and paralegals. The NCBA and NCBF engage in programs that educate the public regarding matters of legal significance and pro bono projects that help promote access to justice in communities throughout NC programs. The NCBA and NCBF also provide services that help legal and support professionals. It is truly an honor to lead the NCBA and NCBF and be part of all the great work our members are doing. It makes me proud to be a lawyer. The NCBA's website is www.ncbar.org.

"Having a litigation practice and serving as President of the NCBA and NCBF require a lot of time, and to say that this job can be stressful at times may be a gross understatement. The benefits, however, far outweigh the downsides. I feel blessed to be part of a profession that I firmly believe is a noble one and requires us to give back to our communities."

Patti graduated from North Carolina State University with a Bachelor of Science in Applied Sociology with a Criminal Justice Concentration. After college, she attended and graduated from Wake Forest University School of Law.

"Immediately after law school, I clerked for a year with Judge Ralph A. Walker at the N.C. Court of Appeals in Raleigh. Judge Walker is originally from Morganton, although I did not meet him until my third year of law school. He was a great mentor. As I was learning to practice law, I had the opportunity to work with a Judge who is committed to excellence, civility, and service.

"During the summer after my first year of law school, I worked with the law firm of Byrd Byrd Ervin Whisnant McMahon & Ervin as a summer intern. At that time, the firm included Bob Byrd, John Ervin, Bobby Ervin, Jimmy Ervin, Scott Whisnant, Larry McMahon, and Peggy Saunders. This fine group of attorneys took the time to teach and mentor me.

"Having such great role models and mentors was invaluable – especially since I do not have any lawyers in my family. They each gave selflessly of their time and wisdom and helped set me on a path that would be both professionally and personally rewarding."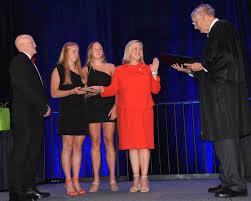 During her years as an attorney, Patti has been awarded many honors and recognitions. They include being named by Business NC as the top employment lawyer in North Carolina in 2023. She was also named one of the Top 10 Attorneys in North Carolina in 2020 and 2021 and one of the Top 50 Women in North Carolina in 2014 – 2023 by North Carolina Super Lawyers. She was included on the Best Lawyers in America list for Employment Law-Management in 2014, 2016-19 and Labor and Employment Litigation in 2016-19 in North Carolina by Best Lawyers publication. In addition, the Ramseur Maultsby law firm was chosen by US News & World Report as at Tier One of "2023 Best Law Firms" for Employment Law.

"At East Burke, I had so many great teachers and coaches who cared deeply about their students and their success. There were no 'bad' teachers, and it would be impossible for me to name every teacher who made a difference in my life. It was a community which helped me learn and grow and prepared me for college. I would be remiss, however, if I did not specifically mention and thank Dr. Robert McAdams and Coach Judy Keever. While in high school, I really enjoyed playing basketball and softball. By playing sports, I learned a lot about teamwork, discipline, hard work, and the importance of setting goals."

One subject, one lesson, one teacher can make a real difference in the life of a young person. Finding one's calling at a young age is indeed possible, as Patti's successful career proves. Taking advantage of the opportunities available in our public schools can help students find new directions in life.

Published October 2023

Home Page