Renee White Fraley – Class of 1992
Co-owner, Stitchcrafters, Inc., Icard, NC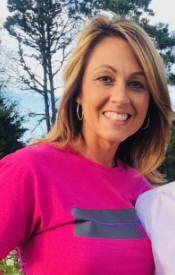 "My favorite part of the business is customer service. I love working with people. We are active in so many parts of the community that it feels like we know everyone and that everyone knows us. I love where I live, and I love the people here." So says Renee White Fraley, who, along with her husband, Tommy, owns Stitchcrafters. Inc.; the address says Hickory, but the building is just down the road from East Burke High. Since most of Tommy's time is taken by another business these days, Renee is the manager, operator, designer, and everything else at Stitchcrafters. "I handle all of the day-to-day tasks. I take care of sales and marketing, receive orders, purchase materials, make designs, produce the product, keep up with the bookkeeping, manage the payroll, do the taxes – if it's a job that needs completing, I am the one responsible for it."

Local businesses are truly the backbone of communities, and Stitchcrafters has been in business for 29 years. They are known for producing high-quality items such as embroidered shirts, jackets, sweatshirts, and hats; screen printed t-shirts; all types of custom banners; and vehicle wraps. They also can provide promotional products for businesses and organizations. According to their website, "We like to tell our customers that if you can put your name on it, we can get it."



Every job has its demands, but operating a small business presents a unique set of challenges. "I can never really leave the business, even when I'm at home or church or somewhere else. I never clock in or out. I take it everywhere; it is with me 24/7. If business takes a downward turn for a while, it's my responsibility to promote it. If there is a deadline – and there are always deadlines – it is my responsibility to meet it. Sometimes the hours are very long, and it can be truly taxing. I'll give an example. I remember once when I worked four straight days and nights with a total of no more than 12 hours sleep so I could meet an order deadline. It had to be done, and I was so exhausted that it took me several days to truly recover.

"But on the other side, there's the joy of doing a great job for the customers and building a trusting relationship with them. I have always found people to be interesting. I have a need to speak with and learn about people, and this type of business provides an avenue to do that. I feel a real connection with them. There have been times when customers and I have laughed together, cried together, and prayed together. Knowing these people personally is so meaningful to me, and I love it."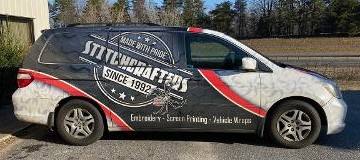 Renee didn't plan to go into business for herself, but sometimes life has other plans. "I first became interested in American Sign Language when I was in the sixth grade. My wonderful teacher, Sarah Watkins, would often use sign language in class. We would sing together and learn how to sign the songs. I loved it so much, and I decided that I wanted to study sign language and become a teacher at the NC School for the Deaf. That was my life plan, and I made it early.

"I loved my teachers at East Burke, and I took part in a number of activities. I especially enjoyed taking part in Student Government. It's a great way to get to know people and learn how to work well with them. I loved going to student government camp at Mars Hill. It was such a great time.

"I also loved serving as president of the Foreign Language Club. Roy Sweezy was such a great teacher and had a wonderful sense of humor. He was always so patient with me when I kept signing up for French classes and telling him I was doing it because 'I needed to have foreign language credits.' The members of the Foreign Language Club would plan activities with foreign exchange students from surrounding counties. Then we would go pick them up and take them to ball games and other events. Sometimes they would stay in our homes, and we all had such a great time getting to know each other. After they went back to their home countries, we would continue to write letters and stay in touch.

"My interest in sign language also gave me the chance to interact with young people with hearing impairments. I even got to attend the prom at NCSD. I had such a good time. I remember how loud the music was!

"Cheerleading was my favorite activity at East Burke; it was fun giving my opinion to the refs, and I loved cheering for my team the Cavaliers. I also enjoyed being a part of the swim team. Being a member of the Anchor Club was especially meaningful, This organization is affiliated with the Pilot Club International and is designed to promote community service and build leadership skills for young women of high school age. Now that I'm older and looking back on those days, I can really appreciate the community service activities that we took part in, and I believe that kind of participation helped shape the interest in my community that I have today.

"One especially important influence on my life was Enoch Johnson. He was not only my assistant principal but also my biggest cheerleader. He listened to me when I had a problem or a decision to make. He believed in me and encouraged me at every turn. He was in many ways like a psychologist but also was much like a father figure to me. I especially appreciated the way that he was always honest and straightforward with me. These days when I occasionally run into him, I still tell him how great he was to me. I owe him a debt I can never repay.

"After high school, I set out to pursue my dream of teaching at NCSD. I started out at Catawba Valley Community College, where I took some basic courses, and then later studied at UNC-Greensboro and at Lenoir-Rhyne University.

"While in high school and college, I worked a number of jobs. I worked high school summers at the Valdese Rec pool, I was one of the first employees at the Olive Garden, and while in both Greensboro and Hickory, I worked several jobs in the hotel industry. One of my favorite jobs was working as a front desk clerk in Greensboro. I was asked to assist the hearing impaired who often stayed at the hotel. It was great getting to talk with the guests in sign language.

"It was my last year in college when my advisor took me aside and suggested that maybe my goal of teaching the hearing impaired might not be what I had expected. Modern medical advances including cochlear implants have made it possible for more children and young people to attend classes with non-hearing impaired students, so the need for teachers in the field of my choice was not as great as it had been. I was very upset, as this goal had been my dream since sixth grade.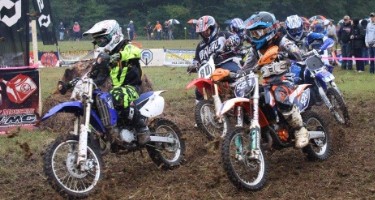 "My mother had been studying engineering, and she suggested that I go back to CVCC and try that field. So I earned my Associate's degree in Industrial Engineering with hopes to continue on to 4-year degree in Mechanical Engineering at UNC-Charlotte. But as it turned out, Tommy, who was my fiancé at the time, had started his own business, Stitchcrafters, a few years earlier. So I began working with him for a while and stayed. It's a great business, so it all worked out well."

Even though the business is always on her mind, Renee doesn't spend every minute in her office. As the mom of three teenage boys, she finds serving as an executive officer of the East Burke Athletic Booster Club a great way to support family, school, and community. She also works with the FFA Alumni organization where she serves as secretary. Their primary goal is to raise money for the East Burke FFA Chapters. The student members learn about leadership and careers in science, business, and technology in the field of agriculture as well as compete with the show team for local, state, and national awards.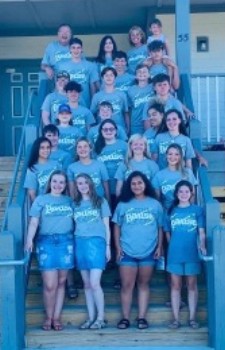 "I also enjoyed being the president of Homes for Hearts, Inc., which was an organization that worked to help children who were in custody of the Department of Social Services. It was an interesting organization because many community leaders such as the sheriff and the superintendent took part."

Although Stitchcrafters makes products for all kinds of companies, schools, clubs, and organizations, taking part in the dirt bike racing circuit is both family fun and business as many Stitchcrafters' customers are participants in the sport.

Renee also serves as the current youth director at First Baptist Church in Hildebran and is pleased that the number of young people who are participating is growing.

"I love being a part of this community. The people here are so supportive and are always ready to help whenever needed. Everywhere I go, I wave at people, and they wave back. It's the best place to live and work."

Published March 2021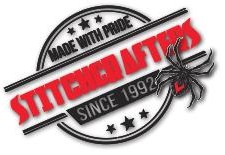 Home Page