Charles Williams – Class of 1991
Principal, Valdese Elementary School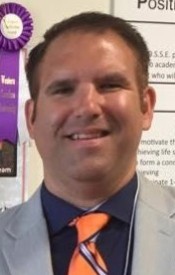 If I had been asked as a child what I wanted to do when I grew up, I would have said, "I want to become a teacher!" Even though I currently serve as a school administrator, I will always consider myself to be a teacher first.

During my first principalship, I was given a card that read, "If your actions inspire others to dream more, learn more, do more, and become more, you are a leader." This quote stuck with me over the course of my time serving as a school administrator for Burke County Public Schools. It reminds me that servant leadership and the position I hold is powerful. More so, it's the power of either building or crushing relationships. No matter where one finds himself as a school administrator, people are at the core of what we do. Students, families, community, and stakeholders depend on us to ensure students are safe and educated to their fullest potential.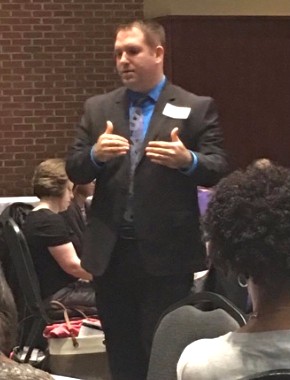 After graduating from Lenoir Rhyne College, my career in education began as an elementary teacher, where I served the students of both George Hildebrand and Valdese Elementary Schools. During my teaching career, I was awarded the Sallie Mae First Year Teacher of the Year, George Hildebrand Elementary Teacher of the Year, and, while at Valdese, I was honored as the Walmart Teacher of the Year.

Several years into my career, Burke County Public Schools created the position of Instructional Coach, and I was offered the opportunity to take on this new challenge. Even though I struggled with leaving the classroom, I accepted the position to help support and grow beginning teachers. I felt the position would allow me to continue making an impact on students - just in a different manner. In addition to helping support classroom teachers, I also duly served as the Elementary Math Coordinator, which allowed me to specialize in an area of the curriculum.

Demonstrating leadership qualities, I was encouraged to pursue my degree in school administration, and I obtained my Masters of School Administration from Western Carolina University. Chosen by the professors in the School of Education, I was awarded the Don Chalker Award for Excellence in Educational Leadership for the class of 2015.

To stretch my leadership capacity at the next level, I served as a middle school assistant principal at Heritage and Table Rock Middle Schools. I learned how valuable relationships are to students of this age and how, to be impactful, relationships must come first.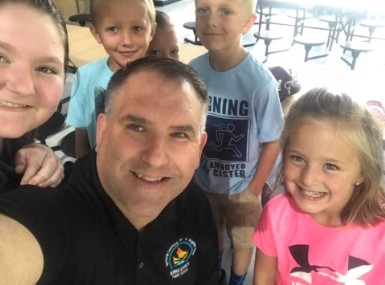 In 2015, I was appointed the principal of Ray Childers Elementary where I served two years. The first principalship is always special, so Ray Childers will always be a special place to me. Near the conclusion of my second year, the new "flagship" of BCPS was being built in Morganton. The new Mountain View Elementary would soon open and combine pieces of three different schools. In 2015, Superintendent Larry Putnam and the BCPS Board of Education appointed me to two simultaneous principalships. I would serve as the principal of Chesterfield Elementary School, where I worked to conclude the final year of the schools existence while at the same time overseeing the building of Mountain View. I had the fortunate opportunity to coordinate the mascot, school colors, furniture choices, and a host of other responsibilities that come with facilitating the opening of a brand-new school. It was a leadership challenge to merge three different schools comprising of various students, teachers, and communities. Mountain View opened successfully in the fall of 2018.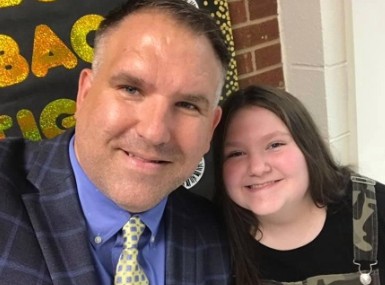 At the conclusion of the first year, the principalship at Valdese opened, and I was able to return to my own community to serve the students and families where my career began. I enjoy eating dinner in town with my own family and seeing our students and families. I always think it is humorous when kids find it strange to see me outside the school environment. They always wave and come say hello - even if I am "the principal"! Again, it's about building relationships.

Working within BCPS, I have been afforded many opportunities. I have had the privilege to study on the campus of Harvard University and learn new ways to impact student learning. I am fortunate to work with many other educators who understand the impact of our profession and how important the work we do is to our students and families.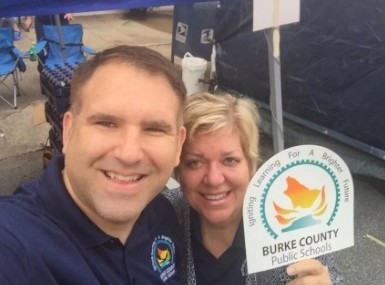 My leadership abilities were crafted early during my high school tenure. As a tenth grader, I sought out opportunities to serve within the East Burke High Student Government. I represented my homeroom as the class representative, but I wanted to be more involved! In the eleventh grade, I served as the Parliamentarian on the Executive Council. As a rising Senior I set my sights on Student Body President. With the support and encouragement of family and friends, I was elected as the EBHS Student Body President during the 1990-1991 school year. I recall teachers such as Mrs. Lynda Massengill and Mrs. Sherron Prewitt telling me, "Way to go! We were rooting you on!" I even recall Mrs. Massengill correcting me after a grammar mistake during a speech I gave at a student awards ceremony. From that point on, she would proof every speech in advance. Phil Smith was the SGA sponsor that year. His guidance was significant as the Executive Council worked to support students.

In addition to the East Burke faculty, I was inspired by Milton Rhoney, a former BCPS school administrator who gave me an early start in my education career. I was always impressed by Mr. Rhoney's professionalism and straight-forward responses. Many other East Burke connections have impacted me as well. Mrs. Debbie Kendall, Mrs. Juli White, Mrs. Lana Smith, and Mr. Sam Wilkinson are just a few.


Throughout my future career in education, I want to continue a focus on student services to ensure our students are growing academically and, most importantly, know they are loved and cared for when they walk through the doors of my school. I consider it a privilege to serve the students and families of Burke County.

My personal passion is to continue working within a Marriage Ministry that my wife and I started at Wilkies Grove Baptist Church. We feel when marriages are strong, the core family is strong. This ministry allows me to continue focusing on being a servant leader and building relationships with others.

Published February 2020


Home Page