Curt Wommack - Class of 1986
Principal Designer, Peraton, Inc., Atlanta, Georgia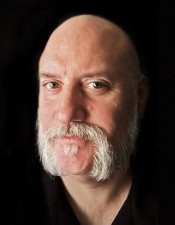 High school students often dream big dreams, but how those dreams play out in real life can be truly fascinating. The path pursued early, along with classes and activities chosen, can have a truly profound effect on a career and a life. The East Burke community is used to seeing the products of the graphics department, sometimes forgetting how fortunate we are to be the home of this unique learning environment.

Curt Wommack is an example of a student who built on the skills learned in the graphics department and in other vocational classes and has channeled them into an interesting and exciting career.

Peraton, Inc., is a national security company that specializes in finding solutions to global problems involving space, intelligence, cyber, defense, homeland security, health, and communications capabilities. With over 22,000 employees, Peraton has offices in many locations across the United States and Canada. According to the Peraton website (www.peraton.com), "We exist to solve the most daunting challenges facing mankind today, to protect and promote freedom around the world, and to secure our future for our families, our communities, our nation, and our way of life."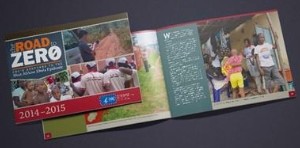 Curt is employed as a Principal Designer for Peraton, working a government contract to provide graphics support for Centers for Disease Control and Prevention, Division of Creative Services (DCS) in Atlanta, Georgia. He explains, "I started working onsite at CDC in 2003 as a subcontractor on a Lockheed Martin contract. I transitioned to Northrop Grumman in 2007, providing similar support for CDC, and have remained in that position for more than fourteen years In early 2021, Peraton acquired Northrop Grumman's Information Technology business, and I am in the process of fully transitioning into my new role at Peraton at the end of the year.

"I am on the Publications team at DCS and am primarily responsible for designing publications, everything from fact sheets and web graphics to 1000-page books. I provide graphics support for a multitude of CDC communications and initiatives. The work I do is like a puzzle that I get to choose the shape of the pieces. I enjoy the challenge of taking all the text, charts, graphs, photos, and illustrations and arranging it all to fit inside a book or page in a way that it is pleasant to look at and communicates a clear message. I get to choose how each product looks from the colors and fonts down to the feel of the paper stock. The final product is like a prize at the end of each project. They are not all award winners, but they all communicate successfully, and that's the first job of a Graphic Artist.

"The challenges of my profession include keeping up with the times, learning new skills and techniques, and maintaining a fresh perspective. Doing the same thing over and over is not how one moves forward. One of my favorite sayings is, 'If you always do what you've always done, you'll always get what you've always got.' Innovation is the key, and I strive to do things a little differently for each project if for no other reason than to do something that hasn't been done. It doesn't matter if it's a big change, but little things like turning a book layout to landscape or trimming a document to a non-standard dimension make those projects stand out. That's what makes a person want to pick up my book over someone else's. For example, when Bill Gates visited CDC, he picked up a sample of one of my books and took it home with him. He could have taken someone else's work, but my book stood out to him. To me that's a success and that's the reward."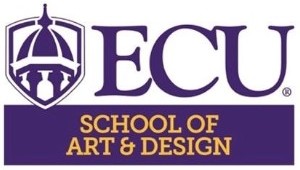 Curt attended the East Carolina University School of Art and Design and received a Bachelor of Fine Arts degree in Communication Arts with a concentration in Graphic Design.

"After graduation from ECU, I looked around western North Carolina for opportunities, but the job market was pretty sparse. I eventually got an opportunity to come to Atlanta and on Friday, March 12, 1993, I drove to Atlanta for my first big interview. I checked into a motel on Cobb Parkway in preparation for my interview on Saturday at a small quick print company in Marietta, Georgia, just north of Atlanta. That day sticks in my mind because it's also the day the 'Storm of the Century' would roll through the southern United States. www.weather.gov/ilm/Superstorm93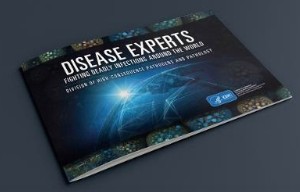 "When I opened my motel room door to head to my interview, there was over two feet of snow blocking my path. Atlanta never sees snow like that and especially never in the middle of March! The storm basically locked down Atlanta and really the entire southeast US for the next two weeks, and I was stranded. During my visit, I was eventually able to go to my interview, but that didn't pan out. I did however get in touch with a couple of friends from ECU that were living in Kennesaw just a few miles north of my location. They had some room in their apartment, and they let me crash on their floor for a couple of weeks until the roads cleared up enough to drive back to North Carolina. They invited me to stay with them until I could find a job, so I took them up on it. I went back home and gathered up my stuff, and back to Atlanta I went.

"After a couple of months working odd graphics jobs, I was able to finally land a job at The Coca-Cola Company in their package design department. I worked there for seven years doing package graphics on all of their brands. If you had a Coke product from 1993 to 2000, you are very likely to have seen my work. I loved working there.

"In 2000 it was time for a change, so I switched from primarily print work to a web-based focus. I accepted a job at Xerox Connect (later to be re-branded Xerox Global Services), where I was a user interface design consultant. My job there was to create user interface solutions for custom web applications. The main focus was usability and document engineering. While there I created user interface designs for Michigan Gaming Commission, the National Institute for Occupational Safety and Health (NIOSH), Post Properties, Krystal Corporation, and others.

"In 2003, I fell victim to corporate downsizing, and I found myself back on the market. I landed a job as a subcontractor working a Lockheed Martin Information Technology contract at CDC, and that's what I've been doing since. Notable projects I have been involved with include Emergency MedKits (yes, one word, big M, big K); World Rabies Day; collateral for the 2008 Olympic and Paralympic Games in Beijing, China; and The Road to Zero: CDC's Response to the West African Ebola Epidemic, 2014–2015, to name a few. I have been involved with providing award winning graphics support for major outbreaks such as SARS, Zika, Ebola, and most recently the COVID-19 pandemic.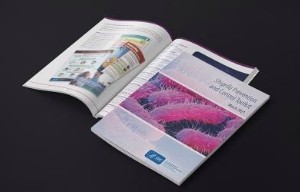 "I have had a few folks who have been important influences to me in my life. My favorite teacher, Mary Hewat, was the first educator who really had an impact on me. I was a member of the Morganton Swim Club with her son Bill, and I had the good fortune of knowing her outside of school. She pushed me to be myself and to do my best. I still have the leaf book from her fourth-grade class with samples of every leaf I could find. One page has a gingko leaf from her tree. I don't think any other student got one of her own leaves for their book, and it made me feel special. The last time I spoke to her was in 2017. She asked if I still had the book, and I smiled and proudly said, 'Yes, I do!' She told me she was proud of me for the man I had become. She was a great lady and I miss her dearly.

"In ninth grade, I had the good sense to enroll in Donald Bumgarner's vocational class at Drexel Junior High, even though I was encouraged to choose between either being in band or taking a vocational education class. I bucked the system and took both! It was a good decision. Mr. B could do just about anything, and, whether he knows it or not, is a great inspiration to me. He, by example, showed me that a man can do more than he thinks. One just needs the confidence to try. If it's broken, it can be repaired. If you don't have it, you can make it. He showed me that I can do anything with the right mindset and the right tools. That inspiration has helped me more than just about anything else I learned in school and carries me through my life today.

"He, along with my father, also contributed to my love of tools. I use many of the tools I picked up in his class and have a nice collection of my own which I use for tinkering and work around the house. I also fell into the hobby of knife making. I learned to take raw materials and shape them into a usable form. I learned to heat treat the steel to make it suitable for a good edge. I learned to make comfortable handles and how to make sheathes to protect them. I lost my workshop to a storm a while back and have put my knife making on hold, but I plan to return to making knives soon.

"At East Burke, I participated in several sports. I earned letters in soccer, track, and swimming. Swimming was my main dedication, and I was able to make First Team-All Conference. That took up most of my time outside of school. At the beginning of my sophomore year, I became interested in Graphic Arts and heard good things about Hoyte Cooper's class. His graphics program was considered one of the best around, and kids were coming out of his class with the skills to make a good living straight out of high school. Mr. Cooper lived just a few houses away from ours; I knew him a little from the neighborhood but really got to know him at school. He had a great sense of humor and made learning fun. He was skilled at explaining what to do and why, and, most importantly, he allowed us to learn by doing. He did not discourage us when we made mistakes and showed us how to not make them moving forward. I think I learned more figuring out what not to do than when I got it right the first time. I attended all three of my remaining high school years in his class and he encouraged me to pursue graphics in college. I left high school with a very good skill set as well as a little money from a Graphic Arts Club scholarship which I used to attend ECU School of Art and Design. I have been a graphics pro ever since.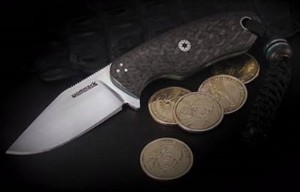 "I'm lucky to have found what I want to do for my career so early in life. I have never considered anything else. The skills I learned in the East Burke Graphics program led me to pursue Graphic Design in college and as a career. From there I have had the great fortune to create a wide selection of graphics for some of the biggest companies in the world. I see my work out in 'the wild' often, and it's very satisfying. I even heard that some of my work was in the Louvre in Paris a while back. That's pretty cool! My future goals are to keep doing what I'm doing and maybe retire to somewhere warm in a few years where I can tinker around my workshop, make knives, and sell them until I run out of money (that's a little knife maker joke :)"

Published November 2021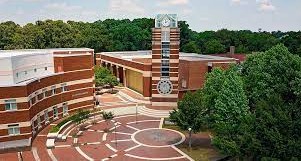 ECU Campus


Home Page