Tea Yang – Class of 2002
Coordinator, Work in Burke;
Program Coordinator, The Industrial Commons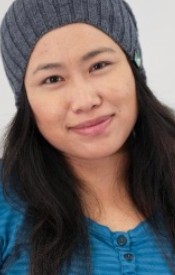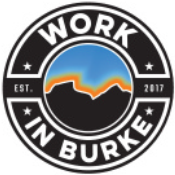 Most local residents have seen the Work in Burke signs that are so prevalent in the area, especially prominently displayed at every school in Burke County.

Work in Burke (WiB) is a project of Burke Development, Inc., the organization charged with accelerating economic growth and development in Burke County. Tea Yang serves as the coordinator of this important program, and, if that isn't challenging enough, she also serves as the program coordinator of The Industrial Commons (TIC), a non-profit organization.

"Work in Burke is an educational resource tool and pipeline between education and industry," explains Tea. "It is our mission to educate students and parents about the job and college opportunities available in Burke County and the training required to pursue a career in those fields. We are dedicated to helping students make informed decisions about career pathways. We also emphasize the importance of post-secondary education, gaining marketable skills, and being lifelong learners, while staying residents of Burke County. Our partners include Burke County Public Schools (BCPS), Western Piedmont Community College (WPCC), Western Piedmont Workforce Development Board, The Chamber of Commerce, NC Works, and industry leaders in manufacturing, healthcare, and the trades.

"My duties fall into four buckets: content creation, mass communication, mentoring and outreach, and employer engagements.

"In the area of content creation, we continuously develop unique content that showcases local career opportunities, including photos and videos that highlight local people who have found fulfilling careers in Burke County and have been supported by the local education system. This content is shared via social media, direct paid mail, paid ads, presentations, and grassroots events.

"Mass communication involves using our social media platform on Facebook to inform Burke County citizens about upcoming events, educational opportunities, and connections to college information including scholarships and financial aid assistance. Our Facebook and YouTube channels also host a series of videos showcasing different career fields and the citizens behind them.

"The area of mentorship and outreach involves sponsoring and building on existing programs such as the Students Taking an Interest in the Value of their Education (STRIVE) mentorship program, BCPS Summer Engineering Camps, Morganton Arts and Design Engineering (MADE) Competition, Construction Rodeo, Pioneer Preview, and Advance Manufacturing Day. In partnership with BCPS, WPCC, and College Foundation of North Carolina, we host an annual How to Pay for College – Scholarship Night, a free event where students and parents are given crucial information about the FAFSA and local organizations give out scholarship information and financial planning for college. We interact with as many students and parents as we can by participating in community events, speaking engagements, and presentations.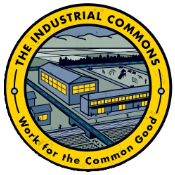 "In addition, in the area of employer engagement, we sponsor and support Industry Tours where BCPS students engage with and learn about local industries and job opportunities. We also host Lunch-N-Learns where we take career and college information to parents at their place of work during their lunch breaks to discuss pathways for their students. We also build on apprenticeships, internships, and work-based learning programs with our education and industry partners. Finally, we meet regularly with education and industry leaders to discuss how we can solve the widening skills gap in the workforce.

"I also serve as the Program Coordinator of The Industrial Commons, where I oversee logistics for new and existing projects. The Industrial Commons is a nonprofit formed in 2015 as a response to a need in North Carolina for an industry focused organization that provide resources and support to industries and networks that improves the lives of workers and roots wealth locally. TIC founds and operates environmentally conscious and interconnected enterprises that ensure industrial businesses are revitalized and sustainable, that work is rooted and meaningful, and that workers have a good work-life balance.

"We recently piloted a tour of downtown Morganton called Hometown Walkabout where we took community and industry leaders to visit and listen to the stories of local business owners from different backgrounds as they talk about the challenges and opportunities their communities face. This has given me the opportunity to tell and promote Hmong history as a part of the fabric of our diverse cultures and backgrounds in NC – a passion that I developed in high school when I began to intensely analyze the Secret War and why my family and people are here. Being able to do this has given me a platform to bridge cultures and share stories.

"What I enjoy the most about my job is the opportunity to uplift someone or make a human connection. It is a reminder of how lucky I am to have a job that allows me to interact with all walks of life – especially when I am able to help a student in a meaningful way or teach Hmong history to someone in the community.

"I have been doing some of this work for over a decade already (just not professionally) and on my own time because I did not think such a job existed for me in Burke County. I explored political Science and Journalism but neither fit quite well, and I ultimately did not want to leave Western NC for a bigger city – my family and friends were here and the thought of leaving them was quite unbearable. When this opportunity came around for me to be able to do this for a living – let's just say I still cannot believe I get to live and work on the things that I am passionate about. There are so many people who helped make this job available to me, and I am would like to credit them here: Dr. Michael Helmick, WPCC President; Alan Wood, Burke Development President and CEO; and Molly Hemstreet and Sara Chester, Co-Executive Directors of TIC."

Every career has its challenges and rewards, and Tea's is certainly no exception. "One of the biggest challenges for Work in Burke is reaching underserved communities in Burke County. While many of our outreach methods touch a broad audience, we still have pockets of students and parents that we're not getting to, and that means they miss out on college and career opportunities. Challenges like these allow us to use creativity and to think outside of the box to develop other outreach methods that we have not utilized before. When we do come out on top of these challenges, it is rewarding to be able to help students and parents carve an education pathway that leads to meaningful careers. "I spent the majority of my late teens and twenties advocating for several issues, including equal access to higher education, gender equality, cultural sensitivity in minorities and healthcare, and held many guest-speaking roles on Hmong history and public speaking. I knew very early on that I would be on this pathway even if I had to work a regular job to sustain my living while I did this as a hobby.

"I discovered this passion while a sophomore at East Burke High School and gave my very first presentation on the Hmong story and the Secret War in Mr. Bill Poteat's English class. I felt excited to be able to finally tell my story to my peers. However, halfway through the presentation, the excitement turned to tears as I was overcome with sadness just talking about the journey and the memories of that time. My fellow classmates did not know what to do – what were they supposed to do? They were young adults just like me, and we did not talk about these kinds of things. Mr. Poteat was the glue that held it all together, and he was incredibly supportive. In my junior year, he asked me what I had in mind for my senior project. When I told him that I was going to push forward with the same project I did in his 10th grade English class, he was rightly concerned given how much I cried when I presented it. He went out of his way and made sure I was in his senior English class so that he could guide me through it.

"I have been so fortunate to have had, and continue to have, teachers as mentors and champions. Bill Poteat has been a great champion of mine from the moment I walked into his classroom. He is one of the most caring human beings, and he loved his students. He pushed students to do their best in the most loving way, and everyone clamored to be in his classes. I'm forever grateful for his guidance. When I think of East Burke High School, I think of Bill Poteat."

While at East Burke, I was very active in the International Club, and we had a pretty large group of participants. I will never forget the year we designed a dragon for a pep rally for the one of the prom queen nominees. We spent many afternoons crafting the brightly colored scales – there were a lot of laughs as we attempted to turn a shopping cart (where our nominee would sit) into a fierce dragon. It was a hit, and we won best prop that year.

"I was also very active and played varsity soccer and ran cross country. I remember the first year Brian Jillings became coach. He made us run so much that the other sports teams thought we were the track team! It was his goal to build as much endurance as possible, and it paid off; we won our conference that year. I believe it was the first time the women's varsity soccer at East Burke High won conference. We were incredibly proud, and it was really a credit to how dedicated Coach Jillings was.

"After I graduated high school, I spent a couple years in the workforce before pursuing my Associate's at WPCC in 2008. "I often worked night shift so I could pursue my hobbies in the daytime and attend school. I remember getting off a 12-hour night shift and going to WPCC for an 8 AM class. When people ask me how I did it, I often tell them that I was tired 99% of the time but it was the 1% left in me that pushed me through. It was at WPCC that I met my three 'fairy godmothers': Debra Rose, Mary Charlotte Safford, and Emily Williamson-Gangi. The analogy I like to use is that of me banging on the door of opportunity and they came along and just kicked it wide open for me. They inspired me to apply to UNC-Chapel Hill and were among the first ones I told when I was accepted. Knowing I was very homebound and prone to homesickness, they took turns checking in on me regularly throughout the semester. I couldn't have asked for better champions and they remain some of the most important people in my life to this day.

"Even when I left for UNC Chapel Hill, I drove back and worked on the weekends in manufacturing and did work study on weekdays on campus. Overall, I spent 16 years as a frontline worker in the manufacturing sector in battery production, automotive, circuit boards, and pharmaceuticals. What's interesting about my time in manufacturing is that I got to see it prior to offshoring and then after when companies began to reshore again. We saw tremendous changes in technology and automation and the realization that the 'new' way of manufacturing is not the same as our parents' and grandparents' days. Not only did manufacturers have an aging baby boomer generation that would be retiring soon, they also had the additional problem of hiring a new workforce that is highly skilled. Much of our work is to promote these changes and hopefully change perceptions about manufacturing.

"I did not realize it then, but my years in the manufacturing industry have helped me shape how I run Work in Burke and how I coordinate projects for The Industrial Commons. I always think like a frontline worker no matter who's at the table with me. Keeping this perspective helps me to shape projects and programs that best benefit our students and the industries they will be working in."

Tea graduated from Western Piedmont Community College in 2011 with an Associate of Arts degree in English and then continued on to UNC-Chapel Hill, where she earned a Bachelor's Degree in Communication – Media Studies and Production in 2014. She has also been a Trustee at WPCC since 2018 and previously served on their Foundation Board of Directors. "We have a saying at the office that if we are struggling in our work, we must refer back to the base that we're affecting. That philosophy has kept me grounded and focused on my future goals. For both WiB and TIC, I hope to see a robust community where every student of every background has the opportunity to pursue a postsecondary education that leads to a meaningful career and life. When we are actively lifting people up, we break many generational barriers such as poverty. I also hope to see more young people choose to stay in Burke County because there is so much here; this region has been revitalized and infused with so many opportunities that they can take advantage of."


For career and college information, Burke County Public Schools students and parents may contact me at 828.391.9055 or email me at tea@workinburke.com. For any inquiries regarding The Industrial Commons, email me at tea@theindustrialcommons.org


.